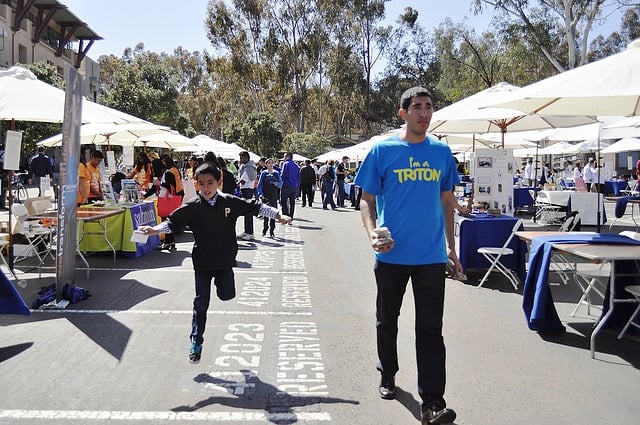 ▶  Over 20,000 Attend Triton Day: UCSD's third annual Triton Day drew more than 20,000 newly admitted students and families to attend information sessions, social events and a display of student organizations on Library Walk and throughout campus. 250 student and staff volunteers worked at Triton Day, along with 172 volunteers from the campus initiative organization Volunteer50, the highest amount the organization has sent to a single event since 2010, according to the UCSD News Center.
"I volunteer every year for Triton Day, and it's a lot of fun," UCSD alumna Dr. Elaine Tanaka '97 told UCSD News Center. "I enjoy meeting the new students and learning about where they are going.
▶  Calif. Drought Drives Up Cost of Food: A severe drought in California resulted in drastic inflation in food prices, according to NBC San Diego. A new study shows that produce prices could dramatically increase in the near future. Prices of crops like lettuce could go up as much as 62 cents, and an avocado's cost may increase by 35 cents.
Carol Benevidez of open-air market Windmill Farms in San Ramon, Calif. explained that price inflation could be a result of a combination of unpredictable weather and the drought in January. According to Benevidez, farmers either cut back on crops or declined to plant due to the drought. As a result, grocers had to import crops to meet consumer demands.
▶  "Blood Moon" Seen in Total Lunar Eclipse: A total lunar eclipse was visible in North and South America just after midnight on Tuesday, according to U-T San Diego. The eclipse was the first of 2014 and occurred when the moon began to slip into Earth's shadow on Monday at around 10 p.m., turning from silver to copper to copper-red over five-and-a-half hours.