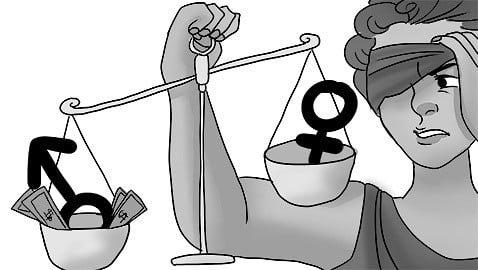 While Obama's executive order for the equal pay cause is a noteworthy start, more ambitious action is required to help women achieve parity on pay stubs.

Nearly a century after women were first allowed to vote in the United States, American women are still fighting an uphill battle in the workplace. Although President Obama's recent executive order prohibiting certain employers from firing women who openly discuss their salary is a step toward exposing gender inequities, greater strides need to be made at the corporate and governmental level to ensure that women are paid what they deserve.
Statistics from the federal government state that on average, full-time working women earn just 77 cents for every dollar a man earns when employed in the same position. According to USA Today, the disparity is even wider with African-American and Latina women who respectively earn, on average, 65 cents and 56 cents for every dollar earned by men. U.S. Census data reveals that a typical 25-year-old woman working full time all year in 2011 earned $5,000 less than a typical 25-year-old man. Even women with doctorate degrees earn approximately $500 less per week than their male counterparts.
Perhaps even more unjust is that women are far too often prevented from even disclosing the fact that they are underpaid. A 2011 survey by the Institute for Women's Policy Research found that "almost half of workers (48.4 percent) responded that they were either prohibited or strongly discouraged from discussing their earnings." Such treatment is not only an act of discrimination, which is prohibited in any work setting, but is also, in essence, a violation of First Amendment rights. Even more worrying is that these employers' policies add to the underlying problems, as they limit even basic public awareness of the gender gap.
So while the President's executive order targets the specific issue of non-disclosure, it is only a small start and much bolder steps need to be made. Despite Obama's aim for equality, the efficacy of his plans is limited due to a lack of congressional support. Without approval from Congress, the President is unable to create a noticeable change in wages or legislatively eliminate gender wage disparities. He can only directly impose his policies on federal contractors — a demographic that would include groups such as janitors, construction workers and food servers on military bases who are currently not making minimum wage. Only a few hundred thousand would actually stand to benefit from the order — a figure that seems quite insignificant in the scheme of the 72 million female labor force participants.
Opponents of the executive action claim that women are generally paid less since there is a natural variance in employee ability and performance, thus resulting in a justified salary difference. After all, most employees' wages are apportioned according to their perceived skill and experience level in the industry within which they are working. Moreover, a study by the U.S. Government Accountability Office notes that women leave the labor force for longer periods of time than men, insinuating that this leave may constitute the discrepancy in pay. However, the Office also notes that this observation cannot possibly be the only factor contributing to the gender wage gap and that discrimination likely plays a role.
Furthermore, there is much evidence to support the fact that women are just as effective and experienced in the workplace. General Motors and Yahoo! CEO's Mary Barra and Marissa Mayer are perhaps the most high-profile counterpoints to this misconception, as each has proven to be a dynamic and competent leader. Women are just as capable as men, and their salary should not suffer from the unenlightened assumption that men are more productive in a professional setting. The consequence for women otherwise becomes not only lower weekly earnings but lower lifetime earnings, less money for retirement and fewer resources to provide for their families. According to U.S. Census, by age 65, the average woman will have lost $431,000 over her working lifetime.
While the President's attempt at equality may not have drastic macroeconomic effects, the symbolic value of his gesture may carry broader implications for employers outside of the federal system. The striking gender pay gap has often been ignored in legislative and institutional circles, but Obama's executive order demonstrates a commendable effort to address the disparity and make all employers more conscious of the inequity they may be perpetuating.
Despite its inability to provide immediate solutions, the President's executive order has the potential to drive change at a broader level that rewards hard-working women with the compensation they deserve.