The coffee giant hopes to open in Price Center by Winter Quarter 2015, replacing Espresso Roma, which ended its operation on campus early last month.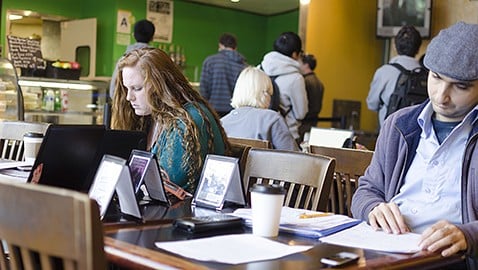 Espresso Roma, also known as Cafe Roma, closed on Friday, March 7. UCSD University Centers is currently negotiating with Starbucks to open a location in Cafe Roma's place.
Previously in December 2013, the University Centers Advisory Board voted 11-4-0 to consider Starbucks Coffee Company as a replacement for Espresso Roma Cafe in Price Center. UCAB Chair Sammy Chang, who is optimistic that Starbucks will open, was part of the committee that decided to allow for a change from Cafe Roma to Starbucks.
"Cafe Roma wasn't in a great financial state," Chang said. "Before, there were a lot of customer complaints. The overall consensus was that Cafe Roma was really good a long time ago, but not good now."
According to a retail survey done by University Centers, 80 percent of respondents preferred Starbucks over other coffee shop options. UCAB began to consider the Starbucks option a year ago. However, this process was stalled by some members of UCAB because they felt that Starbucks did not meet the acceptable fair trade policy.
"We ultimately voted that Starbucks was according to the UCSD fair trade policy, and that it could alleviate the budget crisis that the University Centers is facing right now," Chang said.
UCAB was assured that Starbucks will directly provide scholarships to students to support sustainability. If negotiations with Starbucks proceed favorably, it will be the first time University Center is doing a site license. Starbucks will not be a third party vendor renting space; rather, Starbucks will allow UCSD to utilize the Starbucks name but own the space itself. This allows all purchases to be at the same quality of a regular Starbucks cafe.
According to Chang, UCAB felt that Starbucks was a good decision: "This higher return of money, because the third party isn't just keeping all the money, means that the University Centers can keep all the profits to itself and resolve the budget deficit."
Negotiations for Starbucks are expected to finish sometime by the end of this year. Starbucks' actual opening is planned for Winter Quarter 2015. Aside from approving the potential Starbucks at Cafe Roma's current location this year, University Centers opened a new D'lush vendor during Winter Quarter 2014.
D'lush, the newest addition to Price Center, opened on Feb. 24, 2014.  It serves a variety of beverages from caffeinated to non-caffeinated drinks and novelty open-faced melts and salads. The original idea of D'lush was already finalized several years back.
Chang explained that the "area was vacant for a very long time because the recession hit when we were looking for vendors."
UCAB was unable to obtain a vendor, so when the economy improved, University Centers began looking for potential vendors.
"D'lush seems to be doing well; it allows students to have a variety of choices." Chang said.
Another future addition to campus which has been planned for a few years is a new Mexican food option — Taco Villa — which will be located near the original Student Center. Additionally, the Farmer's Market vendor Lemongrass has negotiated a contract allowing it to be installed in University Centers next to Rubio's during the next academic year.