UCSD transportation infrastructure upgrades are a good response to student feedback but campus needs further improvements.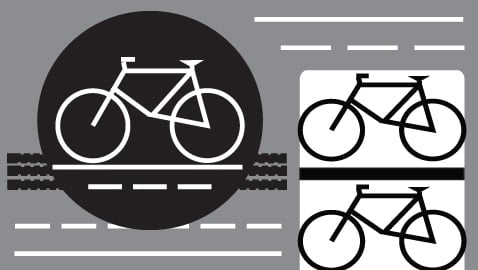 We've certainly made our fair share of complaints regarding the transportation system at UCSD, but we applaud last month's improvements to the bike infrastructure surrounding the campus and the digital upgrades installed in the Gilman Parking Structure. Now, we're crossing our fingers that the recent progress signals a wider increase in the administration's response to student feedback and a decisive move towards a more commuter-friendly campus.
As an extension of UCSD's 2012 Bike and Pedestrian Master Plan, the new modifications to Gilman Drive have made bicycle commuting on campus a whole lot easier. The changes include implementing shared lanes that bikes are entitled to use and inserting pressure sensors into road surfaces so that bicycles can trigger green lights just as cars do. Given the planning commission's ambitious goal of doubling bike commuting by 2017, these improvements are certainly a step in the right direction.
Additionally, the Gilman Parking Structure now features an electronic display that lists the number of open spots available. Ultimately, this should save drivers the headache of prowling through the lot looking for somewhere to park and should help cut down on all the vehicle emissions associated with it.
There are also several changes in the pipeline that look promising. UCSD MOVES, the commission that is responsible for driving much of the process, indicated a forthcoming bridge over Gilman Drive and the Interstate 5 that would give students another route to housing and malls east of campus. The bike-sharing program also looks to be expanded alongside new bike repair stations. With so much student frustration over the fiasco that is campus parking, it is good to see that some steps are being taken to alleviate commuter concerns, even if they are incremental.
That said, there's still a lot more progress to be made in solving the broader transportation issues. We speak for most students when we say that we're sick of having to constantly renew our bus stickers. Additionally, a transit pass that includes expanded access to both the trolley and MTS bus lines would be an excellent resource. This would open more convenient travel possibilities for getting around in downtown San Diego and allow students to explore the city that they all too often feel isolated from.
Campus planners should also continue to make progress on improving bicycle infrastructure. If students are receiving tickets for riding their bikes on Library Walk, then riders should have a viable alternative, like that at UC Santa Barbara or UC Davis. Those campuses have impressive, intricate bike path systems which allow students to get around efficiently on campus. Having seen the changes that can be implemented when the powers that be choose to get around to it, we're eager to find out what types of improvements are possible with both administrative support and the backing of the student body.
There are of course many realistic problems with the funding source for all of these ambitious projects—they don't pay for themselves. Hopefully, A.S. Council can make a renewed effort in convincing students to vote 'yes' on the referendum and approve the justifiable, yet modest fee increase that will ultimately help realize all of these projects. The inevitable concerns about costs are reasonable, but students must realize that this small fiscal burden pales in comparison to the problems that would arise if the referendum doesn't pass. Although not all might immediately see the need for just another student fee, the ill effects of a failed referendum will become apparent if Transportation and Parking Service comes to a grinding halt.
Lastly, there must be an end to service cuts and reductions. As it is, throngs of students stand in unreasonably long lines in the unlikely hope of boarding a packed bus and arriving to class on time.
If students end up putting down money to improve and increase their access to transportation, there is no reason that shuttle services or even MTS buses should be cut. Instead, Council should work with the administration to restore or even expand bus routes so that students can focus on getting an education, not on whether or not they will be able to make it to class.
Through the recent campus modifications, the administration and student leadership has demonstrated an interest in finding solutions to the transportation issue and implementing them. This change is both encouraging and commendable. However, if we want real long-term progress, we need to continue pushing for more reforms that will enable easy commuting and make traveling throughout campus easy and effective.