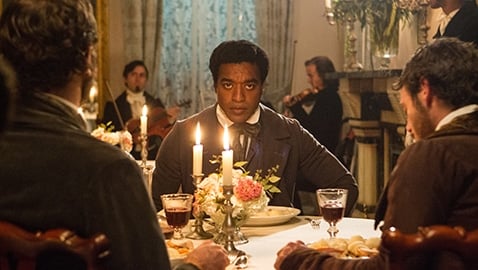 Best Picture: "12 Years a Slave"
A common complaint about the Oscars is that a film with an emotional appeal to a wide-ranging audience often wins out over a film of higher artistic merit. (Remember 2004's winner "Crash"?) And when the first trailers were released for "12 Years a Slave," it appeared to be yet another Spielberg-like tearjerker, naturally built for an Oscar win.
But in the capable hands of British director Steve McQueen (auteur of criminally underrated films "Shame" and "Hunger"), "12 Years a Slave" is never maudlin or moralistic — instead, it is a harrowing personal journey through the abyss. The film follows the travails of Solomon Northup (Chiwetel Ejiofor), a free black man imprisoned and sold as slave in Antebellum South.
McQueen's lush and painterly cinematography provides a stark contrast to the horror on screen, letting the incredible performances (especially from newcomer Lupita Nyong'o) treat America's original sin with the grave and unrelenting gaze it needs. It does not falter even for a second in its relentless portrayal of one man's hell, free of any easy answers or Oskar Schindlers to offer a glimmer of hope in the darkness.
For its masterful combination of artistic strength and historical actuality, "12 Years A Slave" is the most deserving Best Picture nominee to appear in years.
— Dieter Joubert
Senior Staff Writer
Best Director: Alfonso Cuaron, "Gravity"
Director Alfonso Cuaron redefined the possibilities of what Hollywood magic could achieve in the making of outer space drama "Gravity." The film stars Sandra Bullock and George Clooney as two astronauts fighting to survive catastrophe while suspended in space, and Cuaron pioneered new techniques in cinematography that surpassed the achievement of previous science fiction films.
Current technology proved to be inadequate to generate the illusion of microgravity, so Cuaron had to develop new techniques — he designed special cages and strapped the actors inside. Bullock spent up to 10 hours a day inside the cage, so to relieve her from feeling claustrophobic and exhausted, Cuaron had the crew throw a party every day to celebrate her arrival on set.
Due to the large amount of robotics used in the film, Cuaron had to plan every shot ahead of time to correctly program the robots with. Eventually, the live-action shots and CGI effects were blended seamlessly to create the perfect replication of space.
Cuaron uses long sweeping takes of the astronauts as they are thrown around, blurring the lines of reality and fiction for viewers. It is unquestionable that the innovation conceived for "Gravity" created the most realistic astronomical film ever made — Cuaron has pushed the art of moviemaking past the boundaries, setting new ones for other directors.
— Devon Munos
Staff Writer
Best Actor: Lenoardo DiCaprio, "The Wolf of Wall Street"
It's about damn time Leo wins an Academy Award.
His portrayal of the out-of-control Wall Street playboy Jordan Belfort in "The Wolf Of Wall Street," which has earned him his fourth Best Actor nomination, is a solid, if not superb, addition to the long list of varied and well-executed roles he has taken on over the past two decades. As the drug-fueled Belfort, DiCaprio exposes the distorted perception of a man on a fanatical quest for wealth or, as he charmingly puts it, "boats and hoes."
There's really no way to ignore the elephant in the room. (In this scenario, said room is the Dolby Theatre.) Ever since his first nomination in 1994 for the heartbreaking portrayal of young Arnie in "What's Eating Gilbert Grape?" he has undeniably been snubbed. Does someone in the Academy hold a personal grudge against sweet Leo? It's been 15 years since "Titanic," so dismissing him as pretty-boy bait for blockbusters is not relevant. And what about his roles in "The Aviator," "Blood Diamond" and "Django Unchained"? Why hasn't he won an Oscar yet? We live in a world where Cuba Gooding, Jr. has won an Oscar for "Jerry Maguire," but not Leo. There is no logical explanation.
Leo doesn't need an Oscar to validate his career. But receiving one certainly wouldn't hurt.
— Emily Bender
Editorial Assistant
Best Actress: Cate Blanchett, "Blue Jasmine"
You know the song "Blue Moon," don't you? Cate Blanchett, as a washed-up, emotionally unstable socialite, seems to think everybody does. In a film that bears a striking resemblance to Tennessee Williams', "A Streetcar Named Desire," Woody Allen's "Blue Jasmine" capably enters new territory. In this role, Blanchett channels her inner Blanche Dubois. Jasmine is a jetsetter who divorces a swindler, has a nervous breakdown and finds herself broke in San Francisco. With her lavish lifestyle gone, all that's left is a needy hypochondriac plagued by loneliness. When she's not popping pills and slurping Martinis with a lemon twist, she's feeling sorry for herself and getting lost in past recollections. Blanchett makes it difficult for the audience with her often irritating performance, because we constantly fluctuate between contempt and empathy. Jasmine faults others or claims ignorance for the problems that are her doing. Then, she might drop a little white lie here or throw a tantrum there and whine, "Why me?" When it is all said and done, she is a pitiful mess with no money, no husband and no home, and despite her incessant babbling no one cares about "Blue Moon." Honestly, she probably had it coming. In the tradition of Vivien Leigh's tragic role in "Streetcar," Cate Blanchett just might bring home a statuette for her own neurotic wreck of a character.
— Tynan Yanaga
Contributing Writer
Best Supporting Actress: Lupita Nyong'o, "12 Years a Slave"
With visceral scenes of savage cruelty, raw anguish and mounting hopelessness, a film like "12 Years a Slave" makes picking out any one actor or actress as the strongest performance a contest of inches. To that end, the riveting despair Lupita Nyong'o embodies as Patsey, the favorite female slave of the egomaniacal Edwin Epps (Michael Fassbender), is a singular dramatic achievement. Throughout the film, Patsey is forced to endure the singular perversions and cruelties of her would-be master's attention.
The role is one that could easily be overplayed or marginalized by the protagonist's struggles, but naked desperation brings this supporting character to the forefront of the action. This manifests itself in some of the film's most gripping scenes, such as the ferocious beating of one slave by another or the spurn of a slaveholder's wife. While the educated Solomon Northup (Best Actor contender Chiwetel Ejiofor) stands apart from his fellow slaves, Nyong'o endows Patsey with all the suffering of the thousands who did not escape slavery. Watching Patsey endure forced labor and rape all seems too harsh to be real. But when she begs for Solomon to end her life, there's a frailty and heartbreaking honesty in the delivery that perfectly portrays a woman pulling at every last ounce of strength she can muster.
— Jonah Yonker
Editorial Assistant
Best Supporting Actor: Jared Leto, "Dallas Buyers Club"
In "Dallas Buyers Club," first-time Oscar nominee Jared Leto's performance doesn't even feel like acting — he completely transforms into Rayon, a transgender woman diagnosed with HIV. Leto, known for his almost disturbingly inscrutable roles in "Requiem for a Dream" and "Mr. Nobody," is considered to be a method actor, devoting himself to his character both on and off screen — according to Chris Johnson of the Daily Mail, Leto even starved himself on set. The payoff is extraordinary: Leto is almost unrecognizable in his role, both in his physical appearance and in his acting. Dramatically departing from his usual minimalistic, hypnagogic style, Leto's portrayal is emotionally charged and shockingly realistic.
In the film, Rayon's diagnosis leads her to form an unlikely partnership with Ron Woodroof (Matthew McConaughey), a homophobic redneck who provides medical treatment to AIDS victims. Leto as Rayon moves from a queen of sass who you can't help but root for to a broken daughter rejected by her own father. Leto's acting embodies the struggle to live and to love, transforming "Dallas Buyers Club" from an ordinary medical drama to a tale of palpable hope and compassion.
— Naftali Burakovsky
Staff Writer