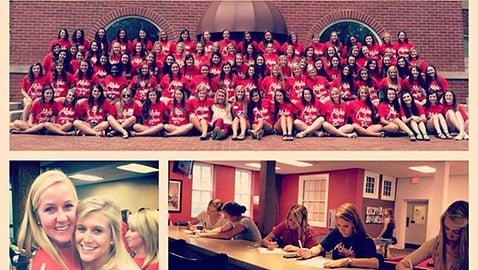 Alpha Omicron Pi, the latest addition to the UCSD Panhellenic community seeks to establish itself on campus
Though Alpha Omicron Pi is the newest sorority on campus, its history spans over a century. Founded in 1897 at Barnard College, AOII seeks to start a new chapter at UCSD and will select its colony class — no larger than 106 women — tomorrow during its bid night at 7 p.m. at Price Center Ballroom West.
As a social sorority, AOII is dedicated to nurturing "women of character." And as AOII Assistant Director of Extension (Chi Psi) Heather Hays said, "AOII is trying to develop well-rounded individuals who exceed expectations and are leaders in their respective fields."
Hays, who graduated from Cal Poly San Luis Obispo in 2012, was an active member of AOII in her community, serving as a Panhellenic delegate, philanthropy chair and eventually, Panhellenic president. As philanthropy chair, she organized a Mr. Fraternity pageant that raised $10,000 for the Arthritis Foundation; as Panhellenic president, she led all of the sororities, which together comprised of 1,500 women.
"I grew up as a tomboy, and I never thought I would be a sorority woman," Hays said. "I signed up for sorority formal recruitment the day before recruitment. It kind of blew my mind because [… AOII] ended up being everything that I was looking for in college."
Hays' dedication to the sorority led her to her current position at AOII. She hopes that her passion and commitment to AOII will spread to UCSD with its colony class.
AOII was introduced to UCSD due to the high volume of membership sizes and increased interest in Greek life. The Panhellenic committee, which manages UCSD sororities, determined that UCSD needed another sorority to alleviate the burden on the other sororities with maxed out membership sizes. As a result, they extended invitations to multiple sororities. AOII was selected as the best fit for UCSD on Oct. 21, and since then, there has been a whirlwind of activity ramping up to recruitment.
Two educational leadership consultants from AOII have been on campus since Jan. 10, spreading the word about the new sorority.
As a colony class, no one quite knows what to expect of AOII in its first year, though according to Hays, an emphasis is placed on finding "servant leaders" — women who are dedicated to serving the community through their leadership.
"We are basically looking for a whole sorority in one weekend," Hays said. "We are looking for a well-rounded mix, so we can't have a whole chapter of leaders. We'll be looking for leaders, followers, girls who are a little bit more bubbly, girls who are a bit more shy."
Recruitment for the sorority, which took place this past weekend, consisted of group membership appointments that essentially served as group interviews. There was also a networking event — Picture Yourself in AOII — where women met with alumni to learn more about AOII. Preference, an invitation-only event for those that AOII would like to potentially accept, will be held tonight at 7 p.m., where those selected will discuss possible sisterhood. Tomorrow is the grand finale, when bids are extended and women are officially accepted.
Hays encourages students interested in AOII or any other organization in college to take a chance and try it out.
"If you've thought about it at all, and if you look at what an organization can offer you and it speaks to you, put yourself out there and take the risk," Hays said. "The rewards are incredible."