Two UCSD students share the story of how they created the EcoQube, an artistic desktop aquarium that uses plants to purify and recycle water
UCSD junior Eric Suen and senior Kevin Liang call their creation a frame for nature's art. A compact, two-tiered desktop aquarium, the EcoQube runs on aquaponics — an agricultural technique that doesn't use soil — to convert waste from fish into fertilizer for plants grown in water.
Liang believes aquaponics is the future of agriculture and that this concept, on a larger scale, can potentially solve global challenges, such as food and water shortages. According to Liang, one billion people lack clean drinking water, and food shortages are growing each day. With aquaponics, food can grow 50 percent faster using less space and 90 percent less water.
With an chilhood interest in aquariums, the EcoQube founders, who met in high school, started their venture in 2008 in a small garage in San Francisco.
"I set up two aquariums in the beginning, but it kept going to three, four, five and on," Liang said. "At one point, I had 18 tanks running. If you've ever been addicted to anything, whether it's a game, a sport or a TV show, it was the same. I couldn't stop."
When Suen and Liang came to UCSD, they chose to live off campus, so they could bring their aquariums with them, moving their workspace from a San Francisco garage to an apartment closet.
Eventually, the two were able to start their online aquarium store called Aqua Design Innovations Shop in 2010. The store will carry the EcoQube once it's released to the public, which is estimated to be this July.
Both Suen and Liang picked up various aquarium-related jobs throughout their high school and undergraduate years at places such as the California Academy of Sciences and Aquatic Central (the largest aquarium store in San Francisco). Through the EcoQube, they want to apply their acquired knowledge of aquariums in order to share the concept of aquaponics.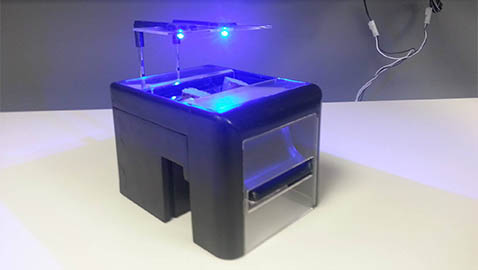 "We need a vehicle to deliver this to people, so they can do great things with the concept," Liang said. "EcoQube is the vehicle to get other people to build companies using this 3,000-year-old technology that's a billion times better than Monsanto's [the world's largest agricultural company] newest and greatest [agricultural techniques]."
Liang and two other engineering students from UCSD designed various prototypes of the EcoQube and after receiving feedback from others, developed a final product.
The EcoQube consists of five parts: an LED light, an LED UV sterilizer, an aquaponics filter, an aquarium and a base. The aquarium is situated on top of the base. Attached to that is a filter with a small space to hold a plant, which recycles fish waste in the aquarium into fertilizer. The plant is used to purify water in the tank. At the very top, there's a UV light that sterilizes the water.
Liang noted the difficulties of raising funds for this startup. They initially had some revenue from their two prior businesses selling aquarium goods and installing aquatic ecosystems. They also used student loans, and supporters gave them discounts on aquarium supplies.
From their Kickstarter campaign, which ran from Nov. 30, 2013 to Jan. 12, 2014, Suen and Liang raised $79,026, nearly double their original goal.
The EcoQube has already gained recognition in design circles. The team placed third in the Zahn Prize competition and first in the Pitch competition, both entrepreneurship competitions that award cash prizes.
Suen and Liang believe that the EcoQube will succeed because it's both low maintenance and aesthetically pleasing. They hope that the EcoQube will influence people to live more environmentally conscious lives.
While the EcoQube will be Aqua Design Innovations' first product, the team has big plans for future projects. One plan they have in mind is a home aquaponics system that would produce enough food for up to two people. It would be the first product of its kind to be mass marketed.
Suen and Liang have shown that hard work, even when starting from the smallest space, can grow into something great.