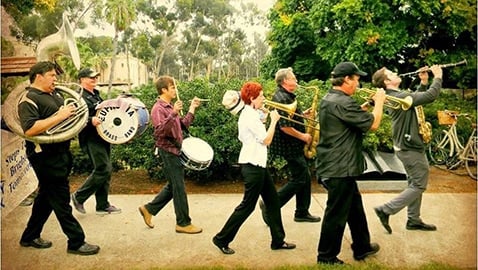 If you and your group of friends are staying on campus for Thanksgiving break and are seeking more than just your average Turkey Day meal, the Annual San Diego Thanksgiving Dixieland Jazz Festival (or Jazz Fest, for short) might be just the place. Instead of the typical Thanksgiving, a new tradition of "Friendsgiving" with fabulous music and fellowship can be made. The festival lasts five days (Nov. 27 through Dec. 1) and is held at the Town & Country Resort and Convention Center in Mission Valley. This event attracts people from all over the world and has come to be considered "the crown jewel of jazz festivals."
The Jazz Fest showcases many variations of jazz, such as traditional, Dixieland, swing, ragtime and rockabilly styles, to cater to all different types of music lovers. Some of the artists performing include Bob Draga, the High Sierra Jazz Band, the Bob Schulz's Frisco Jazz Band and Brady McKay. The set list also includes some San Diego natives, like Jason Waner and the Euphoria Brass Band. Each night has different performances in various areas of the resort, ranging from bigger concert halls to smaller, more intimate rooms.
If the set list of over 25 artists is not enough to reel you in, the champagne dinner, for those of you over 21, definitely will. The buffet-style dinner includes imported cheeses, crackers, delectable salads, different cuts of meat, candied yams, mashed potatoes, bread rolls and butter and, of course, the traditional turkey with cranberry sauce. Let's not forget about the best part — the dessert menu. The list includes various pies and cakes and, of course, lots of champagne! For those with a caffeine craving, there will also be freshly brewed coffee and tea available to order. The dinner costs $28 with advanced reservation and $30 per person at the door and is served from 3 p.m. to 6 p.m.
The prices for each day of the festival ranges from $15 to $45 daily, and five-day passes can be purchased for $105. Children under the age of 12, as well as actives in the military, get free admission. Even if you don't end up getting your fill of jazz on Thanksgiving Day, the event continues until Dec. 1 and is definitely worth checking out, so, bring your friends. The Dixieland Jazz Festival, with its wide array of food, drink, music and togetherness will be one musical event you won't want to miss.