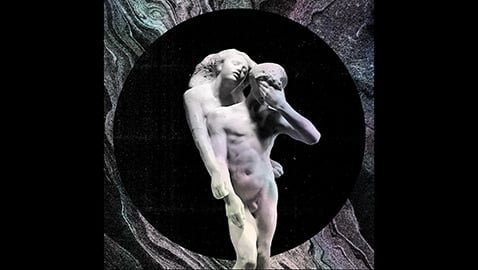 Release Date: Oct. 28 Rating: 4/5
Eclecticism and well-worn writing styles combine well on Arcade Fire's new album
Arcade Fire has always made it fun for its fans to be a bunch of discontent, cynical bastards. You might think it'd be difficult to embrace music that calls your generation unlikable, empty and lost, but that has been Arcade Fire's strategy since the band launched its career with "Funeral" in 2004 — and it hasn't lost them fans. Their newest album, "Reflektor," is hardly an exception and like its predecessors, it shows that bleak, intelligent lyrics over upbeat harmonies can mesh together well as long as they're meticulously arranged and well-written.
"Reflektor" is notably more dance-oriented than previous Arcade Fire releases, and though this could create a huge room for error, its sound is as well-arranged and catchy as ever. "Here Comes the Night Time" is, in terms of sound and arrangement, the shining star of "Reflektor," and even with the dance beat, it retains the band's ability to start small, reach an enormous climax and then wind down seamlessly. It's the sonic equivalent to sex, and it's what Arcade Fire has always done best.
Other tracks, like "Afterlife," have a similar structure, but that isn't to say that "Reflektor" is a one-trick pony of an album — there is refreshing variation throughout. The closing track, "Supersymmetry," is calm, dreamy and drawn out, while "We Exist" is bass-driven and reps the album's dance-inspired vibes. The only weak track is "Porno," which drags for six minutes due to the repetitive and completely uninteresting synth parts. Given the album's two-hour run time, it would have been advisable to trim any excess fat, and "Porno" was the fat on an otherwise juicy cut.
Lyrically, Arcade Fire's past works focused around a single theme, like how "The Suburbs" dealt with the impersonalization of urban sprawl, but "Reflektor"'s subjects are more diverse. The title track is clearly about alienation caused by technology, while "Normal Person" paints youths as intolerant pricks who strive for uniformity. And as fun as it is to pick through an album to find an overall message, the lack of an overarching meaning keeps the album away from repetitive monotony
Other songs, like "It's Never Over (Oh Orpheus)" and "Joan of Arc," are open to some interpretation in terms of lyrics. The lyrics are particularly abstract and metaphorical in "Awful Sound (Of Eurydice)": "You and I were born in a little town/ before the awful sound started coming down." Even repeated listens might leave listeners unsure of the exact meaning for the songs, but given that Arcade Fire's new sound is interesting and original and that most of the tracks hold up well, this would hardly be a chore.