UCSD women's basketball downed Cal State San Bernardino on Seto's career-high 21-point game
UCSD's women's basketball team defeated conference foe Cal State San Bernardino 70–65 in the Tritons' first game of the season.
For the first time, UCSD began the regular season with a conference matchup without the aid of a couple preseason tune-up games.
"It's a little nerve-racking to start a season with a conference game, but we held our own and stuck it out together for the win," senior guard Miranda Seto said.
After junior forward McKennan Bertsch opened the game with a layup, the teams exchanged leads in the first half with neither team's lead ever reaching double digits. The Tritons led 30–25 at halftime behind a strong 10 points from Seto.
"We did a lot of nice things today," second-year head coach Heidi VanDerveer said. "We had a lot of good energy from everyone."
In the second half, UCSD lost their halftime lead when the Coyotes went on a 13–6 run. A successful three-point attempt and layup by Seto — who finished with a career-high 21 points to go with five assists and four steals — with 10 minutes to play, gave the Tritons the lead for good.
Seto starts this season at shooting guard. Senior Stephanie Yano, who red-shirted last season due to an injury, will take over the point from Seto.
"I think everyone [is] doing well in their new roles," Seto said after the game. "It takes a bit of the pressure off of me to not have to bring the ball up every time."
Most of the Tritons' scoring was done by the senior class, with guard Megan Perry scoring 13 points and forward Erin Dautremont — recovering from illness — adding 10.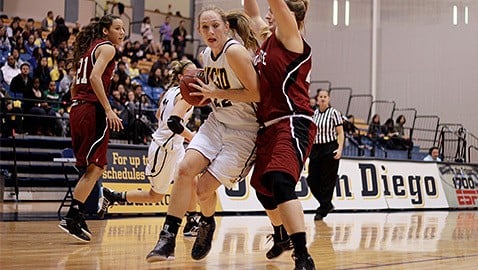 Forward Taylor Hirz led the Tritons on the boards by grabbing six rebounds in her noticeably expanded role on the block. Hirz averaged eight minutes last season and saw 19 minutes in Sunday's game.
"Taylor has really come into her own," VanDerveer said of the Marshall College sophomore. "She's been really aggressive in practice and in the game and a lot of this is really the level of aggressiveness."
Three freshmen saw playing time and scored in their first game for UCSD, including forward Cassie MacLeod, who hit her first and only three-point attempt as a Triton in the first half.
On defense, the Tritons notched eight steals but had 18 turnovers on offense.
"I think we need to get into more of a flow offensively, but defensively we're on the same page," VanDerveer said. "We're going to keep getting better."
The win is a nice change for the Tritons who started last season 0–3 with a trio of losses in a preseason invitational.
The Tritons will head up to Azusa later this week for the West Region Crossover Classic where they'll face Seattle Pacific and Western Washington on Friday and Saturday nights.