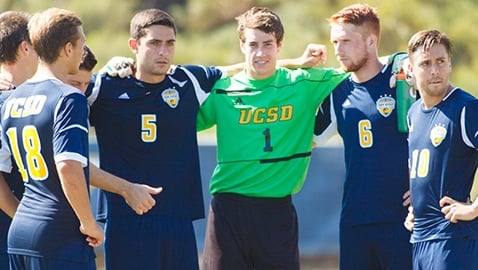 For the first time since 2005, the UCSD men's soccer team has qualified for the California Collegiate Athletic Association conference tournament.
The Tritons will go into the four-team tournament with the No. 2 seed. The Tritons will face No. 3 Chico State this Friday, Nov. 8 in the semifinal round. If the Tritons win, UCSD will advance to the championship game to face either No. 1 seed Cal State Los Angeles or No. 4 seed Sonoma State the following Sunday.
The finalized bracket was announced Friday, Nov. 1 after Cal State Monterey Bay, formerly at the top of the North Division, was forced to forfeit the results of three games for fielding an ineligible player. The result left Monterey Bay one point shy of qualifying for the CCAA tournament and pushed Cal State Los Angeles to the top of the CCAA South Division, one point ahead of UCSD. Although UCSD head coach Jon Pascale's Tritons have no postseason experience, Pascale said he's confident his team has the talent to win the CCAA tournament.
"I absolutely think we have what it takes to win," Pascale said. "We finished second overall in the league on a technicality, and we're a good matchup with Chico. I certainly feel pretty good about our chances."
UCSD is 1–1 with Chico State this season. Back in September, the Tritons took a 1–0 win against Chico. The Wildcats returned the favor in mid-October, snapping UCSD's seven-game winning streak, beating the Tritons 1–0 in overtime.
On paper, Chico State and UCSD bear a striking resemblance: Both teams have a tough backline that lives and dies on the set piece. UCSD (8) and Chico State (11) have the two lowest goals against average in the league.
But against the Wildcats, Pascale said the Tritons will have the advantage on the wings, where the Tritons have an arsenal of capable midfielders. Junior Brandon Bauman, who has a team-leading five assists this season, has looked particularly dangerous, as have senior Will Pleskow and junior Elan Gefen.
Unfortunately, UCSD may go without starting midfielder senior Cory Wolfrom, who has scored three goals for UCSD this season. Wolfrom sustained a toe injury last Friday in the Tritons' match against Cal Poly Pomona that may keep him out of the rotation this weekend. Midfielder Taylor Wirth finished the last game of his collegiate career with a sprained ankle.
"I think the last couple times we've played Chico, when we got the ball on the wings, we've really caused some trouble for them," Pascale said. "As long as we're able to limit [Chico's] set piece opportunities, I think we have a good shot at beating them."
UCSD's semifinal match is slated for this Friday in Turlock, Calif. at 11 a.m.
The winner will advance to the championship match on Sunday, Nov. 10 at 12:30 p.m.