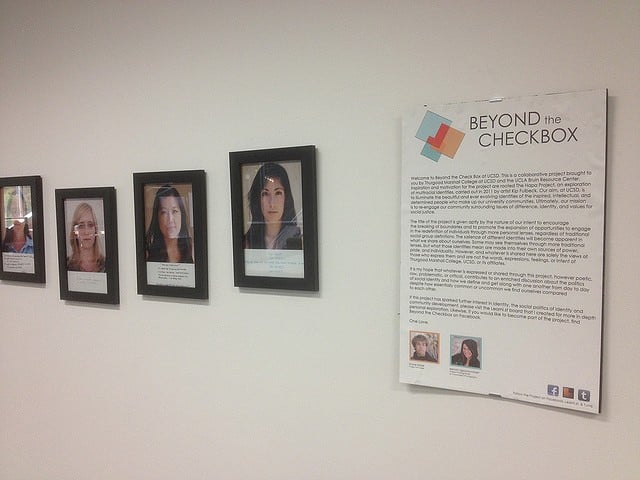 UCSD social project, Beyond the Checkbox, exhibits personal expression through portrait photography
In today's incredibly diverse world, checkboxes seem to be the most convenient way to classify people — but this comes at the expense of individual identity.
Beyond the Checkbox, a collaborative social project dedicated to redefining identity through a more personal lens, aims to shatter restriction altogether and give individuals a voice. The concept of the project is simple: Through a collection of photographs with personal statements, people are given the opportunity to express themselves freely and to see how others define themselves in the process.
At UCSD, Beyond the Checkbox is run by project coordinator Shane Moise and photographer eeman agrama-minert, both staff members of Thurgood Marshall College Residential Life. Over the past couple of years, exhibitions of their project have been displayed at Price Center, Geisel Library and at last year's TEDxUCSD event.
The project was inspired by The Hapa Project, an exploration of multiracial identities through photographic and personal written representation and was created in 2001 by UCSD alumnus Kip Fulbeck. Fulbeck would take a photograph of a mixed-race individual and then ask the question, "What are you?" He allowed people to describe themselves however they chose.
Beyond the Checkbox came about 10 years later. It initially started at UCLA, but it later spread to UCSD, UC Berkeley, UC Santa Cruz and UC Irvine. Moise and agrama-minert were compelled to bring Beyond the Checkbox to UCSD after they learned about Fulbeck's project at UCSD's Innovation Day Expo and Symposia in 2011. Moise expressed their desire to expand upon the scope of Fulbeck's project by asking a deeper question.
"We thought it would be a really appropriate and timely thing to ask people here, 'Who are you?' — but beyond race, beyond ethnicity and sex and all of that," Moise said. "[We aim] to introduce a new avenue, or a new medium of expression, for talking about identity, diversity and, ultimately, social justice in a university or educational space."
The project is intended to encourage students to actively identify themselves in whichever way they feel is correct, regardless of convention. And given the deeply personal aspect of the project, agrama-minert and Moise feel that the project provides a controlled and secure space for participants to bare their individual identities.
"[The project is] a safe way for people to share about their identities, because you get to go as deep as you want to go," agrama-minert said.
As part of the project, agrama-minert and Moise organized an event during this year's welcome week in which they invited Marshall students to take part in an "identity workshop." The students had the opportunity to reflect on their own representation of their identities as it related to being a UCSD student.
Expansion and establishment are important goals of the project, but as Moise explained, its long-term objective lies in the quality of the experience.
"[We want to take] those experiences in the facilitated workshops and [see] how valuable [they are] and what impact [they have]," Moise said. "Does being able to talk about these things … have a positive influence on your experience as a student and as a community member? If [so], then [we want] to make this a stable part of the UC experience and really institutionalize it."
Currently, agrama-minert and Moise plan to move from organizing gallery events to arranging more UCSD events that engage interested students and encourage all to participate. Students interested in being featured in the project can email either Shane Moise at [email protected] or eeman agrama-minert at [email protected]. They are also looking to involve more students in management.
"I sense that we're all still human, and we're all still hungry for that information," agrama-minert said. "I mean, your Facebook profile is all about you, right? You put what your favorite music is, and your books, and your interests and what you ate for breakfast. So with this project, the goal is really to take it back to the basics of 'Who are you?' and seeing how simply complex [that question] really is."