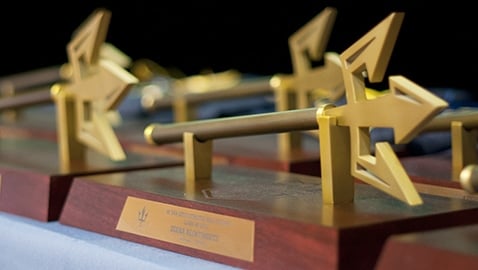 The UCSD Athletics Program inducted its first inaugural class into the UCSD Hall of Fame in a ceremony in Price Center East Ballroom Sunday, Oct. 20.
A panel of UCSD athletics administrators, former UCSD student-athletes and coaches picked the eight-member class beginning in June. The first class of inductees was announced near the end of August.
"Today is a special day in the history and development of UC San Diego athletics," UCSD Athletic Director Earl Edwards said. "We are here to celebrate another milestone in the growth of our athletics program."
Six former student athletes, one head coach and a former athletics director were chosen as part of the first inaugural class. The former student-athletes — all competing in the '80s and '90s — have 30 national titles among them and include: Christine Behrens (women's tennis), Ele Johnson (women's soccer), Bill Kazmierowicz (water polo), Diana Klintworth (women's volleyball), Travis Miller (swimming and diving) and Julie Swail (water polo).
Former UCSD women's and men's volleyball coach, serving between 1979 and 1995, Doug Dannevik also earned the Hall of Fame distinction, along with former Athletic Director Judy Sweet. Sweet served as the Athletics Director for 24 years before Edwards took over and later became the first female president of the NCAA.
"Having a Hall of Fame is long overdue. It's massive for the school, and it's going to bring great credibility to the school when people see the kind of athletes and personnel that we have," UCSD women's soccer coach Brian McManus said.
Banners honoring each inductee will be hung in RIMAC Arena. Hall of Fame members were also given plaques — The Triton Award — to commemorate the achievement.
"I think having the banners up in RIMAC Arena are going to be a great touch for our student-athletes. To kind of see the names and accomplishments of some of the people that came before them is a great step for us," UCSD cross country coach Nate Garcia said.
Any UCSD student-athlete is eligible for consideration 10 years after they've completed NCAA competition, and any former coach or administrator can be nominated three years after working at UCSD.
DIRECTOR OF ATHLETICS
Judy Sweet 1975-2000
Served as Directors of Athletes at UCSD for 24 years.
SOCCER
Ele Johnson 1993-1996
Two-time All-American and NCAA DIII national player of the year in 1996.
SWIMMING & DIVING
Travis Miller 1990-1995
Won 14 NCAA D-III swimming championship in his career. (9 individual/5 relay)
SWIMMING/WATER POLO
Bill Kazmierowicz 1983-1987
Two-year Water Polo team captain and twice a NCAA D-I honorable mention All-American.
TENNIS
Christine Behrens 1987-1990
Member of 1987 and 1989 NCAA D-III national championship teams and four-time All American.
VOLLEYBALL
Diana Klintworth 1986-1990
Two-time NCAA D-III All-American and graduated as UCSD's all time kills leader (still No. 4).
Doug Dannevik 1979-1995
Two-time national coach of the year, tutored 31 All Americans and is winningest volleyball coach in UCSD history.
WATER POLO
Julie Swail
Captain of the silver medal-winning United States Women's Water Polo team at the 2000 Olympic Games.