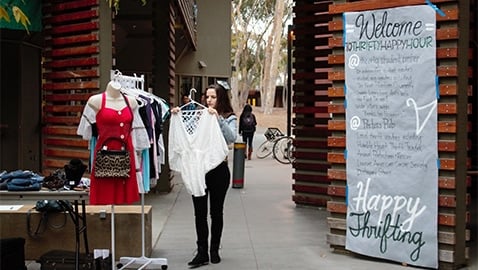 The patio at the Old Student Center was filled with students searching for new eco-friendly wardrobes last Wednesday, Oct. 23 from 5 p.m. to 7 p.m. The Thrift Trunk Show x Thrifty Happy Hour was an event that brought thrift shopping to students on campus to promote environmental and social sustainability. Several different organizations collaborated on this event, including the A.S. Environmental and Social Justice Affairs office and the Student Sustainability Collective.
While the Thrift Trunk Show did occur last year, this year marked the first time students were allowed to register to sell clothes. Fifteen students signed up as vendors and were given a table to display and sell their clothes. In addition, four local thrift stores, such as Humble Heart Thrift Store and THRiFT Trader, also came to campus to sell used clothing.
Associate Vice President of the A.S. Environmental and Social Justice Affairs office, Jillian Du, oversaw planning for this event.
"[The Thrift Trunk Show] highlighted and promoted thrift culture and the culture of repurposing items and tried to localize where items were sourced," Du said.
Du, along with other members who contributed to the event, wanted it to be more than just an opportunity to buy affordable clothing. They wanted to use the event to educate students on global sustainability. Posters around the patio detailed the following information: The production of a new t-shirt uses 700 gallons of water and one-third pounds of pesticides. The production of a new pair of jeans uses 1,500 gallons of water and emits seven pounds of carbon dioxide.
Du explained that buying items that have been previously owned shows consumers how they can funnel their money toward items that support being less wasteful and more resourceful.
The patio nearly resembled a flea market with tables set up in rows and students weaving through the aisles browsing the merchandise. There was loud music playing, vegetarian and vegan-friendly food available for purchase at the Food Co-op and, of course, shopping. The event brought over 200 students to the Old Student Center.
Erin McMullen, director of operations and resources at the Student Sustainability Collective, said that the event allowed students to contribute to something on a larger scale that helped the Student Sustainability Collective make sustainability more accessible for students.
"[The event] showed students that they can have an impact on this campus and that other people are interested in the same issues they are," McMullen said.
Next time, Du said that the Environmental and Social Justice Affairs office wants to get more people involved and collaborate with more organizations, including a food vendor to offer either free or discounted food. They want to put on the event at least once a quarter or possibly twice for this upcoming winter and spring quarter. They are also looking into creating a free market, where students can pick up donated clothing free of charge. Lastly, they plan to find ways to bring an even bigger educational component to show the benefits of reusing as opposed to buying new products, even if they are "eco-friendly."
"As a consumer, it's not just about buying organic cotton t-shirts, but to not buy at all, or buying something that will be trashed," Du said.
Du hopes to bring more awareness to students about the modern textile industry at future events and to empower them to look at life through a sustainable lens and, in turn, bring the university and students closer to achieving environmental and social sustainability.