In this latest outrageous comedy, Rogen and Efron battle it out over a neighborhood and will keep audiences laughing long after they have left the theater.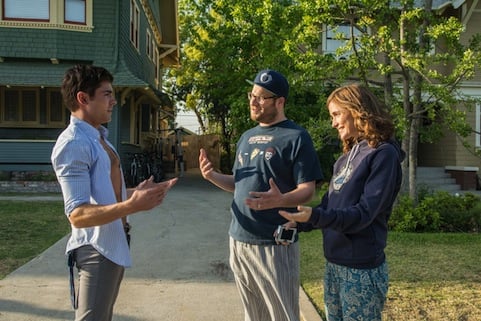 Rating: 4.0/5.0
Directed by Nicholas Stoller
Starring Seth Rogen, Zac Efron, Rose Byrne, Dave Franco, Christopher Mintz-Plasse, Lisa Kudrow
Release Date: May 9
If "Neighbors" is what happened when Zac Efron's "High School Musical" character went to college, then it's no wonder it didn't make the Disney Channel cut.
Teddy Sanders (Efron) is president of the Delta Psi Beta fraternity, which has recently moved next door to new parents Mac (Seth Rogen) and Kelly Radner (Rose Byrne). When the boys first move in, Mac and Kelly are invited to party with the college students and indulge in their fraternity lifestyle. By the end of the night, Mac and Teddy are "crossing swords" in the fountain and off to start a beautiful bromance. Their relationship quickly dissipates, however, after the fraternity throws a party that keeps the Radner family up all night, forcing the Radners to call the police on their neighbors, incurring Delta Psi Beta's wrath.
"Neighbors" begins by using the common trope of exhausted, new parents at a social low point that can't even stay up late enough to go out to a concert. Disappointed with themselves for their suddenly introverted lives, they quickly accept when Teddy asks them to go to a party. The couple is thrilled to be traveling back in time to the college party scene — with the baby monitor strapped to their side, of course, as any responsible parent would do.
At this point, the movie departs from any cliche themes by giving a fresh demonstration of what the term "frenemy" means.
Teddy is another role Efron may be using to distance himself from his early acting years, but he succeeds in portraying a hilarious frat boy (with a hot bod). Efron shows that he can do comedy well enough to keep up with notoriously funny man-child Rogen. Making no attempt to move away from his previous films, Rogen has returned to his pot smoking, immature, father-figure character from "Knocked Up." Rather than coming across as a redundant part, he plays the role flawlessly.
Rogen's portrayal of Mac is a perfectly executed comedic act that keeps the audience constantlycracking up.
The movie keeps the audience rolling in laughter with over-the-top shots of the wild fraternity. During the day, Delta Psi Beta just looks like another house on the block. However, at night, this film takes no shortcuts in order to create multiple epic parties. The house is hot boxed and has black lights streaming all over underdressed college students who are drinking and doing whatever drugs they can get their hands on. The cinematography perfectly encapsulates the feeling of a college rager, solidifying this movie's status as one to be remembered. It is humorous as a parody to college life and a visually engaging film.
In addition to throwing parties to drive the Radners from the neighborhood, the boys pull a series of pranks on the unsuspecting parents. The family of three is not as docile as expected as they get revenge by trying to get Teddy and his brothers thrown out of their house by using the dean to ban the frat and by destroying their house. In order for the undergraduates to earn money to repair the damage from the prank war, which involves a sudden, suspicious water leak (very sneaky Mac), the frat engages in unorthodox money-raising techniques such as selling dildos. "Neighbors" pushes the boundaries of entertainment with numerous dirty jokes throughout the film but never overdoes it enough to make the comedy feel forced onto the audience.
It is easy to mock Greek college life in a movie — and yes, there is some of that — but what this film does well is creating actual connections between the characters that the audience can relate to. The combination of Mac's need for approval from the college boys and Teddy's need for a friend culminates in an unorthodox yet funny relationship that viewers will enjoy.