Editor's Note: This article contains potentially distressing information about current events in Israel and Palestine. All interviewees were granted partial or full anonymity due to safety and privacy concerns. 
On Thursday, Oct. 12, Tritons for Israel, partnered with UC San Diego Hillel, San Diego State University Hillel, Chabad UCSD, and SDSU Students Supporting Israel, hosted a walk at 12 p.m. for Israeli solidarity in front of Geisel Library. 
Later that day, Students for Justice in Palestine at UCSD hosted a vigil called Honor Our Martyrs at 6 p.m. in front of Geisel Library, alongside the Palestinian Youth Movement, SJP at SDSU, and Palestine Solidarity Committee at University of San Diego.
Both events come after a series of attacks in Israel from Hamas, a political and militant organization from Palestine. Starting early last Saturday, Oct. 7, Hamas is said to be responsible for firing on Israeli civilians in communities near the Gaza Strip, abducting an unknown number of people, and attacking civilians in their homes.
This led to Israel's declaration of war on Hamas, escalating ongoing tensions between Israel and Palestine due to 75 years of Israeli subjugation of Palestine. The Israeli military stated that they have largely regained control of areas attacked by Hamas members. It has continued a siege and heavy bombing of the Gaza Strip. Israel has also cut off water, food, fuel, internet access, and energy to the city of Gaza in Palestine and its 2.3 million civilians. 
As of Oct. 14, the Gaza Health Ministry has stated that roughly 1,800 people have been killed in Gaza. The Israeli military said more than 1,300 people have been killed in Israel. Thousands more on both sides have been wounded. 
U.S. National Security Council spokesman John Kirby stated that some Americans are being kept hostage by Hamas. On Saturday, the State Department stated that 29 U.S. citizens have died in the conflict and that 15 remain unaccounted for. 
Walk for Israeli Solidarity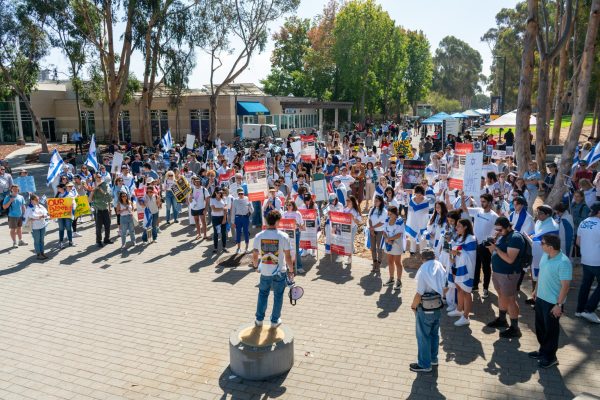 At the Walk for Israeli Solidarity, students identifying as Jewish and their allies gathered on Library Walk to call for support for people in Israel. Students spoke about their fears for Israelis, especially the family and friends they have there. They also spoke of their fears as Jewish people in the face of rising antisemitism. 
Students at the walk were encouraged to not go down Library Walk, but some attendees proceeded to go. There were some counter-protests and tensions between attendees and tabling groups, but there was no physical violence.
"We're here in solidarity with the state of Israel and their right to defend themselves," Tritons for Israel organizer Hodaya said. "There's more than a thousand Israeli civilians dead. This is the most Israelis and Jews that have died since the Holocaust, the biggest massacre that has ever occurred in Israel. We're here to put a voice out there for the Middle East." 
"Since the first attack on Saturday, the antisemitism surges have increased 488% around the world," Tritons for Israel organizer Caroline told The UCSD Guardian at the walk, citing a percentage from the Anti-Defamation League. "This does not have to do with politics. This is not exclusive to Israel and Palestine; this has to do with Jew hatred." 
The Guardian could not independently substantiate the percentage given.
Caroline and Hodaya declined to give their last names due to concerns for their personal safety and privacy.
Echoing the general concerns of the Jewish community at UCSD, Hillel of San Diego Executive Director Karen Parry released a statement cautioning Jewish students to remain careful and vigilant, as well as stating that the organization has increased security measures in the face of antisemitic propaganda.
The message states: "Here's what you should know: We've added armed guards at both Hillel facilities during all open operations through Shabbat. We've heightened our security protocols with constant monitoring. Our facilities are heavily fortified with multiple security checks before entrance, 360 video surveillance, bulletproof glass, etc. Local police are continuing to operate with increased patrols of our Hillels through this weekend and into next week."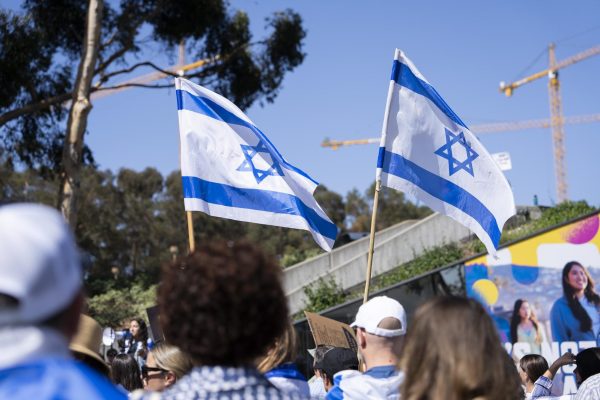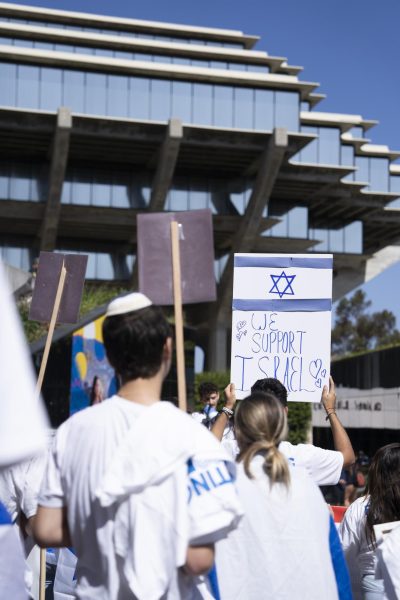 Honor Our Martyrs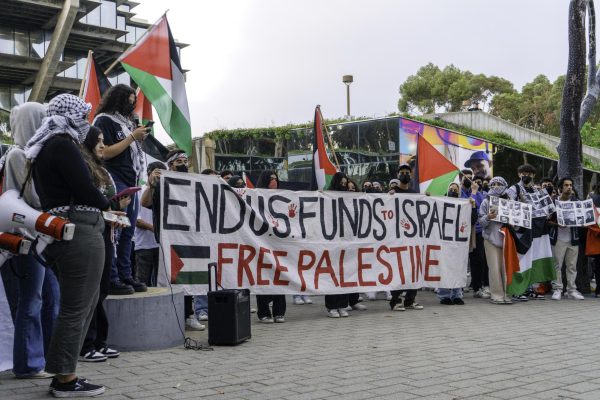 At the Honor Our Martyrs vigil, a group of students gathered to raise awareness for the decades of oppression Palestinians have faced during Israeli occupation. The speakers at the event called for solidarity, asking students to stand up for Palestinian people and recognize the many lives taken due to Israeli military violence. They observed a moment of silence to remember people who passed in Gaza and the rest of Palestine. 
Although there were counter-protests, the vigil remained peaceful. The organizers emphasized that SJP had no intent to protest but rather to offer a safe space for Palestinians who felt dehumanized on campus. 
"The administration and staff here have let ongoing wars be the description of all Palestinians, Arabs, Middle Easterns, and North Africans — people who fit a quote-on-quote stereotype of who they believe a terrorist to be," SJP organizer P said to The Guardian. P chose to use a pseudonym in order to protect their identity. 
"People need to know that this isn't something that started this week," said one of SJP's Co-Head Organizers, who requested anonymity due to safety concerns. "There have been 75 years of illegal occupation. Multiple UN violations. The U.S. and universities are all complicit in this, and we all have blood on our hands, as our tax dollars go to fund Israeli apartheid."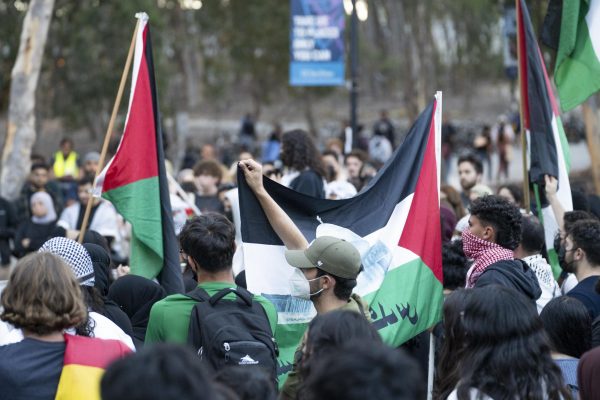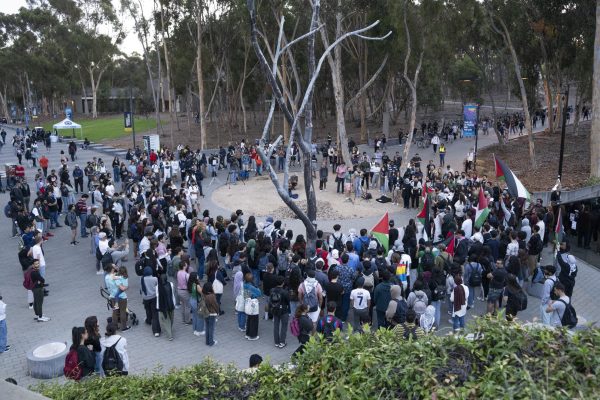 Chancellor's Statement
On Oct. 9, Chancellor Pradeep Khosla released a memo with resources to support students affected by the violence in Israel and Palestine. The next day, Oct. 10, he released a statement condemning Hamas' attacks on Israeli civilians, following a message from UC President Michael Drake and UC Board of Regents Chair Richard Leib. 
"I keep in my heart all innocent victims of this warfare and offer my condolences to their loved ones," Chancellor Khosla wrote. "As the ongoing devastation continues, I remain hopeful that those held in captivity will soon be safely returned home and that a peaceful resolution to this violence can be reached." 
Drake and Leib extended their sympathies to Israeli cities in their message, noting that the violence occurred during Simchat Torah, a major Jewish holiday. 
"What should have been a quiet weekend of rest turned into days of unspeakable terror and shock. The violence is deeply disturbing, and as of this moment we still do not know the fate of the hostages. This act deserves and requires our collective condemnation," the message from the UC read. 
Participants at the Walk for Israeli Solidarity noted their appreciation for the Chancellor's message and his solidarity with Israel. 
"I think it was amazing, I want to thank the Chancellor immensely for showing his support," Caroline said in an interview with The Guardian. "For condemning terrorism, condemning Hamas, condemning the slaughter of innocents, I want to thank him, and for standing with Israel and standing with the Jewish community here." 
"We really appreciated to know that the chancellor knows what is going on in the world," Hodaya said. "It's really good to see that we have support. The school has been reaching out to us and showing that they're trying to understand what we're going through and they're there for us, giving us the resources that we need. We all really appreciate it." 
In a statement on their Instagram post, SJP condemned Chancellor Khosla's message, describing it as discriminatory and dangerous to Palestinians and Muslims on campus. The message claims that the chancellor's statement minimizes Palestine's struggle for independence and Israel's history of ethnic cleansing and war crimes and spreads Islamophobic messaging. SJP also wrote that Human Rights Watch, Amnesty International, the United Nations, and the Israeli human rights group B'Tselem have all deemed Israel an apartheid state.  
"In just two days, the Israeli regime began using illegal white phosphorus missiles against the Palestinians in Gaza," the message states. "Israeli officials have called for the genocide of Palestinians, referring to us as "human animals" calling to "finish us off." The fact that the school has no qualms openly supporting a government calling for collective punishment and mass murder of an ethnic group is frightening and despicable."
"The chancellor's response was actually horrifying," the SJP Co-Head Organizer said. "It made me feel very unsafe as a Palestinian-American, especially as a UCSD student," 
"I couldn't finish reading it because I knew exactly what it was," P added. "It was another statement again dehumanizing Palestinians, dehumanizing Arabs, dehumanizing Muslims because currently, the media has correlated Hamas and Palestinians as one identity. There are innocent civilians in Palestine who have lost their lives. I do not understand why the chancellor did not address the innocent Palestine lives or merely recognize that Palestinians are a people."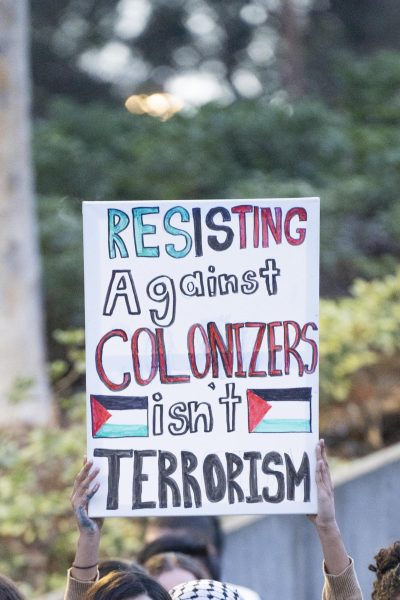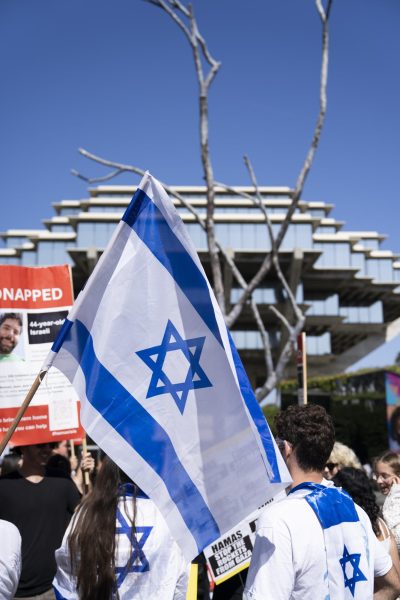 Additional Remarks

Both groups at the vigil and walk warned about possible misinformation that might be circulating during this time, on both mainstream news outlets and social media. They asked for people to listen to those who were suffering instead and to check on those directly impacted. 
"I want people to be very wary of the media currently," P said. "This is the greatest propaganda we have seen since the invasion of Afghanistan. I want everybody to double check, to listen to the oppressed: the Palestinians." 
"I want people to know not to trust infographics they see influencers posting," Caroline said. "I want them to put a few more minutes into researching and asking their friend if they're okay. I don't need you to be a political advocate, I don't need you to post stuff, I need you to check on your friends." 
Hodaya established that she wanted people to know that Israeli solidarity is not driven by politics but by a sense of humanity.
"If you believe that everybody has the right to live, everyone's life is important — if you believe in that stuff, then you believe that what is going on is not okay," Hodaya said.
When asked for their messages to the public, P stated that the actions in Palestine are driven by a desire to retaliate against Israel's domination over Palestinians. 
"People are equating what is happening right now — an act of resistance — to a terrorist attack," P said. "If people were themselves locked in a cage for over 70 years, what would you do? You would retaliate. You would resist."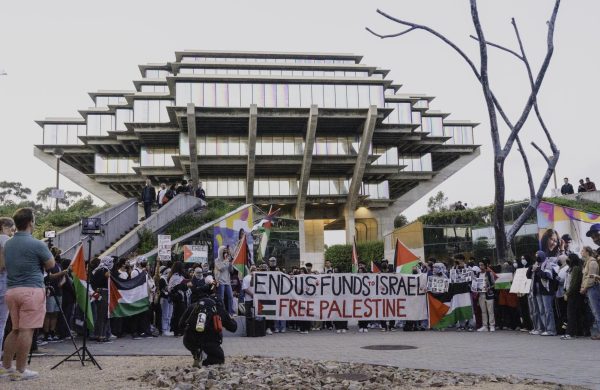 A Brief History
The current war is an escalation of the 75 years of tension between Israel and Palestine, which goes back several years. According to the Global Conflict Tracker, in 1947, the United Nations adopted Resolution 181, or the Partition Plan, which divided the British Mandate of Palestine into Arab and Jewish states. 
On May 14, 1948, the State of Israel was created, which led to the first Arab-Israeli War that ended in Israel's victory. This displaced 750,000 Palestinians, and the territory was then divided into 3 parts: the State of Israel, the West Bank, and the Gaza Strip. Since then, the issue of Palestinian self-determination and self-governance has remained in question. 
Hamas came into prominence in 1987 and was founded by Sheikh Ahmed Yassin, a Palestinian cleric and activist. Yasmin established Hamas as the political wing of the Muslim Brotherhood. In 1988, Hamas released its charter that called for the destruction of Israel and the establishment of an Islamic society in the historical territory of Palestine. As of 2017, Hamas has updated its charter to accept a Palestinian state along the "Green Line" border but refuses to acknowledge Israel as a legitimate state. Since 1997, the U.S. and other countries have deemed the group a terrorist organization, but some countries only refer to its military as a terrorist group. 

Resources
There are multiple websites students can access to donate to victims during this time. The American Jewish Joint Distribution Committee is collecting donations for Israeli people, as well as the American Friends of Magen David Adom. Additionally, the Palestine Children's Relief Fund and the Middle East Children's Alliance are collecting funds for Palestinians affected in Gaza. More charities supporting those who are affected can be found on Charity Navigator's Israel-Hamas Conflict webpage.

Students who may be struggling with their mental health during this difficult time are encouraged to reach out to Counseling and Psychological Services. Employees, staff, and postdoctoral workers can contact the Faculty and Staff Assistance Program at (858) 534-3755. For more resources and support for those affected by the conflict, refer to the Resources and Support page from UC San Diego Today.

Interviews at Walk for Israeli Solidarity were conducted by Alexander Olsen.