A&E Mother's Day Collection
Join A&E as we give appreciation to our mothers and their favorite pieces of media!
Jonathan Shlesinger – Senior Staff Writer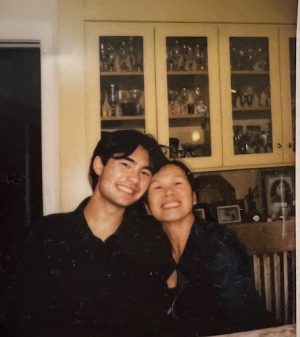 I can tell which family members are in the kitchen based on song choice alone, and my mother's tell has always been musicals. Her favorite has always been "Les Miserables," as the original Broadway soundtrack seems to accompany her everywhere. I asked her why she loves this play so deeply and she seems to be drawn to its melancholic nature. The play chronicles the intersection of several human tragedies: a criminal on the run shedding his old identity, a single mother ridiculed by a man's abandonment of her, and a bloody political uprising over economic injustices. Her favorite song from the play, "I Dreamed a Dream," is a devastating ballad about the hopeless realization of the futility of dreaming. The Patti LuPone version frequently echoes over sizzling pans — my mother's voice floating in and out of the song marked by a loss of youthful innocence and the burden of reality on hope. It's a somewhat funny juxtaposition of her character. She's a bubbly woman whose ability to always find things to smile about is admirable. I remember reading a section of the novel for school and then buckling down with my mother on the couch to watch the movie; I could then see if resonance with the story was hereditary. By the end, my mother was brushing tears from her eyes and asking me what I thought, to which I responded by saying that "I Dreamed a Dream" was also my favorite part. It was a small lie, my favorite part was getting to experience her love for it. My mother's got a huge heart, and I count myself lucky to have any piece of it. Love you mom, I'd watch "Les Mis" a million times with you.
Xuan Ly – A&E Co-Assistant Editor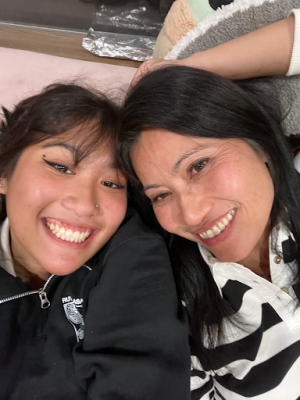 My favorite evenings at home are those filled with music. My mother loves to carry a tune — whether it be listening to Depeche Mode, The Eagles, or the "Hamilton" soundtrack while preparing dinner or playing ABBA on the piano after dessert. This is especially true in the months after any single concert or musical she attends, which, to mine and my brothers' faux annoyance, would become the only artist my mother would play over our living room speakers. But in general, my mom loves listening to 70s and 80s music, which fills her with a joyful nostalgia that reverberates throughout our home, manifesting in her frequent singing and dancing. When I asked my mom to name some of her favorite songs from those decades, she could not quite answer. 
Instead, she said: "I enjoyed having these old songs come back. Like Toto's 'Africa.' When it came back and your generation adopted it, maybe through memes, it's like having my childhood merge across time into your childhood — not unlike visiting playgrounds again as a parent. It takes you back to the playgrounds as a child and after a long break, you're back at the playgrounds with your child. Same way that playgrounds merged childhoods across generations. My childhood became your childhood." 
With these remarks, she reminded me of one of the reasons why music, and its persistence over time, is so powerful: being able to share it with the people you love. And, although my brothers and I joke about curating our car ride queues for her taste, I always look forward to shuffling my "Songs for Mom and Childhood" playlist so we can both sing along. 
Kamiah Johnson – A&E Co-Assistant Editor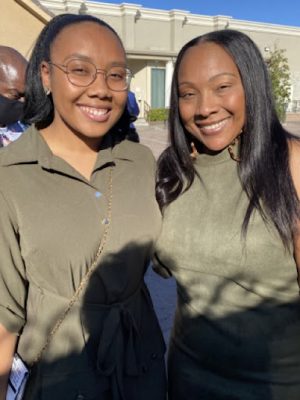 The year is 1985, hip-hop is on the rise, and people can't get enough of it. With the Hip-Hop genre becoming more mainstream, the best way to capitalize on that momentum was to put all the most prominent rappers at the time in a movie. That movie would become "Krush Groove," a fictional film that follows the rise of the real-life group Run DMC. The movie also stars other real-life artists such as Sheila E., The Fat Boys, LL Cool J, Kurtis Blow, and New Edition. This was the "Avengers: Endgame" for hip-hop fans during the 80's; young kids everywhere wanted to see it desperately, and one of those kids was my mother. At age 11, my mom was like many kids her age growing up in Los Angeles during the 80's — huge hip-hop fans — and "Krush Groove" was the movie she desperately wanted to see. So much so, that she rounded up her friends to go with her to see it in theaters. Everything was set, except for the fact that the movie was rated R, and the theater employees didn't let my mom and her friends in to see it. So they conducted a plan; they found an elderly couple and asked them to buy them tickets, and they agreed. Their plan was almost foolproof until they were stopped once again because the couple was seeing a different movie and couldn't accompany them to "Krush Groove." So my mom and her friends ended up not seeing "Krush Groove" that night and waited until it came out on VHS to watch it. The delay didn't stop it from becoming my mom's favorite movie to this day.
Laila Del-Rio – Senior Staff Writer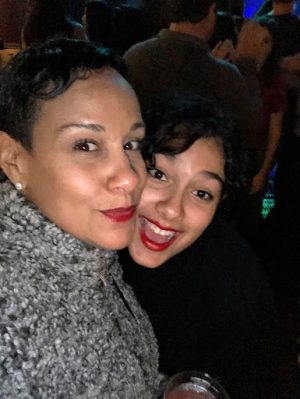 My mom has always had great style. She is the height of elegance and sophistication in fancy dresses paired with killer shoes. Growing up, I loved to explore her closet and I would dream of twirling in her dresses or pretending I could fit into her shoes. Even today, I lovingly turn to my mom's closet if I'm in need of just the right accessory, outfit, or pair of shoes. So, when I asked my mom what her favorite TV show was, it didn't surprise me that "Sex and the City" was her answer. I asked if there was any particular reason, and at the top of the list was the fashion in the show. Whether it was the iconic outfits that Carrie wears or the memorable luxury items each character dons, it makes a statement. Additionally, my mom loves the independent, hard-working women that make a name for themselves in New York City. It makes sense. My mom is the same way and it is one of the many reasons I look up to her. She is strong-willed, passionate, and self-reliant just like the women in the show, and just like she raised me to be. While I've only seen a couple of episodes of the show myself, it does hold a particular quality that calls to me. I resonate with it for the same reasons my mom does. When I do inevitability watch "Sex and the City", it will be special to see the show through my mom's eyes. To picture her own years growing up in a big city and compare them to my own. And to love it for all the same reasons she does.
Katherine Tewksbury – Contributing Writer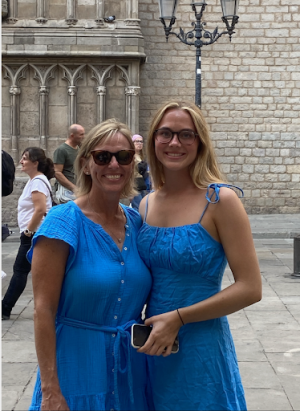 When I texted my mom about this piece, she was at Target and I was about to take a midterm. So, we decided to do some rapid-fire "favorites" over the phone. This 10 minute call makes two things plainly clear: this woman cannot take herself seriously, nor can she shop and talk at the same time. Before I even start asking questions, I'm informed that mega-stuffed Oreos are her favorite candy — to which she's informed that we're doing media favorites. She laughs, then pauses. She seems to have arrived at an aisle, but doesn't know what for. I give her a minute. Once a minute feels more like five, I ask if she's there. "Mute button!" She laughs. I ask her for her favorite book. Pause. Another mystery aisle? Mute again? Or — most likely — did she and I already know the answer and its associative shame? Judging by the guilty cackle ringing in my airpods, it's certainly not the mute, but the latter. To her credit, she begged me not to write this title. She was determined to "make up something better." The thing is, she never said "off the record." Because of this rookie mistake, I won't say her favorite book is "The Grapes of Wrath," just like I won't say her favorite author is Kirsten Hannah — despite her saying "those sound better … yeah let's do that!" Though they may be runners up, they're no match for "Twilight" and its never-ending sagas. Now that I've rid my mom of the possibility of seeming at all sophisticated, her favorite movie is "Elf" (if not "Twilight"), her favorite actor is Will Ferrell, and her favorite music artist is Claude Monet — I'm going to assume that's the result of another muting error. There you have it. The favorites of someone who is everything (but pretentious) to me.
Lea Vazquez – Senior Staff Writer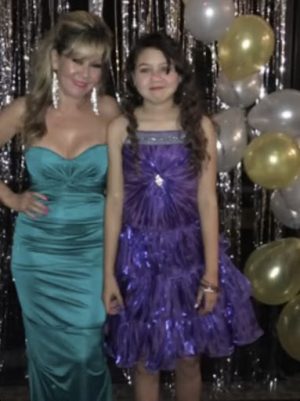 Growing up, I spent most of my time with my mother, whether it was sitting in her office as she attended to business on her laptop, or sitting in the back of the car accompanying her on an array of errands. Most of these moments passed while listening to the radio. The Sirius XM Jazz stations are usually what was played. Contemporary jazz, Miles Davis, and Bebop would fill my ears while I was attached at the hip with my mother, joining her in any task. As a young adult now, listening to jazz is no longer a daily ritual. But in the moments I do, I find myself transported to a time when I was a little girl with my mom, listening to jazz. The feeling in these recalled memories is comforting: being in the presence of the person who loved me the most. Nowadays, seeing my mother in person is rare, but we try to make it a point to get dinner together when it's possible. The plan is the same: I meet her at her house, I come inside, we talk, we go in her car, and she escorts us to our destination. She connects the phone to Bluetooth, and she plays the same jazz music she played a decade ago. The tune would be what my mother and I let take up the silence while we stared at the road ahead of us. Though our relationship has changed from what it once was so long ago, the core comfort has stayed the same despite the course of time. The melody triggers that reminder to me as we go to dinner, and as I look at my mother across the table from me, I see the person who has been with me throughout it all. God, I love jazz.
Hector Arrieta – A&E Editor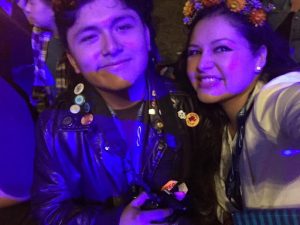 I mention my mother a lot in my articles; in fact, I even talked to her about this some time ago. I told her that while my dad gets a lot of the funnier "tee-hee-har-har" moments in my writing, she has always received the more serious, prose-esque writing in many of my reviews. And while that preference towards my mother in the more serious department isn't a slight on my dad, I never thought about it much until I spoke with her for our section's A&E Mother's Day collection. In talking to her about her favorite pieces of media, she highlighted the fact that one of her first literary loves was Colombian writer Gabriel García Márquez, who wrote her favorite book — next to the Bible, that is — "Cien Años de Soledad." Having first read it at the age of 12, she highlighted that this was the book that began her love for literature. She notes how Márquez's storytelling and symbolism ignited a passion that she felt the need to pass on to someone. 
"So I shared it with you," she began, "The love for books. And it's those moments I spend with you and see how you've become an amazing writer and I really think it's because you love reading, and it's something that I did right as a mother, and that was sharing and spending time with you."
And I must say thank you, Mom — part of why I write is because of you. I was inspired when you ran a small publication called "The Living Sessions." I saw how much you loved what you did and I sought to emulate you. I write what I write the way I write it — especially when it's about you — because I've always wanted to make you proud in some way. And as I sit here writing this with tears in my eyes, all I can end with is, I love you, and thank you for inspiring me.
Cover image courtesy of Helix Creative Solutions