The Period Pilot Project Begins at UCSD
Associated Students Campus Wide Senator Liane Barkhordar heads the launch of the Period Pilot Project in order to combat period poverty and increase accessibility of period products on campus.
Liane Barkhordar remembers looking through the recesses of her backpack for a pad and coming up empty. Barkhordar headed to a campus bathroom, where she looked around for a pad, but again, to no avail. It's a feeling that many can identify with.
After experiencing this during her freshman year, Barkhordar couldn't forget about the fact that there were no free pads in the bathrooms at UC San Diego. The problem "drove [her] crazy," and thus birthed the idea of the menstrual equity initiative.
Barkhordar is a sophomore Thurgood Marshall College student, and as part of the final class in Marshall's writing sequence, DOC 3, students are tasked with writing a research paper about an issue on campus and proposing a solution. Barkhordar chose to research period poverty. 
Period poverty — a public health crisis — is defined by PolicyLab as "inadequate access to menstrual hygiene tools and education, including but not limited to sanitary products, washing facilities and waste management." As Barkhordar continued to research this issue, she came across a piece of legislation: California's Bill 367, or The Menstrual Equity for All Act, which was signed by Gavin Newsom in 2021. 
"The act requires K-12 schools to provide period products, requires state schools to provide period products, requires community colleges to provide period products … we're only recommended as UCs," Barkhordar said. "And so that really bothered me."
After uncovering this piece of legislation, Barkhordar wanted to see if any other UCs had identified this problem and done something about it and thus came across UCLA's student-led period pilot initiative. She learned about how they led this initiative for a few years, and after working with their administration, eventually made it permanent.
Barkhordar was inspired by this initiative, and on March 15, Barkhordar's vision came to fruition. The Period Pilot Project was officially launched in Geisel Library, where Barkhordar took part in a ribbon-cutting ceremony to commemorate the placement of period products (as of now, pads) in all second-floor Geisel bathrooms.
Before this launch, however, Barkhordar had to go through multiple phases and figure out the logistics of how it would work. During the Spring Quarter of her freshman year, she ran for Associated Students Campus Wide Senator to "have the position to bring this pilot project to life and create more awareness for the issue," Barkhordar said. "I made the period projects my main campaign point."
After she was elected, Barkhordar worked with various A.S. offices, fellow senators, EVPS, and the administration to move the project forward. 
"While I was doing that, I also realized that a lot of students aren't aware of the issue of period poverty and [its] implications," Barkhordar said. "So I created a plan for the pilot project, and I was like, okay, Phase One is just bringing awareness to the issue. So talking about period poverty, asking students if they know what period poverty is, and admin as well."
For Phase Two of the project, Barkhordar created a survey and launched it to students to gather input on period product accessibility on campus. The survey received over 1442 responses, and from these responses, Barkhordar was able to gauge the extent of the issue on campus. For instance, over 700 respondents noted that they have used a pad or tampon longer than recommended because they did not have access to period products.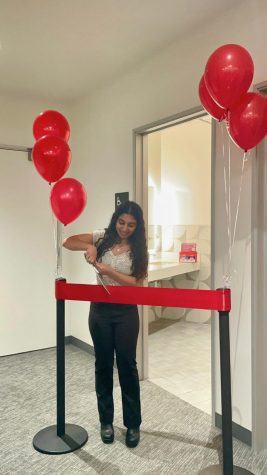 One respondent said, "I had to wad up toilet paper and improvise a pad on a few occasions due to [a] lack of products available in bathrooms." 
Finally, Phase Three involved taking the results of the survey, working with the administration, and ultimately launching the Period Pilot Project.
"When I first started, I had to kind of downscale everything because my initial vision for it was having the products in Geisel and RIMAC, and in the dining halls, but in terms of purchasing the products and restocking the products, that was just logistically really challenging," Barkhordar said. "And so the reason I chose Geisel is because it's kind of a central hub for campus, and it's somewhere that all students go to typically. It's right next to the Price Center, somewhat close to the trolley, and overall there's a lot of foot traffic."
Barkhordar ultimately chose the first and second floors of Geisel Library — typically the busiest floors — to stock the period products. Currently, there are 16 bathrooms in Geisel with the products. Barkhordar chose to buy the pads from a sustainable company called Aunt Flow, and the pads are 100% organic cotton. 
In the women's and gender-neutral bathrooms, there are bins with pads placed in the sink area, and in the men's bathrooms, they are placed in stalls for privacy reasons. Additionally, there is a QR code next to the bins that students can scan, which leads them to a feedback form. 
Barkhordar adds that library and maintenance staff are in charge of restocking the products, which has been a tremendous help to her. As of now, the feedback from the form above the bins indicates that students are having an overall positive experience with the resources. Some suggestions from the form response include having dispensers instead of bins, and 80% of respondents (44 respondents in total) said that having these products reduced overall stress.
One respondent said that "as a trans person who faces barriers to access to period products (financial and social), [they] really appreciate this program."
In terms of collaboration, Barkhordar says many other people were involved, including Assistant Vice Chancellor of Student Life Patricia Mahaffey, Chief Communications Officer Kharylle Rosario, AVP of Enterprises and Services Xavier Lopez, Assistant Director of Building Services and Facilities Management Mario Sierra, UCSD Basic Needs team, many library staff members,  multiple AS Offices, as well as Muir College Council. Barkhordar said that these people and organizations helped her with administrative connections, funding, pilot project promotion, period survey creation, and overall served as an important support system for her.
Despite her eventual success in raising awareness, receiving funding, and launching the pilot project, the entire process came with many challenges.
"I would definitely say the greatest challenge was getting the project off the ground," Barkhordar said. "For a long time, it was kind of in the preliminary stages. I had the vision for this for a while, but it was just really hard to figure out logistically how to implement it. There were a lot of roadblocks, like, finding a location, once we found that location, purchasing the products, then where's the money for the products gonna come from? Who's going to restock the products? Are students going to restock it? And it seemed that every time I figured one thing out, another thing got in the way."
Now that the pilot is underway, Barkhordar has plans to expand and make this initiative more permanent. She is currently working on making sure that period products are on the upcoming budget and working with the administration to make sure that products will continue being available to some capacity.
"Overall, the next step is trying to make the project more permanent," Barkhordar said. "With just more bathrooms on campus, having period products, and the goal is to be in high traffic areas. So the next place would probably hopefully be RIMAC, or the dining halls or lecture hall restrooms, which are areas that students frequent a lot, so it's very accessible to them."
Photo Courtesy of Liane Barkhordar