It's party time as Democrats faced a wild weekend full of surprises.
As our own students made their campus rounds earlier this month shaking hands, kissing babies, and flirting with voters, statewide candidates were doing the same at the Democratic State Party Convention. The weekend event in February was the Democratic Party's biggest in California. Ideas were pitched, candidates were endorsed, and reforms took root. The official platform of the party and its affiliates was decided on for the next two years. Incredibly enough, it all took place in our own backyard at the San Diego convention center.
With more messages in his inbox than a professor after finals week, the party communications director finally responded to the UCSD Guardian: We made it in. Press badge holstered and UC San Diego socks riding high, I spoke with candidates, reporters, volunteers, and even kids to get the full picture. I wanted to see what really goes on behind the scenes, not only with the politicians, but with everyone in attendance. Everyone had something to say. The convention was filled with passionate voices and big ideas. Put simply, it was one for our textbooks.
The convention floor was lined with campaign stands, organization pop-ups, and activist tables. It seemed more like a county fair than a political gathering. Zooming around like Nascar drivers, delegates and visitors jostled for position, sporting their political brands and logos from head to toe. Perhaps the most popular attraction was the Planned Parenthood caravan. Pink condoms dotted their tables and neighboring booths championed their causes. Elizabeth Wells, volunteer coordinator and creative organizer for the Planned Parenthood Affiliates of California, highlighted the cross pollination of activism. "We're trying to address the various healthcare inequities that manifest in our society. We are here as a vehicle for hearing different voices and different intersections of voices. We are here to stand with our coalition partners," she said.
---
Read more:
The Enrollment Conundrum at UCSD
Examining Feminism for Women's Month
Why HDH Does Not Keep its Promises
---
One of those coalition partners was Terra Lopez, founder of the "This Is What It Feels Like" project. This pop up mimics what it sounds like to be catcalled as a woman and what emotions it evokes. Miss Lopez spoke about what inspired her to start up the exhibit. "I've seen my mother get shot. I've seen my mother get her legs broken and get beat by men. As a child, I felt very powerless. Now as an adult, I'm doing my best in the hopes that we can educate men to change these behaviors and know that it's not acceptable so more women and children don't have to endure that."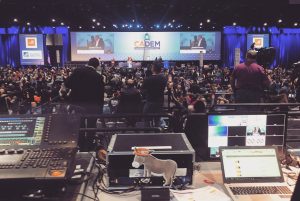 Believing it holds the moral high ground and seizing a strategy to utilize in the coming elections, the party adorns itself with social issues like these. The louder it shouts them and the more hype it creates, the more change is brought, and the more votes are caught. The Party continued to preach these issues, celebrate its ever growing "family", and champion its diversity throughout the convention. Like Joseph and his Amazing Technicolor Dreamcoat, the Democratic Party was proud to sing of its many colors.
They start them young too. Eleven-year-old David Ksido spoke of his unionist activism better than most humanities students. "I am out here," said David, "because I think that we need to get collective bargaining for childcare providers in the state of California." Passionate about his beliefs and eager to get them out, David was the poster child for the convention floor.
"We're trying to address the various healthcare inequities that manifest in our society. We are here as a vehicle for hearing different voices and different intersections of voices. We are here to stand with our coalition partners."
Moving off the convention floor and into the caucus rooms, members of each organization met to discuss the problems they face and how to resolve it. For instance, the education caucus outlined on their minute sheet how "half of state budget is for kids and education, yet we are 39th in per pupil spending." Fan favorite Congressman Ro Khanna spoke about foreign policy and the raging civil war in Yemen. Even the Technology caucus members tweeted out support for the California Consumer Privacy Act. (Looking at you, Suckerberg.)
Each caucus was meeting to cover these extensive issues, and, just as importantly, to be swooned by the incoming politicians. Each candidate made their rounds in a game of ultimate speed dating, with five minutes to speak before running down the hall to the next caucus. Each entrance was like a royal welcome, or at least designed to be. Shipped-in supporters from all over the state would flood the room with their teams' colors and imagery just before their candidates' arrivals. When the time came, all hell broke loose. It was like a scene out of "The Wolf of Wall Street." Chest pounding, cheers vaulted in the air, people jumping up and down like animals. The drug here was politics, with heavy addictions to their candidates.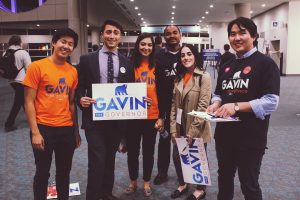 Based off the vibes at the convention, Gavin Newsom was clearly leading the governor pack. He told me about his dad's photo with Robert Kennedy: framed inspiration that would later spur his entrance into the political jungle. Like Kennedy, Newsom was met with loud applause at each caucus he entered, and not just from his shipped-in groupies either. His branding team kept the pace. Aligning himself with "working Californians" on his flyers and in his speeches allows him to capture a crucial base — one the Democrats lost in a national election. This branding also serves as an avenue to welcome Main Street business owners, union groups, and everyday customers under the same label. Newsom's game was keeping his own party alive before people left for a better one.
Indeed, that's exactly what former state treasurer John Chiang looked to cause. A fighter with something to prove, John was assertive and ardent at every caucus he attended. From moving taxes online to organizing the first international green bond summit, John credited himself for giving California the updates it needed. Caucus to caucus, this was his pitch. Caucus to caucus, state candidates looking for endorsements weaved in and out, trying to make their faces known. It reminded me of high school elections when young campaigners interrupt class to throw candy at you and ask for your vote. Unfortunately, there was no candy at these events.
Fortunately, they had margaritas instead. At the end of the first night is when the famous caucus parties take place. Drinking together, delegates spoke of their excitement and interest in being at the convention. They discussed competing motions and networked better than a business fraternity all while doing the salsa. To them, the event was more intoxicating than the tequila drinks in hand.
The next day, keynote speakers headlined the convention. Senators Kamala Harris and Dianne Feinstein were icons on the stage. Representative Maxine Waters preached of impeaching President Trump and "reclaiming her time," and the Democratic Party's time, in national politics. Conan Nolan, NBC news correspondent and San Diego lover, offered his thoughts to me amidst rolling cameras and buzzing reporters.  
"The biggest political challenge for the candidates," said Nolan, "is to articulate a vision that distinguishes you from the problems in Washington and from a very unpopular administration, while at the same time saying I'm not just a representative of the resistance, I do care about more mundane issues that a governor, or a mayor, or a legislator has to deal with."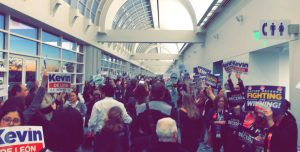 A few blocks away, and over spaghetti, political strategist Richard Greene (nicknamed the Civics Dean) told me about tactics to engage single-issue voters. He spoke of his 279 For Change website that focuses on signing up voters on these issues. Weeks later, the March for Our Lives rallies further emphasized his point as the Democratic Party organized and activated its national network on the single issue of gun reform. The question now is: Will the momentum hold? And will single-issue voter registration be the new third party platform, as Greene wishes?
Returning to the convention halls, a sea of delegates formed around the voting stations on the final night. Candidates chased selfies, lunged for friendly hugs, and made last-minute pitches with as many voters that would listen. The halls rumbled as votes were cast. In an upset, darling Democrat Dianne Feinstein, the longest current-serving female U.S. Senator, did not receive a rose from her party. In fact, the U.S. senator, governor, lieutenant governor, attorney general, and Board of Equalization positions all failed to garner a 60 percent vote majority by delegates in order to secure their party's endorsements. The candidates all now run on behalf of their party, without any endorsement from it.
In dramatic fashion, these results proved to be a referendum on the Democratic Party. Being anti-Trump wasn't enough for the challengers. The seeds of Bernie Sanders's progressivism had been well-planted and were rooted throughout the caucus. While old guard Democrats like Feinstein and Waters spoke of reclaiming their time, the delegates and activists there championed a new era. California's Democratic Party showed a new center being pulled further left. To those in attendance, progressivism was the new sexy. And the losing candidates just weren't sexy enough.
Filled with unexpected endings, unexpected events, and unexpected encounters, the convention was awe-inspiring. It was the breeding ground and pacemaker for California for the coming years. Everyday people debated and future leaders fought. Ideas were cast out and motions set in stone. Unionizers strummed guitars on the grass. Planned Parenthood handed out pink condoms. The after-parties brought everyone together. In short, it felt like a typical weekend on a college campus.
Cheers to the next one.
Art by David Juarez