Playwriting is a complex process, taking many forms and yielding a diverse array of styles and artistic approaches. To Steph Del Rosso, a first-year in UC San Diego's M.F.A. Playwriting program, artistic creation is an externalization of internal thoughts and ordinary observations.
Del Rosso's writing process is unique to each of her plays, but a question or idea always forms the genesis of her projects. "It starts with an obsession or something that's been bothering me, and then I go into dialogue," she told the UCSD Guardian.
For her most recent project "Are You There" — premiering as part of the Wagner New Play Festival — Del Rosso derived inspiration from a phone conversation. "I ended up transcribing that conversation and then I thought, 'Maybe there's something here; maybe I should dig into this more.'"
"Are You There?" investigates a long-distance relationship between two people over the course of a decade, but the evolution of technology and forms of communication span several decades. "We're on a journey with these characters as they develop their relationship but we're also tracking how technology manipulates and distorts our relationships with one another," explained Del Rosso.
In the digital age, theater works as an antidote to a device-obsessed world. "When you're in a play you have to disconnect," Del Rosso said. "I think theater is able to retain our ability to be present and in community with one another, which is one of the things that draws me to it to begin with." Concerning technology's increasing presence in theater, Del Rosso is open to artistic innovation but skeptical of over-accommodating the shortened attention spans of technology culture. "I write really fast-paced work that moves through time in a way that embraces that sensory overload, so I think there are ways of embracing this shift in attention spans –– but you also have to complicate it."
The playwriting program at UCSD has given Del Rosso the opportunity to immerse herself completely in her work. "When I was living in New York, I had multiple part-time jobs and there just wasn't enough time and space to devote to my writing, so the fact that the program here provides a fully-funded opportunity to just write and teach is amazing," she said. The small program allows for individualized attention from the professors and a collaborative environment, which has fostered the formation of a close-knit cohort of student writers. "And it has pushed me to create more work," Del Rosso added. "If I'm working on this Wagner play but I'm in a class where I'm supposed to write a completely different play and present pages every week, then I'm going to be held accountable to that, so the sheer structure is helpful."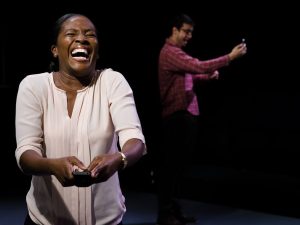 Del Rosso's plays fall primarily under the umbrella of dark comedy. Her stylistic preferences are driven by her worldview but also by a commitment to the craft. "I want to observe and interrogate real things that happen between people, but I also want to be aware constantly that we're in a theatrical space and ask, 'What are the possibilities for things to get weird or scary; what are the risks we can take?' Most of my work integrates something a little surreal or bizarre."
For a playwright, collaboration is a key tenet of the creative process. "I think that something that was instilled in me pretty early on by mentors of mine is that it's dangerous to feel like your work is too precious. Particularly with something like theater," Del Rosso said. She emphasized the importance of working with a team and getting comfortable sharing drafts. Del Rosso spoke fondly about her collaboration with Zora Howard — an M.F.A. Acting student and the director of "Are You There?" — saying, "She leads the room really effectively, but she's also really diligent about making sure that that we're on the same page. The director-playwright relationship is a tricky one. But when you get that match that works, it's great."
Del Rosso tries to avoid controlling the reception of her plays. "You have to obviously take care of the audience, but I try to not focus too much on expectations of what I want people to feel or how I want them to respond just because I never want to prescribe an experience to them," she said. In her ideal scenario, Del Rosso's audience leaves the theater with disparate and lasting reactions. "Hopefully my plays linger in people, not necessarily because they liked them, but if they stay with people and if they've given them something to think about, or question, or maybe even disagree with or if it just stays in their mind, then that's exciting to me."