In "Too Many Man," British rapper-and-gift-to-Earth Skepta pleads: "We need some more girls in here; there's too many man, too many man." Caught up in the club, Skepta's commentary reminds me of a sad proverb I heard throughout my Freshman year about "the ratio" at parties. But the sentiment of seeing an overrepresentation of men is something so obviously universal throughout professional, political and music spheres.
This is evident upon a brief glance at most lineups for American music festivals, where a percentage of acts betweens 70 to 90 percent consist exclusively of men, whether it's groups of them, duos of them, or male solo artists. A data visualization published by Pitchfork puts the average number across U.S. festival acts at 74 percent male, 12 percent mixed gender and 14 percent female. The UCSD Guardian Editorial Board wrote last year about how this doesn't stop at smaller festivals, like our own Sun God Festival, where recent headliner history is entirely male.
This year, I've illustrated what the Guardian Editorial Board previously discussed by observing percentages of male-exclusive talent in the last 10 years at Sun God.
The statistics on Sun God bookings by gender were obtained by Web Archiver, which shows lineups for Sun God dating years back via official website. Excluded from the totals were Battle of the Bands winners, dancers and comedians, in order to paint a clearer picture of the musical talent booked. The sample sizes for the 10 years vary greatly due to the change in lineup size; where the festival used to book between 10 and 20 acts, it has in recent years booked fewer, and evidently bigger, acts. Still, the end-results are a matter of calculations, and the takeaway isn't affected greatly by these differences in sample size.
In order to group the acts by gender, official websites, press and social media were referred to. Acts whose acts consisted of all male members were grouped under the "exclusively male" label; acts where the group was mixed gender were labeled as such; lastly, female solo, duo and group acts were labeled as such. Bands whose members' genders were not identifiable were left out of the sample to avoid assumption, but only three of the more-than-hundred acts sampled were excluded.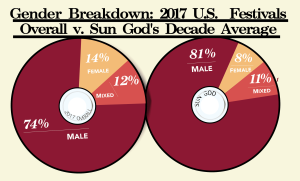 It is clear that Sun God follows a nationwide problem of discrepancy as to male-domination at music festivals, and has maintained this across the past decade. As was written last year, it's a symptom of sexism that takes shape from the inception to the performance stages of music described by everyone from FKA Twigs and Bjork to Grimes: women being discouraged from pursuing music, being condescended in the production process, being credited less for their own work than male collaborators.
Booking is just one aspect of the bigger sexism-in-music picture, but the decisions made on this end firmly perpetuates the prioritization of male artists at a festival that has neither male-demographic to cater to nor a reason to keep a string of male headliners unbroken for an entire decade.