How We Chose
The Guardian Editorial Board conducted interviews with all candidates for A.S. President, Vice President of Campus and External Affairs and Campus-wide Senators. Two candidates, Aaron Burgess and Julia Prinzi were not available for the interviews. The views expressed in the endorsements are those of the Guardian Editorial Board, not of an individual in particular.
A.S. President – Lesly Figueroa, Students Determined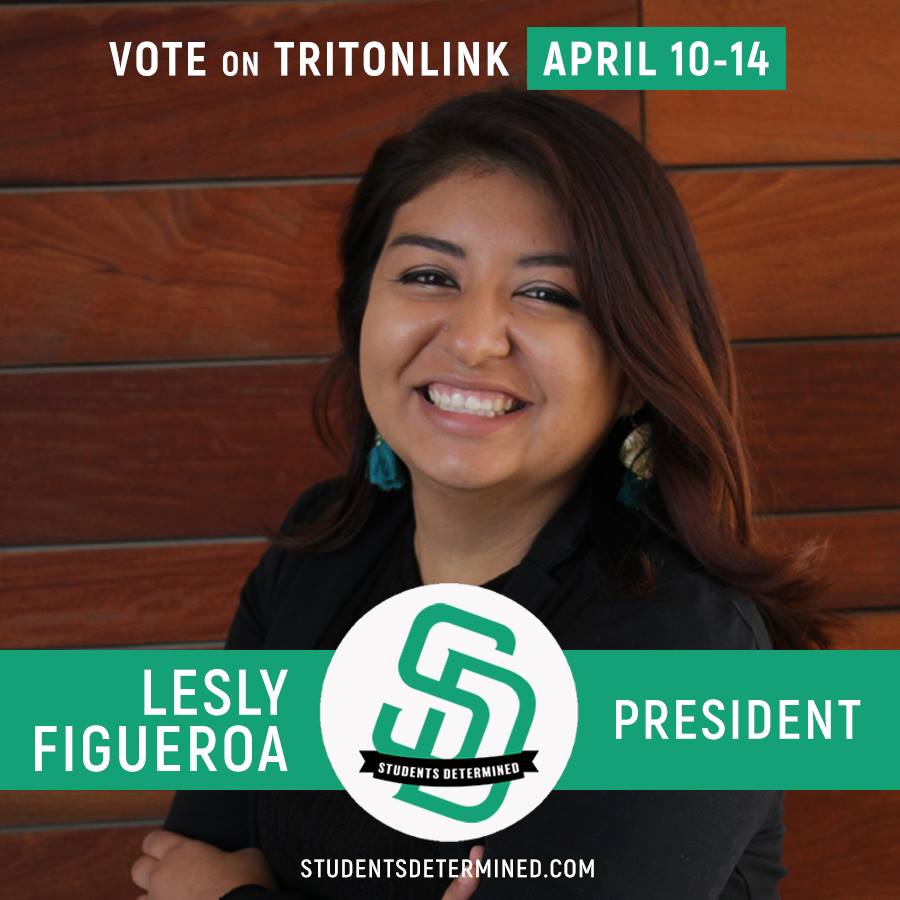 We are not accustomed to a tight presidential campaign anymore here at UCSD, but this year there are four candidates standing tall on the debate stage, vying for the right to be our next student body president. Though no one is a bad candidate, Lesly Figueroa stood out to us the most. She is currently the associate vice president of Environmental Justice Affairs and the Triton Food Pantry student manager, among other roles, and is running on a platform of creating a student-centered institution with her progressive colleagues. Figueroa is not just a candidate that throws around big words and does not follow up on them. She has shown in the past, working with University Centers and at the Food Pantry, that she's the right candidate for the job. An urban studies and planning major, she's well aware of the issues facing UCSD as a large community, from food affordability to housing and transportation. She has tangible plans to address those issues, like the rerouting of shuttles or advocating for off-campus, university-owned housing. Her platform is a breath of fresh air, focusing on issues that students face daily and providing practical, long-term solutions to those issues. There is nothing fluffy or phony about Figueroa or her candidacy. In her debate, her passion was apparent when discussing students' basic needs. We appreciate that she had succinct ideas. With presidents only serving for one year, she recognizes her limitations and has set out clear, non-farfetched goals for accomplishing them in her short tenure if she is elected. Despite the talented candidates in this year's field, Figueroa stands out with her spirit and her ideas and as a leader will undoubtedly make a responsible and effective A.S. president.
Vice President Campus Affairs – Matthew Arrollado, THRIVE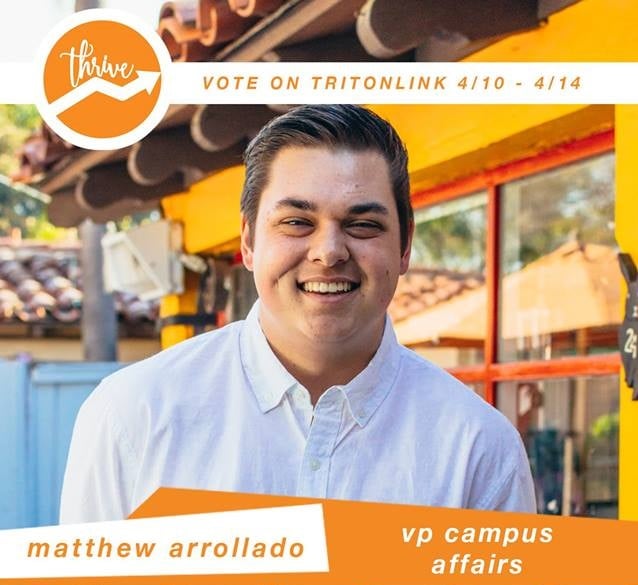 Though a year ago Matthew Arollado would have laughed at the idea of running for Vice President Campus Affairs, his sincerity and excitement about his goals for this position are no joke. Currently serving as an A.S. Council senator for Eleanor Roosevelt College, he has also held other positions in student government, including membership on the Well-Being Cluster Student Advisory Board and an undergraduate representative for UC SHIP. These experiences, among others, show that he has an informed perspective of student issues.
Arrollado also has experience being criticized as a student leader. Recently, Student Council of ERC, which he is a part of, received flack for its seemingly exorbitant spending on itself. Matthew, however, handled it in stride, holding extra office hours and actively reaching out to people on social media to explain SCERC's perspective. He intends to increase A.S. Council's transparency and visibility and, since he's already doing this with SCERC, we believe that he will actually make this happen.
His slate is running on a the pretense of developing long-term goals for the university through an equity-minded lens. His goals for transportation and representing students' needs reflect this. He says that he will use the transportation survey, which was sent out to students last quarter, to better understand students' parking and transportation needs. Additionally, he intends to increase support for transfer students through a central resource center and to have more programming directed at transfers.
Matthew's experience and candor made us believe that students actually can thrive here.
Vice President External Affairs – Refilwe Gqajela, Students Determined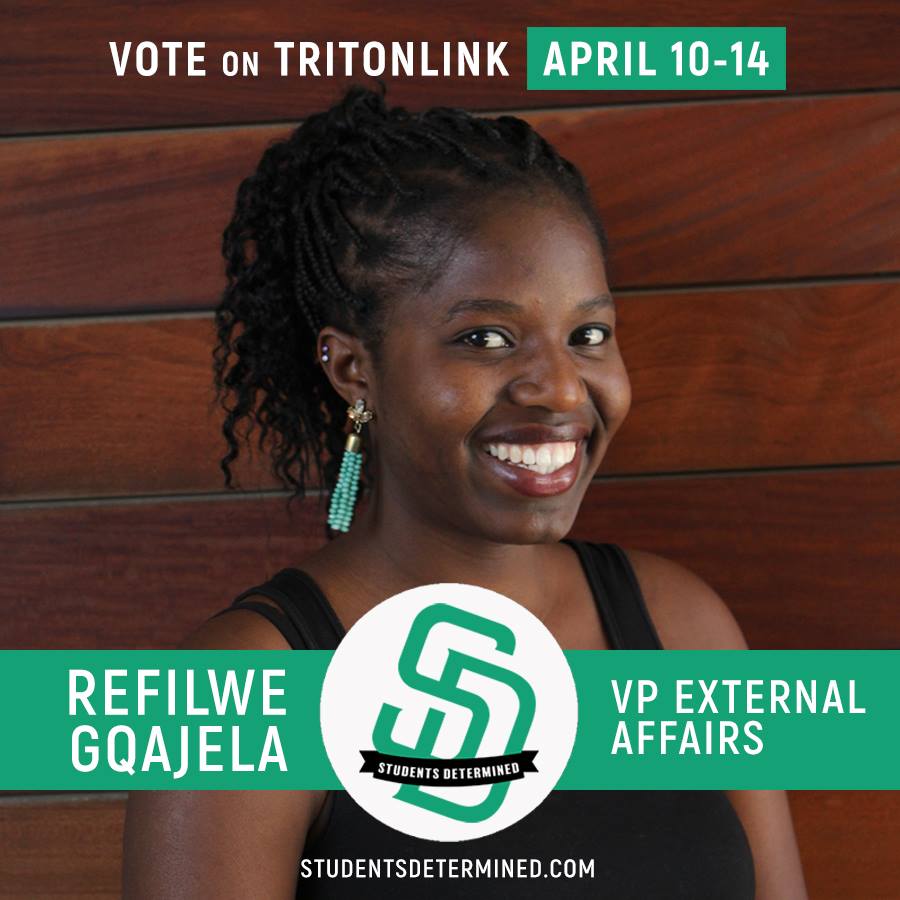 Refilwe Gqajela's passion for UC San Diego has been demonstrated numerous times through her commitment to social activism and community outreach, not just in her continued work through the Black Student Union and Black Resource Center, but also through her internship and experience at the Student Sustainability Collective. This experience will prove invaluable as UCSD and A.S. must answer tough questions this year regarding UCSD's possible status as a sanctuary college amid dwindling federal support. In addition, Gqajela recognizes the importance of student outreach and challenges the idea of student apathy on a campus where many students are unaware of the issues. Her self-described mission is to build student coalitions around these topics and encourage students to make their voice heard through the appropriate channels so that they may engage with the community both inside and outside of UCSD. Her expertise, however, expands beyond the campus boundaries. Both in her community at home and here in San Diego, Gqajela has built a reputation around strong community engagement, as exemplified by her internship for U.S. Congressperson Scott Peters. This passion has driven her to strongly question A.S.' complicit role in many of the injustices around the world, including the Dakota Access Pipeline, which she supports divesting from. These experiences, combined with realistic and concrete ideas for student outreach, make her a strong choice for A.S. VP of External Affairs.
Campus-wide Senator – Mónica Valdez, THRIVE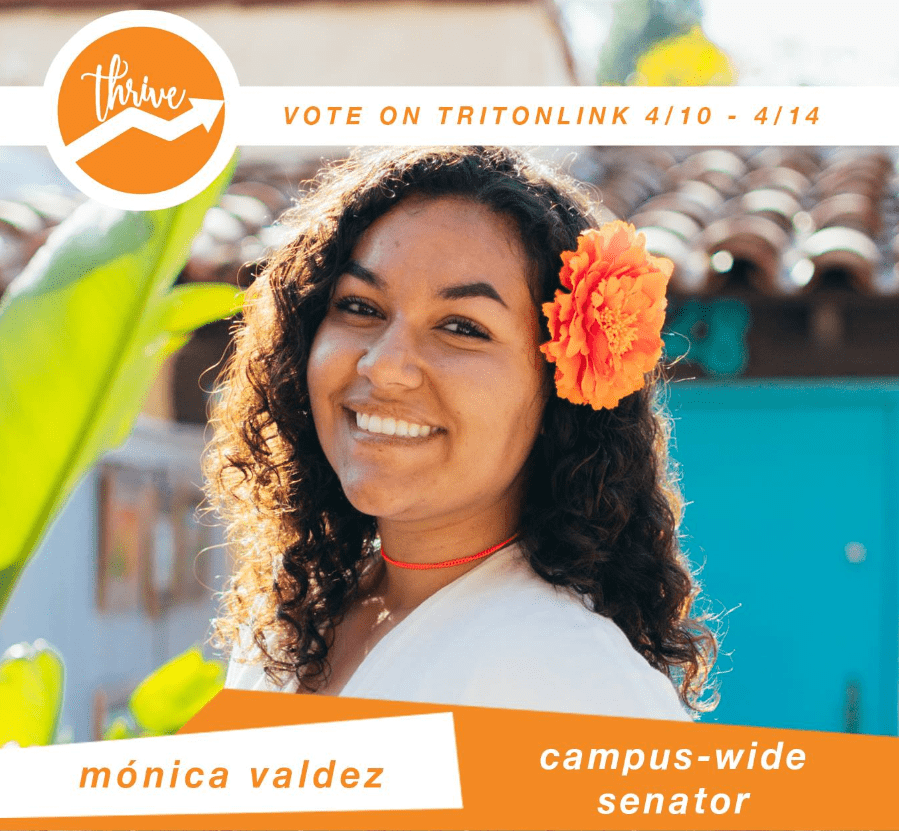 Mónica Valdez is a qualified candidate with an impressive history in serving and representing students. But one of the most promising things about her candidacy is this: She wants to be held accountable. Though accountability is a word thrown around so much that it seems to lose meaning, it's believable coming from a candidate whose goals center around finding out what students want and need rather than deciding for them.
She says that when students feel like they can, they will. This is the thread that weaves her plans together and has a place in addressing retention rates for underrepresented students.
A commuter student, an out-of-state student and a first-generation American and college student, a major part of her platform is ensuring that students feel they have a home at UC San Diego. For commuter students, it's converting unused campus spaces to study and nap areas. For everyone, it's adding ease and security to the process of securing housing. More broadly, her plan to utilize existing resources by making them more visible is feasible and necessary. Speaking of the Inter-Tribal Resource Center, she pointed out in our interview that even she, a Native American and Latina student, wasn't aware some campus centers until recently because its existence is not publicized.
Her passion for student government shows as she talks about her plans, whether they are collaborating with the future president on housing issues or finding ways to make students feel at home at the massive campus that is UCSD. We are confident as an editorial board that she will honor her desire to be held accountable and work to make UCSD a home to students.
Campus-wide Senator – Snehal Lochan, Students Determined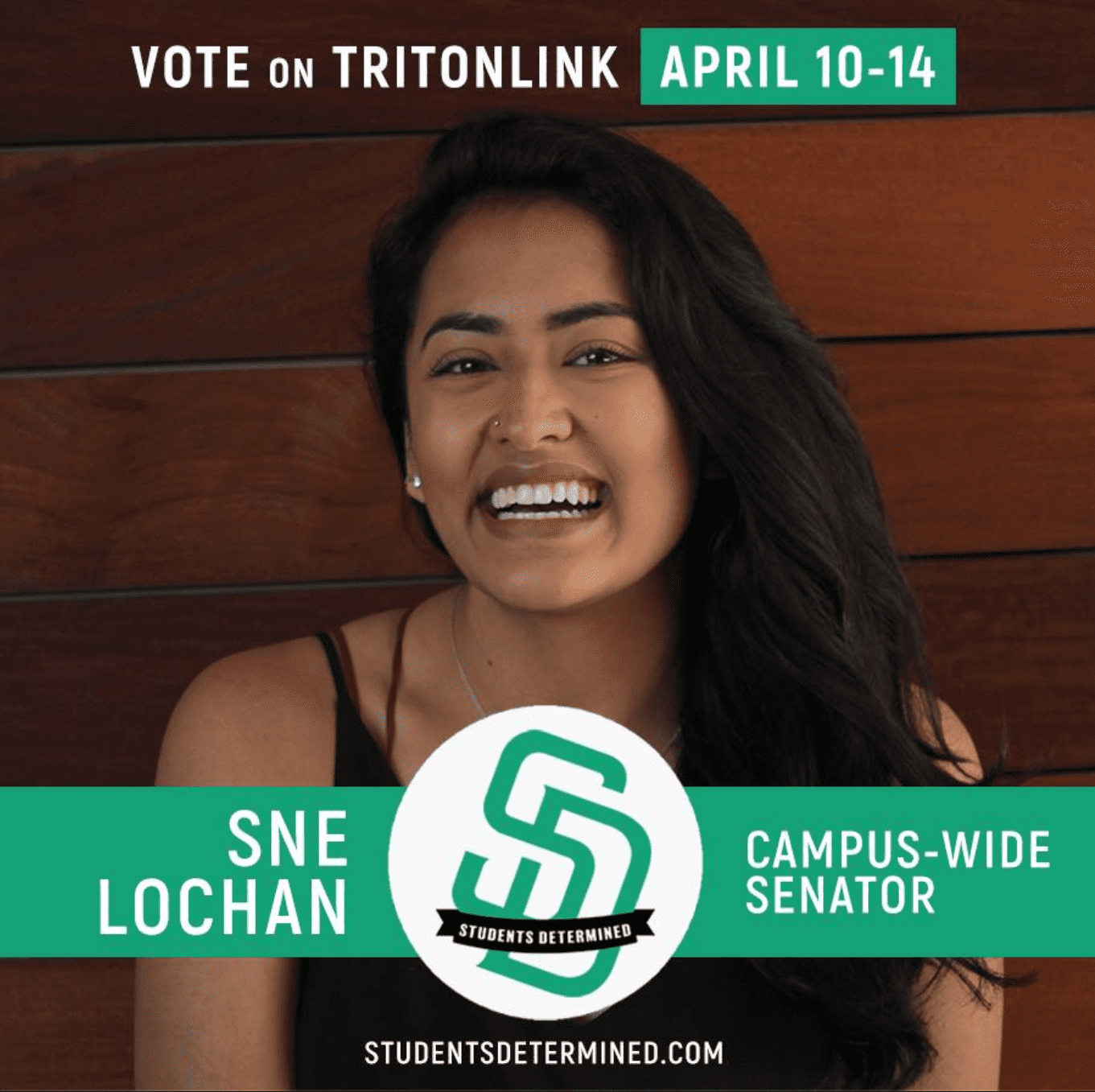 With many candidates running for a campus-wide senator position and only five slots, it's difficult to determine who is most qualified. Snehal "Sne" Lochan's experience and clear ideas, however, made her a viable candidate for this position. We especially appreciate her concrete ideas about increasing A.S. Council transparency and visibility. She believes that there shouldn't be a barrier between the students and the Council and hopes to combat this by creating practical avenues for students to get in touch with their representatives. For example, she wants to improve the A.S. Council website and create an anonymous online outlet for students to voice their concerns and feedback.
Additionally, Sne prioritizes mental health, a longstanding student concern. Sne notices that there is a stigma surrounding Counseling and Psychological Services and Campus Assault Resources and Education services and hopes to make these spaces more visible. She wants A.S. Council to host fundraisers to promote these spaces and raise money to provide short-term assistance. She envisions a speaker-type series to destigmatize mental health and hopes that professors will be part of this. She also wants professors to be more vocal about CAPS in their classes. She noted that some professors mention CAPS in their syllabus but do not take the time to follow up or mention Browse revisilater on in the class. Sne's clear goals about transparency and mental health show us that she has the right mindset for campus-wide senator.
Campus-wide senator – Kian Falah, THRIVE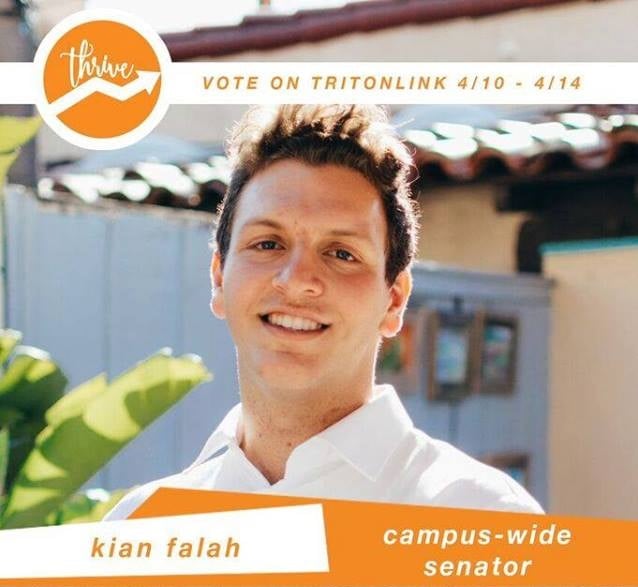 Although he's only a second year, Kian Falah has already made a mark in A.S. Council this past year, both as the chief-of-staff of the office of College Affairs and the A.S. Fellowship director, a professional development initiative aimed at new students interested in student government. He has also been active with UCSD Circle K and done community service, all of which led him to his interest for the campus-wide senator position. Kian wants to have a lasting impact on campus, one that can withstand the years and his graduation. Two of his goals are to create an alliance between student organizations and A.S. Council, as well as to hold quarterly townhalls for campus-wide senators to get them out of their chambers and in front of their constituents. This is on par with his down-to-earth attitude and makes him one of the most approachable candidates the UCSD Guardian has interviewed. He is also confident in his abilities to empower students through the fellowship program. Like many other candidates, Falah highlighted the lack of transparency of A.S. Council and the need for an updated website, something he will push for in his term. Finally, he will advocate for students to be exposed to the flourish of organizations and centers that the campus has to offer, even those who don't necessarily fit them. He is a passionate candidate whose attention to detail and continuous commitment is likely to take A.S. Council by storm. All in all, Falah is an experienced, hard-working and dedicated candidate who is sure to continue to make an impact in A.S. Council the upcoming year.
Campus-wide Senator – Miguel Ángel Tapía, Students Determined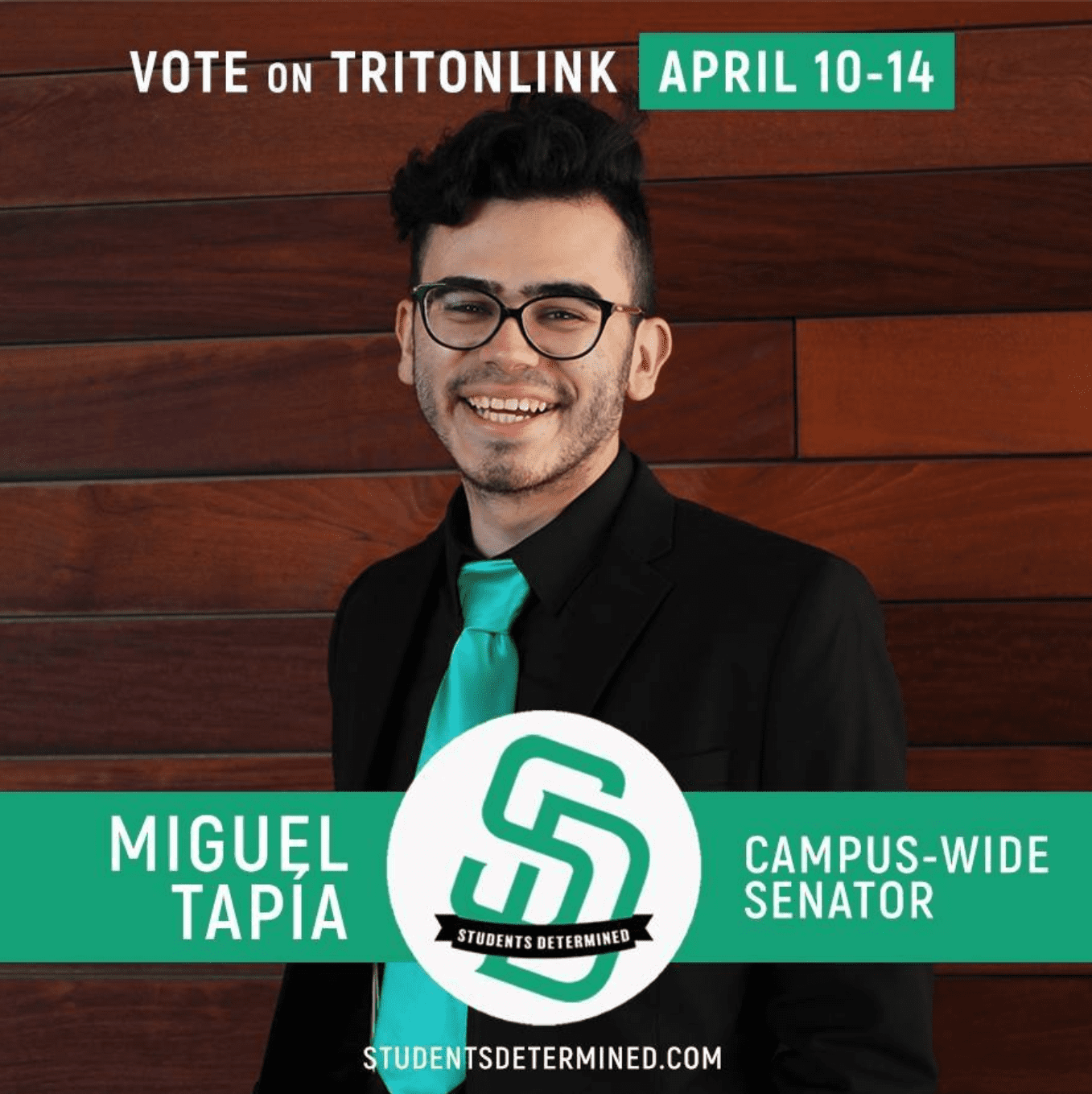 With their focus on institutionalizing progressive practices and unmistakable keenness to do so, Miguel Ángel Tapía is a candidate with strong ideals and genuine understanding of their role in A.S. Council. Bringing community voices to A.S. is at the forefront of their campaign, and Tapía has outlined specific issues currently persisting in this realm, such as the historic disenfranchisement of the voices of students of color. They also discussed small-scale solutions, including collaborating with SAC organizations to give them a greater say in A.S., and large-scale solutions, including using their greater access to connections and opportunities to put pressure on the administration. Tapía's ideas span a wide range of important issues, from sanctuary campus policy, to divestment from DAPL, to voter registration, to overnight programs, proving their nuanced understanding of campus issues and smart look at where A.S. could make change. Perhaps most importantly, Tapía is highly qualified in service. Their first year at UCSD, Tapía was the chairperson of Education and Awareness for UConsent, working to destigmatize conversations of sexual assault and awareness, as well as a member of Cultural House in Muir College, where they sprung conversations about proper yet appropriate vocabulary with respect to LGBTQ identity, positionality and accessibility. All around, Tapía's repertoire reads as varied yet focused, which will prove meaningful in their advocacy for community engagement, institutionalization of policy and representation of student voices in A.S. Council.
Campus-wide senator: Mohamed Al Elew, THRIVE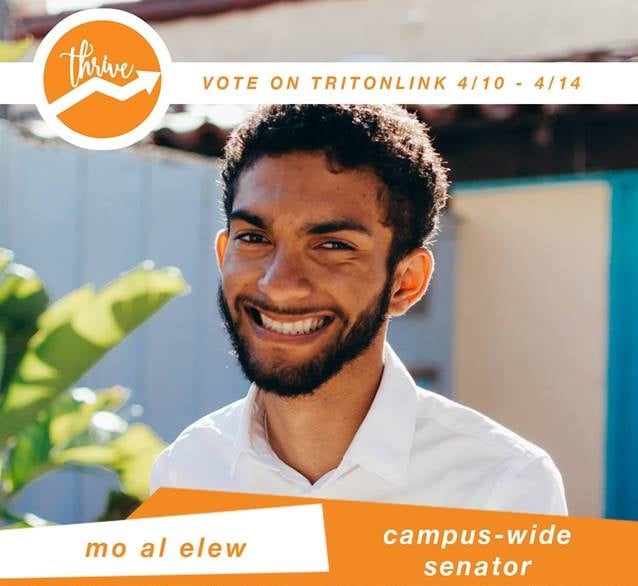 A major contributor to the Co-ops, Mohamed Al Elew brings to the table a mix of much-needed experience, willingness and passion from a campus-wide senator. He is a second-year computer science major, a member of the UCSD College Democrats and a much-improved version of the kid who was in student government in third grade. Al Elew has risen this past year in the shadow of campus-wide senator Rachel Adams, herself a member of the Co-ops, and is dedicated to representing people frequenting those spaces. Like her, he is running on a platform that includes fighting for student-oriented spaces, like The Ché Café or art spaces, and he is willing to be the bridge between those and the UCSD administration. But he doesn't just want to represent those students, as he also possesses broader interests including but not limited to being a student of the Jacobs School of Engineering. He is critical of the issues facing A.S. Council and promises to operate in consensus and compromise. To him, the public — in this case the student body — should have more access to senators, and one of his ideas involves advocating for a press secretary to A.S. Council. For Al Elew, A.S. Council cannot continue to take sudden and unilateral decisions, like the defunding of student media. Al Elew is a candidate ready to work to build a student dialogue and to use his position in A.S. Council to serve and advocate for the student body, making him a shoo-in as a campus-wide senator for a council that desperately needs to represent more of the student body.