UC San Diego's Sixth College Technology Committee held its 13th annual Winter Gamefest in Price Center last weekend. This year's event was larger than in previous years with 2,200 students and guests attending the Gamefest, spanning from Friday to Sunday night.
Attendees could participate in a variety of events, including raffles for gaming gear like virtual reality systems, cosplay contests, virtual reality demos and Overwatch and Rocket League tournaments. Gamefest-goers could also watch the first ever Tespa Collegiate Series Overwatch Finals, a five-month-long tournament where teams of gamers from universities around the country battle for first place and $100,000 in scholarships and prizes.
Eleanor Roosevelt College senior Christina Carlson participated in many of the activities at the Winter Gamefest.
"This was my first gaming convention," Carlson told the UCSD Guardian. "I spent time looking around at the different exhibits like game stations, VR demos, [and] art booths, as well as doing some actual gaming. The event that stuck out to me was the Overwatch Collegiate Championships. It was the first time I fully realized just how huge competitive gaming had become."
For many attendees, the TCS Overwatch Finals were a major highlight of the event, with seating in Price Center theater reaching the 300-person capacity as students spectated and livestreamed the competition. Price Center's East Ballroom was completely transformed by Blizzard Entertainment, the game-developing company that created Overwatch. An announcer booth was set up in the back of the room and spectators were greeted with a tall and illuminated representation of the official game logo. On each side of the logo, which served as a centerpiece, six computers were set up for each competing team of gamers.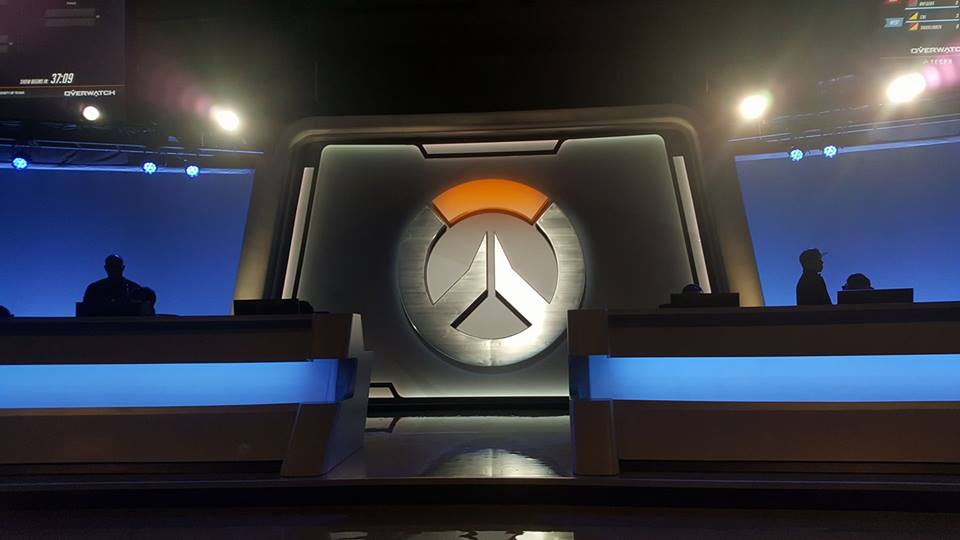 Four teams from UC Berkeley, University of Texas, Rutgers University and the University of Toronto competed for over $100,000 in scholarships and prizes. In the semifinals, Rutgers lost to UC Berkeley while Toronto defeated Texas. In the finals, UC Berkeley took the win over Toronto, winning each match and sweeping the tournament without a single loss.
Most of the attendees at the Gamefest were UCSD students with few visiting individuals, according to Tespa officials. UC Irvine junior Hailey Ragan was one of a handful of visitors.
"I was really excited to get together with a bunch of people who share my passion for video games as well as to watch my first live esports event," Ragan told the Guardian. "The weekend was definitely a highlight of the year for me, and now I am really hoping to come back again next year."
The Sixth College Technology Committee held the inaugural Winter Gamefest in 2005 as a means of bringing gamers and individuals interested in gaming together, said Sixth College junior Karmah Eldesouky and lead planner for this year's fest.
"[Winter Gamefest] started off as a small scale event with about 30 people in attendance in the Sixth College Lodge and is now not only a campus event but also a community one," Eldesouky said. "What makes [Winter Gamefest] stand out is that it promotes and encourages a community of students who most often times are overlooked and really gives them an outlet and opportunity to meet one another, which tackles the misconception that gaming makes individuals antisocial."
In order to continue expanding, changes are being considered to accommodate the event's growing popularity, according to Eldesouky.
"I feel like now that we've become so large, there's no going back, and we can only move forward and grow from here," she said. "In the future, I really hope that the event will move to a larger space that can better centralize and host it. Right now, the best option and potential location is RIMAC Arena, which I think would dramatically improve the event."