UCSD Athletic Hall of Fame Inducts Four In Class of 2016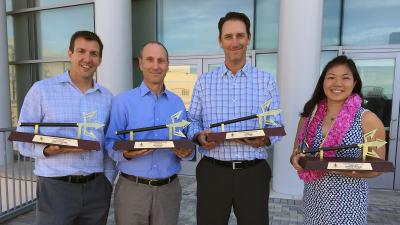 Four new members were officially inducted into the UCSD Hall of Fame by the Department of Intercollegiate Athletics at a ceremony Sunday morning at the Great Hall. The UCSD Athletics Hall of Fame was created in 2013 with the intent to distinguish and celebrate student-athletes, coaches and others who have made extraordinary contributions to the legacy of UCSD athletics.
J.J. Castner (men's cross country/track and field, 1992–96), Rick Nowak (baseball, 1986–88), Jennifer Watanabe (women's swimming and diving, 1999–03) and Pat Weishan (men's golf, 1983–87) round out the new Class of 2016. This is the fourth class inducted into the UCSD Athletic Hall of Fame.
"Sports have an amazing ability to show us the best that we can be and also the best that society can be. J.J. Castner, Rick Nowak, Jennifer Watanabe and Pat Weishan, today you are being honored and rightly so. You have sweated, struggled and succeeded. Today, your name is added to the others in the Hall of Fame. It will surely act as an inspiration to other UCSD students to have their name in the Hall of Fame," UCSD Director of Athletics Earl Edwards said.
Pitcher Rick Nowak is the Tritons' all-time leader in single-season strikeouts and innings pitched. After UCSD, Nowak would go on to play professionally for the Toronto Blue Jays in Major League Baseball. Nowak talked about how his catcher Bob Natal was so integral to his success at UCSD, saying, "Bobby was the best catcher I'd ever thrown to at any level, whom I've ever played with. He's a big reason why I'm standing in front of you today. You have to understand that pitching takes a lot of concentration and it's exhausting. And having a catcher who removes a lot of that burden for you is worth its weight in gold."
With eight national titles in swimming, Watanabe is one of the most accomplished athletes in school history.
Ironically, swimming wasn't the sport that Watanabe wanted to play at UCSD when she was a freshman.
"Coming in, I was convinced I didn't want to swim and I was going to try out for the basketball team," Watanabe said. "I think it was my parents who said, 'You should try out just in case; you can have something to fall back on,' and luckily for me I did. There is so much to gain in participating in sports."
In addition to inducting four new members into the Hall of Fame, the 2006 UCSD men's water polo team was also honored at Sunday's event. It was the 10-year anniversary of the historical 2006 season where the Tritons were ranked as high as third in the country. The team posted a 26–6 overall record along with their 14th Western Water Polo Association title. They would go on to finish in third place at the NCAA Championships.
Athletes Peter Gresham, Ty Lackey, Ben Miller, Sean Roberts, Kyle Sutterly, Curtis Williamson, Joe Woodring and head coach Denny Harper were in attendance for the team.