UCSD Transportation Services Launches Free Ride-Sharing Program for Faculty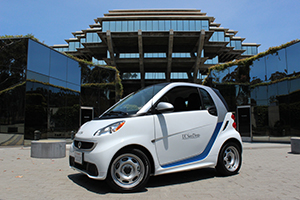 UCSD ProRide, a pilot ride-sharing program introduced by UCSD Transportation Services on Sept. 19, offers faculty members free, on-demand transportation around campus without leaving a carbon footprint. Using a new fleet of electric Smart Cars, ProRide logs real-time ride requests in an online queue, then dispatches drivers to take faculty members on campus from their location to their desired destination.
Responding to an increasingly precarious parking situation, ProRide was spurred as a way to "improve parking as well as find sustainable and efficient ways to move people around campus," Curt Lutz, the marketing manager of the Alternative Transportation initiative, told the UCSD Guardian.
Due to ongoing construction projects including the extension of the San Diego Metropolitan Transit System's trolley route — expected to be completed in 2021 — ProRide is one of many solutions Transportation Services hopes to implement in order to lighten the burden on students and staff members who commute.
"Transportation Services is continually looking for creative ways to meet the needs of the campus," Lutz said. "ProRide can get faculty where they need to be — teaching a class or attending a meeting, for example — without generating unnecessary traffic or having to find parking."
Professor Seth Lerer, a distinguished professor of literature, told the Guardian that, while parking is a challenge, ProRide will aid the faculty in specialized ways, like ensuring that staff members can travel from one end of UCSD's expansive campus to another without being late.
"The issue is not just parking. It's getting from one part of campus to another, often in short windows of time," Lerer said. "For someone like me, who often teaches more than one class on the same day, [ProRide] would be a great help in getting from class to class."
Currently, the program is only servicing parking structures, bus stops along the campus loop and the UC San Diego Health hospital. Transportation Services will halt the ProRide program indefinitely on Dec. 9 to evaluate the "effectiveness of the program" and decide if they should expand service routes. Lutz told the Guardian that there are not yet plans to provide transportation to any off-campus locations.
"The service could be expanded to include other areas of campus such as Scripps Institution of Oceanography," he added.
In June, UCSD paid $600,000 for 50 electric Smart Cars to replace an aging fleet of Priuses and gasoline vehicles, three of which have been allocated to the ProRide program. The purchase is part of UCSD's effort to reach carbon neutrality by 2025, a goal that the UC Office of the President set in 2013.
For faculty members like Professor Lerer, having the option to utilize an alternative transportation service like ProRide encourages further eco-friendly choices.
"ProRide might thus be an incentive for me to find alternate ways of getting to campus and, once on campus, to get from class to class or meeting to meeting in a timely and relaxing way," he said.
In its pilot phase, ProRide suggests that faculty members request a ride 15-20 minutes before their desired arrival time, and even earlier during peak hours from 10 a.m. to 2 p.m. Faculty members can request a ride by phone, computer or mobile device.