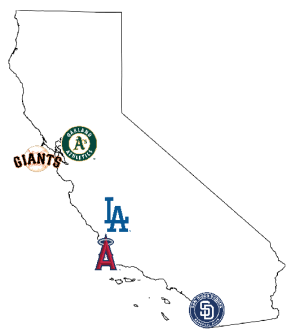 It's 2016, an even-numbered year, which in Major League Baseball means the San Francisco Giants are going home with the grand prize. As a Giants-hating, A's-loving San Francisco native, even I have to admit another World Series title is within the realm of plausibility. But despite the chances of another parade in downtown San Francisco (not the kind you're probably thinking of), the Giants have four other teams in their own state that can theoretically halt their improbable success. Here, I give my definitive ranking, from worst to best, of every MLB team in the Golden State.
Note: Each team's 2015 win-loss record, division standing, and playoff results (if applicable).
San Diego Padres (74–88; fourth place in NL West)
The Padres went all-in prior to the 2015 season by trading high-ceiling minor league prospects for proven major league veterans — outfielder Justin Upton and closer Craig Kimbrel among them. Some at the time saw this for what it was: a rookie GM acting on impulse rather than prudence. Unfortunately, the front office had to lose numerous top prospects, tens of millions of dollars, and 88 games (three less than the year prior) in order to learn its lesson. This past offseason, the team let many of these new acquisitions go and replaced them with mediocre stopgaps, as they recalibrate their plan to build a competitive roster. Until they figure it out, UCSD students will have to look to their own athletics to find a good baseball team to root for.
Oakland Athletics (68–94; fifth place in AL West)
From the teams on this list, the Athletics were by far the worst last season. As much as I would like to put the Athletics over the Angels, making up a 17-win differential in just one season, and to go from loser to winner, is simply wishful thinking. However, things are looking up as the A's work toward returning to the top. While shoring up one of the league's worst bullpens is no easy task, Billy Beane is no stranger to challenges. By acquiring comeback kid Ryan Madson, late bloomer Liam Hendriks and former closer John Axford, the A's now have a few solid late-inning options. The team also added slugger Khris Davis and reacquired Jed Lowrie to supplement a painfully underwhelming lineup. Fans can only hope that these additions will allow them to compete again, but they'll likely have to settle for incremental improvement.
Los Angeles Angels of Anaheim (85–77; 3rd place in AL West)
The Angels were on the brink of clinching a wildcard spot in the playoffs last year, due in large part to their one-two combo of Mike Trout and Albert Pujols, but they lost out to the Astros on the very last day of the season. One would think then that the team would have pushed hard this offseason to get itself past the threshold of "just not good enough," but the front office opted to rely on mostly minor upgrades to get them over the hump. While the acquisition of shortstop Andrelton Simmons — one of the game's best defensive players — might nab them a few extra wins, the Angels are likely looking at another third-place finish in the AL West.
Los Angeles Dodgers (92–70; first place in NL West, eliminated in NLDS by New York Mets)
It's only fitting that this list comes down to one of the most intense rivalries in California. While the Dodgers and Giants have, in recent years, see-sawed to determine who comes out on top — with L.A. winning the most recent season by seven games — the reigning NL West champions aren't looking as robust as they were last year. The loss of their secondary ace Zack Greinke to the division-rival Arizona Diamondbacks and a myriad of other significant contributors to their ever growing disabled list will certainly hurt the team's playoff prospects. Though Scott Kazmir, one of the Dodgers' few offseason acquisitions, looks to stop some of the bleeding, he can only do so much to replace the workload of a whole starting rotation. Ultimately, it looks like Los Angeles will have to sit through another year of being first place in spending and second place in NL West baseball.
San Francisco Giants (84–78; second place in NL West)
The Giants, over the last five years, have been one of the most interesting phenomenons in sports. After a six-year-long, post-Barry Bonds playoff drought, the team came back in a big way by winning the 2010 World Series with a majorly underdog team. Since then, they've alternated between missing the playoffs completely in odd-numbered years (2011 and 2013) and winning the whole shebang in even-numbered ones (2012 and 2014). Well it's now 2016, and as much as I would like to call the past few championships flukes, it would be foolish to doubt the formidable core of Buster Posey, Madison Bumgarner, Hunter Pence, and Brandon Crawford. With a balanced lineup that prioritizes consistency over punch and a bulked-up pitching staff — as well as a team full of three-time World Series champions — the most inconsistent dynasty in sports might strike gold once again.