Men's Basketball places third in conference preseason polls, will open regular season play Tuesday with a seasoned group of starters.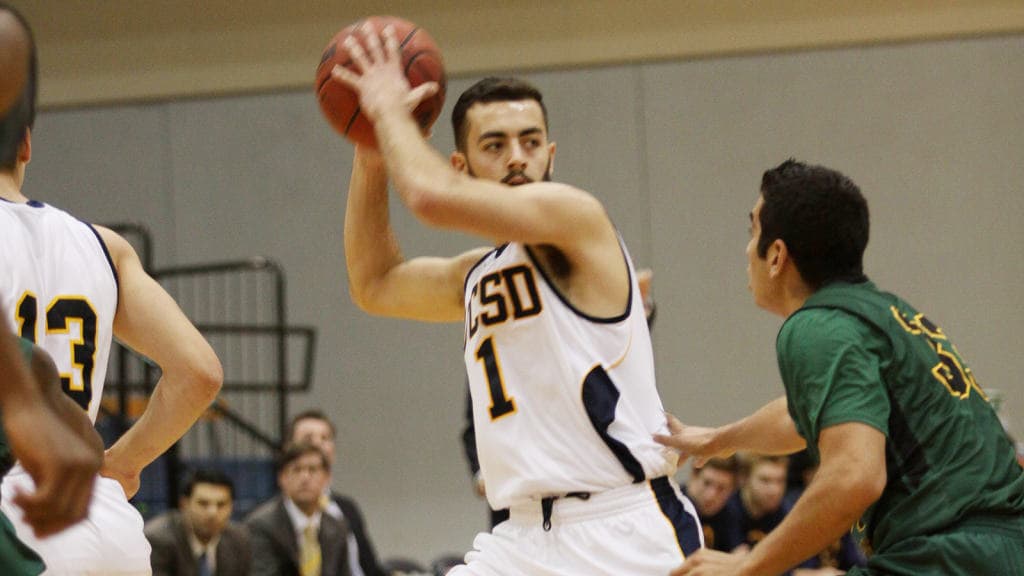 Although the season for UCSD's men's basketball hasn't started yet, things are already looking good for them — they were ranked third in the California Collegiate Athletic Association annual preseason rankings, which the CCAA released last Wednesday.
The annual preseason rankings were created from a poll of all the head coaches in the CCAA, and first place was allocated to defending CCAA regular-season champion Chico State, which made it as the top seed with a total of 137 points and eight first-place votes. Second place was given to defending conference-tournament champion Cal Poly Pomona, which received a total of 124 points with one first-place vote. UCSD, in third place, wasn't that far behind Cal Poly Pomona, as it received 121 overall, just three less than the second place, but UCSD also managed to take up two first-place points. The only other team to garner a pair of first-place points besides UCSD was Cal State San Bernardino with 116 overall points. The top four seeds were the only teams to receive first-place votes on the list. The CCAA basketball conference has a total of 13 teams.
With its third-place preseason ranking, UCSD placed the highest on the poll than it ever has since the poll was created in 2006–07 season. All of the starters are returning from the 2014–15 season, which went decently for UCSD. This consistency of the squad will only benefit UCSD, considering they went 16–11 overall and 14–8 in CCAA rankings this past year. With its CCAA record, UCSD ended the previous season with the fifth seed and earned a berth in the conference tournament. Also, the team's 16-win season was the franchise's highest overall number of wins since the 2008–09 campaign. Similarly, their previous 14 conference wins were the highest the franchise has had since UCSD joined the CCAA back in 2000–01 season.
Of the returning squad, three of the starters — senior forward Drew Dyer, junior guard Adam Klie and senior guard/forward Hunter Walker — were all named to to the All-CCAA Second Team last season. Walker and Klie led UCSD with their highest average points per game (12.3 and 12.2, respectively). Dyer was close behind with an average of 11.8 points per game and he also ended the season with a 0.857 free-throw percentage. On top of these stats, Walker ended the season with 54 assists, which was the team-high, and Klie ended the season with a team-high 28 steals.
The four other returning squad members are sophomore guards George Buaku and Grant Jackson, junior guard Aleks Lipovic and senior forward/center Zach McMillan. Lipovic was also a starter, starting all 27 of the previous season's games amongst which he averaged 8.1 points. McMillan was the Triton big-man leading the team with an average 5.2 rebounds per game and 12 total blocks. Buaku and McMillan started last season for nine games, and Jackson started 12 games.
Another impressive stat for the Tritons was that UCSD was second among all CCAA teams in most three-pointers made with a total of 210. Lipovic was the highest contributor to this tally, with a total of 55 treys drained during game time.
The Tritons have high hopes for the upcoming season, which they will be tipping-off against Winona State this Tuesday, Nov. 17 at 7 p.m. in RIMAC Arena.