Men's Soccer drops one against CSUDH, takes stunning victory against reigning West Region champ CSULA.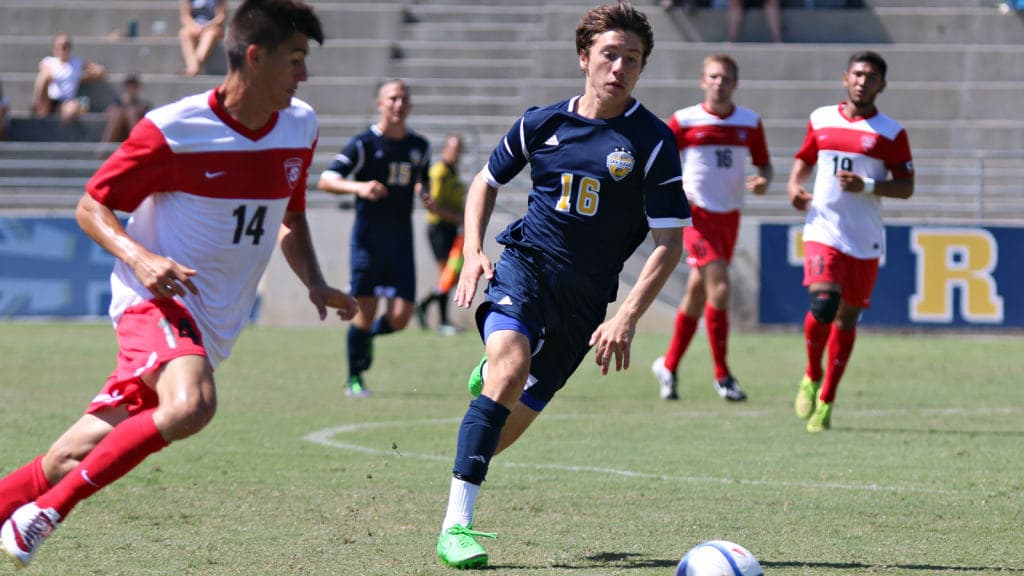 The UCSD men's soccer team hit the road this week in two California Collegiate Athletic Association matchups against Cal State Dominguez Hills at Toro Stadium and Cal State Los Angeles at Jesse Owens Track. Despite a disappointing 1–0 loss to Cal State Dominguez Hills on Friday evening, the Tritons returned with a vengeance on Sunday, snatching a 1–0 win in the final minutes of the game against Cal State Los Angeles. The Tritons now stand at 4–4–3 overall and are currently sitting in fifth in the CCAA with a 3–2–1 league record.
GAME ONE
UCSD fell to Cal State Dominguez Hills on Friday night, marking the first time since the 2012 season that the Tritons have lost two straight matches. Cal State Dominguez Hills overwhelmed UCSD on offense, dominating the stats with a huge 17–2 advantage in shots. Freshman forward Andy Sartor and junior midfielder Riley Harbour notched the Tritons' lone attempts to score in the 39th and 74th minutes, respectively, but both efforts came up short of success. The Toros struck gold in the 62nd minute when sophomore midfielder Brian Chavez scored off a pass from sophomore forward Ali Nazari, sealing the Toros' 1–0 victory.
"It wasn't as bad as the stats made it look," UCSD Head Coach Jon Pascale told the UCSD Athletics Department. "They were the better team for sure, but we didn't play well, particularly on offense. We gave the ball away far too much, and to beat a team like that you have to be sharp. We weren't tonight, and we have to be better going forward."
The Toros remain undefeated in their last nine matches, holding a 7–1–2 overall record and sitting at 3–0–2 in league play.
GAME TWO
The Tritons rebounded from their loss on Friday and took a stunning last-minute win against reigning West Region champion and current CCAA leader Cal State Los Angeles on Sunday. Though the Golden Eagles came away with a 12–8 advantage in shots, a spectacular goal by the Tritons in the final three minutes of regulation play ended the game on a 1–0 UCSD win. Junior midfielder Nick Palano volleyed a cross from sophomore midfielder Zachary Lagotta straight into the back of the net in the 88th minute to clinch the critical victory for the Tritons.
"That was just a great goal [by Palano]," Pascale commented. "Zach [Lagotta] put a deep cross to the far post, and Nick [Palano] hit a first-time volley out of the air back across the goal. It was a difficult shot, but he had great technique and did everything right."
Despite a last-ditch effort by the Golden Eagles to equalize, senior forward Herbert Biste's corner kick missed the goal in the game's final seconds.
"We've been dealt a couple of tough blows, and it was great to see the team respond and react and make a great play on the road," Pascale added. "It was pouring rain most of the first half, and it was a grind-it-out game all the way. I thought we battled them well throughout."
Cal State Los Angeles now stands at 6–2–1 overall and 4–2 in league play, dropping a whopping three spots to fourth place in the CCAA.
The Tritons will return home to host the CCAA third-place team Cal State Monterey Bay on Friday, Oct. 9 at 7 p.m. and San Francisco State on Sunday, Oct. 11 at 2 p.m.