Volleyball falls short in attempt to make up for last week's disappointing losses against Humboldt State and Sonoma State.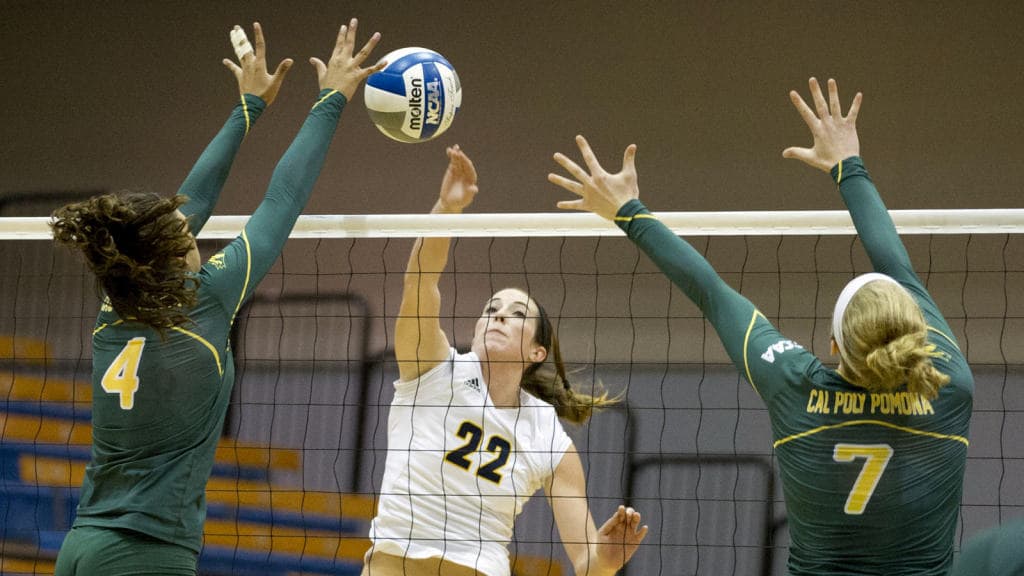 After last week's two heartbreaking losses against Sonoma State and Humboldt State, UCSD women's volleyball was back at home, trying to end the losing streak. Alas, another close five-set game ended in a disappointing fashion when the Tritons could not capitalize on a two-sets-to-zero advantage and finally lost to CCAA rival California State Polytechnic University Pomona. UCSD now occupies the seventh place in the CCAA with a 8–8 overall record and an even 4–4 league record, while Cal Poly Pomona moved up to 10–6 and 6–2, good for second in the conference.
UCSD dominated the two first frames, hitting an impressive .322 over the two sets and .379 in the first set alone, which led to easy 25–15 and 25–16 set wins and a commanding 2–0 advantage heading into the third set.
However, UCSD's hitting percentage fell back a notch after the second set which allowed the Broncos to get back into the game. The Tritons only hit .167 in the remaining three sets, and the Broncos took the third set 27–25 and the fourth set 25–21, a set in which they hit over .200 for the first time in the game.
Cal Poly Pomona would not look back after tying the game at two sets apiece. The Broncos hit .611 in the final set and overwhelmed the Tritons with 12 kills and only one error in 18 attacks.
The score was even at 5–5 in the fifth set after a kill by sophomore middle blocker Alyssa McNeely. The Broncos then scored four straight points to take an insurmountable 9–5 advantage over the Tritons. UCSD saved one match point at 14–11 but could not deny Cal Poly Pomona the win after a kill from freshman middle blocker Kristen Hamlin sealed the deal for the away-team.
UCSD hit .217 (58–22–166) over the game with Cal Poly Pomona ending slightly upward of that at .220 (58–22–164).
UCSD's junior outside hitter Meagan Wright had 25 kills and 27.0 points, both match-highs and career-bests for her. Sierks had a team-leading 10th double-double of the season after her 50 assists and 15 digs, while McNeely hit an impressive .500 (8–0–16) and totaled four blocks.
Triton sophomore libero Amanda Colla had eight service aces, the most for a Triton since Nicole Courtney had nine against the same opponent back in 2006. She had four straight and six total during a 10-point run in the beginning of the sec
UCSD has now lost all four of its five-set contests in 2015. UCSD hosts two CCAA opponents this week, Cal State East Bay on Oct. 9 and San Francisco State on Oct. 10, with both games starting at 7 p.m.
* Edit: an earlier version was posted with quotes from a player acquired without permission of UCSD athletics. We apologize to the player and the department for using these quotes and will make sure such thing does not happen again in the future.