Triton women atone for Tuesday's loss against Coyotes with two straight sweeps on Friday and Saturday.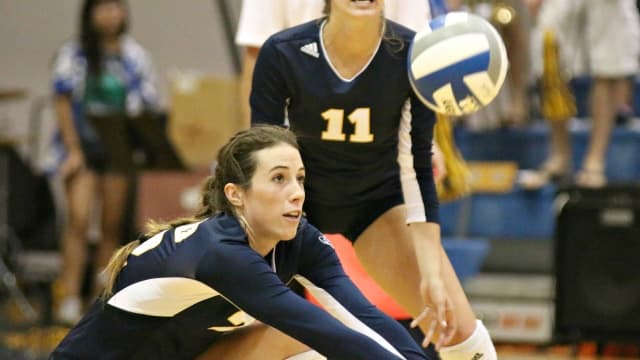 The UCSD women's volleyball team had a successful weekend as it took down No. 25 Cal State Los Angeles this past Friday and then went on to defeat Cal State Dominguez Hills on the following Saturday, with both victories won at home at RIMAC Arena.
With strong blocking and serving, the Tritons took down Cal State Los Angeles' Golden Eagles with relative ease, winning 3–0. The three sets played resulted in scores of 25–17, 25–12 and 25–12. With this well-played victory in their hands, the Tritons advanced to a 7–5 overall ranking and a 3–1 CCAA ranking.
When it came to blocking on Friday night, the Tritons dominated the net, out-blocking the Golden Eagles 10–2. The game led to the Tritons having a season-high total of five players with multiple blocks: sophomore middle blocker Rebecca Seaberry (5), senior middle blocker Kameron Cooper (3), sophomore middle blocker Alyssa McNeely (3), senior setter Heidi Sierks (3) and senior outside hitter Danielle Dahle (2).
The Tritons' service game was also at its best as they hit 8–0 over the Golden Eagles. Sophomore outside hitter Amanda Colla hit five of those serves, and Sierks also put down a pair.
The outside-hitter duo of junior Meagan Wright and Dahle led the Tritons in kills and points once again. They both scored double-doubles, with Wright having 12 kills and 14.0 points and Dahle tallying up 11 kills and 13.5 points. This was Wright's sixth double-double of the season, tying her for the team lead. Sierks was on the other side of that lead as she scored her sixth double-double of the year, with 27 assists and a match-best 15 digs.
The Tritons were only tied with the Golden Eagles at 11–11 during the first set, after which they won in every set and never came in danger of losing. This was the Tritons' fourth victory out of the five previous games, with three of those wins ending in league sweeps. It was also the seventh time that they played against a top-25 nationally-ranked team so far this season.
"The thing I really liked is that we didn't let up in the match. … I think they were just ready to play tonight because of that loss on Tuesday night [against Cal State San Bernardino]," Head Coach Ricci Luyties told the UCSD Athletics Department.
The Tritons came in with the heat again the following day as they faced off against Cal State Dominguez Hills' Toros, winning their second-straight league sweep as they took another 3–0 victory in the same weekend.
Now having won five of their previous six matches, UCSD improved to an 8–5 overall ranking and a 4–1 CCAA ranking. This tied them for first with Cal Poly Pomona and No. 17 Cal State San Bernardino.
Similar to their success on Friday night, the Tritons played Saturday night's game with a similar mindset, with defense being their key to success. The Tritons were able to collect 61 digs compared to the Toros' 33. They also played great-paced offense, finishing off with a considerable 0.250 (47–21–104) to 0.78 (22–14–103) advantage in hitting percentage.
Wright led all the players on the court as she recorded her seventh double-double of the season: She had 14 kills and 10 digs while also scoring 15.5 points. Wright has scored a double-double in six of her last seven games, while also bringing in double-digit kill count in the last 12 of 13 games.
Dahle wasn't far behind her teammate, as she was able to notch in her sixth double-double before the third set had even started. Dahle brought in 13 kills and 12 digs, while also hitting .346 (13–4–26).
Sierks continued the Triton dominance as she also picked up her seventh double-double of the season, assisting on 37 kills and 13 digs. This made it the third-consecutive double-double for both Sierks and Wright.
The first two sets went smoothly for the Tritons, as they only faced slight trouble with some service error and what looked like a potential comeback from the Toros. The Tritons knew how to clean up, though, and came up back on top with an invigorated attack. The third set had more competition as the offense lacked on both sides. But after a late service error from the Toros, the Tritons fought back to win it all.
"Overall I'm really happy with our play," Dahle told the UCSD Athletics Department. "And it will only get better from here, so hopefully post-season we will be looking our best."
After a couple of successful games won on their home court, the Tritons will travel to Humboldt State to take on the Lumberjacks on Oct. 1 and the Sonoma State Seawolves on Oct. 3.