UCSD crew falls short in Friday's races, varsity 8 wins one on Saturday.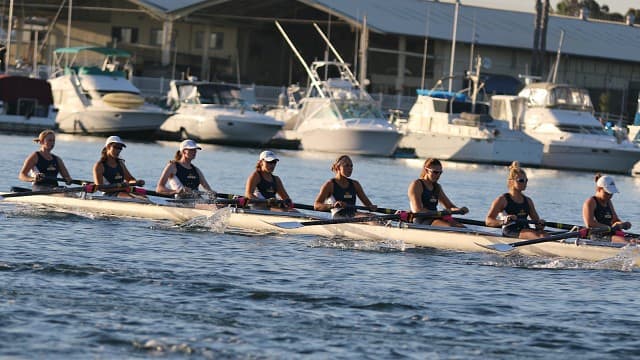 The UCSD women's crew Varsity 8 managed to pull off a victory in the second final on Saturday at the Dad Vail Regatta at the Schuylkill River in Philadelphia. The Tritons celebrated the win amid a flurry of disappointing performances from their various teams in Friday's races.
On Friday, the UCSD women's Varsity 4, consisting of freshman coxswain Tori Wong, sophomores Jennifer Dutton and Lauren Iannetta and seniors Claire Duesdieker and Kimberly McCune,was unable to qualify further as it placed fifth in its heat with a time of 7:52.111 seconds. The race went to Humboldt State, which placed first with a time of 7:36.266, ahead of Mercyhurst University with a time of 7:41.328 and Philadelphia University, which narrowly missed out on second place with a time of 7:41.813.
Our UCSD Varsity 8, consisting of senior coxswain Catherine Sheffler, senior Kelly Peterson, juniors Nicole Hammonds and Madison Kohlenberger, sophomores Amber Harris and Jordan Levy and freshmen Catherine Mosher, Jessica Levesque and Olivia Koyama, placed third in its heat with a time of 7:09.32, advancing to the repechage. In the repechage heat, the Tritons were unable to qualify for the Grand Final by just one place. However, their fifth-place finish — with a time of 7:29.297 — boosted them into Saturday's second final.
"Unfortunately, we just didn't perform that well today," UCSD head coach Colin Truex told the UCSD Athletics Department. "We couldn't find our speed in either the eight or the four and just didn't put in the race we are capable of. The team worked very hard and I am proud of the way they carried themselves even when things didn't go our way."
The Tritons got out of their funk on Saturday when the Varsity 8 finished strong, taking first place in the second final. The Tritons posted their fastest time of the meet and were close to coming under seven minutes, with a time of 7:01.77. They took the victory ahead of Florida Institute of Technology, which finished in 7:07.043, and the University of Charleston, which lagged behind to finish in 7:38.315.
"We had a much better performance today," Treux said optimistically. "After yesterday's disappointing results, we were able to rally and throw down a great race for the seniors in the boat, Peterson and Sheffler. We are leaving Philly with our heads held high."
Barry University went home with top honors over the weekend, as it won the Saturday V8 Grand Final in 6:42.102, ahead of Mercyhurst (6:44.527) and Humboldt State (6:52.136).
UCSD now awaits the at-large selections for the NCAA Division-II Championships to determine whether the team will compete at Lake Natoma, outside Sacramento, on May 29 to 31. The selection will be announced on Monday, May 18.