UCSD men were defeated by two ranked conference opponents in their last homestand of the season.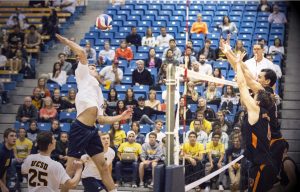 The UCSD men's volleyball team was unsuccessful in its last home stand of the season, falling to No. 13 Cal State Northridge on Friday night and losing to No. 10 Cal State Long Beach in straight sets the following night.
Despite the 3–1 loss to Cal State Northridge, the Tritons battled hard for every set. The scores all came out close, at 23–25, 25–21, 25–22, 25–15.
Redshirt freshman opposite Tanner Syftestad had a match and season-high 16 kills on .235 hitting. Syftestad was the only Triton to score more than six kills.
The Matadors, on the other hand, had a more balanced offense. Northridge had four players with double-figure kills. The Matadors also averaged .297 on the night to just .147 averaged by UCSD.
After nine lead changes, the Tritons grabbed a decisive 23–20 advantage after neither team was up by more than two points in a very close set. UCSD was able to edge out its opponent 23–25 in the first set after a kill from Syftestad.
Cal State Northridge started the second set off strong, quickly taking a 14–10 advantage. The Tritons inched closer but could never make up for this deficit, falling 25–21.
In the third set, UCSD and Northridge battled back and forth in the hardest-fought set of the game. After 16 tie scores and 10 lead changes, the Matadors, up by one 23–22 late, clinched the set with a kill from senior middle blocker Greg Faulkner and a Triton attack error.
Northridge exposed a tired Triton team in the fourth set, getting a 10–1 edge before cruising to clinch the game.
"We are a young squad this year and it takes some time to develop this talent," UCSD head coach Kevin Ring told UCSD Athletics. "This is a tough league and we're gaining some experience but we definitely need some more work."
UCSD was convincingly defeated again the following night by No.10 Long Beach State in its final home game of the season. The Tritons were defeated in straight sets with the scores of 25–13, 25–17 and 25–13.
Long Beach pulled away early in the first frame, taking an 8–1 lead. With another 7–0 run, they suffocated the Tritons and took the first set.
UCSD led 2–1 early in the second set before the visitors fought back to grab an 13–10 lead. UCSD trailed 22–14 after Cal State Long Beach scored five unanswered points and finally gave away the second set. The 49ers continued their domination in the last frame, taking a 13–3 early lead all the way to clinch the victory.
"We're all very competitive. The guys work hard and we want them to feel success," Ring said. "We're [going to] give it our best shot as we usually do and we're [going to] go figure out, night in and night out, what we need to do to improve."
Long Beach State hit .400 on the night and had 14 total blocks, compared to the Tritons' .027 and one team block. Syftestad could not repeat his standout performance from the night before, finishing with only three kills. Junior outside hitter Kirill Rudenko came off the bench to lead the Tritons with a team-high six kills on .167 hitting.
The Tritons remain winless in Mountain Pacific Sports Federation play at 0–19. The Tritons will have another tall task ahead of them in next weekend's matchup when they take on UC Santa Barbara (10–8) and UCLA (7–11).