Tritons record two narrow losses at Crossover Classic.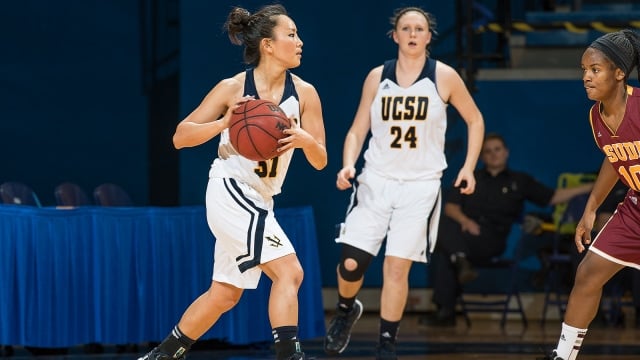 The UCSD women's basketball team went 0–2 at the West Region Crossover Classic at Western Washington University this past weekend. On Friday, Seattle Pacific University defeated UCSD 71–66 before the Tritons lost to Western Washington 80–77 in overtime on Saturday.
On the opening day, the Tritons battled back and forth with a strong Seattle Pacific squad. UCSD took a 24–18 lead after redshirt freshman guard Taylor Tanita sank a three-pointer. The shot was one of only three made the whole game, during which the Tritons went a poor 3–19 from beyond the arc. 
"We had a poor shooting night, but I am not that much concerned about the shooting percentages because we have very good shooters on the team," UCSD head coach Heidi VanDerveer said. "What kept us in the game is that we did everything else well, like getting back in transition defense or boxing out."
Despite the advantage, the Falcons answered with an 11–4 run to end the period and take a 37–32 lead into the locker room. 
The Tritons came back strong after the intermission, consistently fighting to keep the game within reach. With 2:37 left in play, the Tritons battled from behind to tie things up at 60 each. The minor comeback proved insufficient, as Seattle Pacific retook the lead and remained ahead until the end. 
Senior guard Miranda Seto scored 17 points for UCSD and junior foward Farrah Shokoor added 16 points and 10 rebounds for her first double-double of the season. Seattle Pacific's senior guard Aubree Callen led the Falcons with 22 points. 
On Saturday, Tritons had another good start against Western Washington, as they led 15–9 after 7 minutes of play. The Vikings answered with a 10–0 run to set the tone for a wild game full of point streaks. Immediately after, the Tritons rebuffed with a 12–0 run to regain a 27–19 advantage. However, the Vikings fought back to within 2 points and trailed 31–29 at halftime. 
"I think that every team is looking for more consistency," VanDerveer told the UCSD Guardian. "We still have a lot of new players, and for some of them it is the first time they play together." 
The two teams traded baskets and leads after the break. With 6:02 left in the game, UCSD jumped to the biggest lead of the game, 63–54, after a layup by senior center Dana Webster. With 1:13 left, the Tritons led with a 72–65 score. 
The Vikings started to inch closer, with their senior guard Jenni White hitting a three-pointer and sophomore guard Taylor Peacocke making a pair of free-throws. After Shokoor turned it over on the next possession, White hit a stunning clutch jump shot to tie the game at 72 with 28 seconds left in regulation. 
UCSD scored the first basket in overtime but could not maintain its lead. Down 77-80 with time running out, UCSD tossed up three consecutive three-pointers on its final possession but failed to convert, resulting in the bitter defeat. 
"It is a game that we should have won in regulation," VanDerveer said. "We did everything well, had the lead. In overtime, we just missed a couple of shots and could not get the win. We played two very good teams and our team competed."
Seto had 22 points and Shokoor contributed with a game-high 14 rebounds to go with eight points. Sophomore guard Haley Anderson and senior forward McKennan Bertsch shot 14 and 12 points, respectively.
With the pair of road losses, the Tritons are now 1–2 overall on the season. UCSD will next host the 2014 UCSD Thanksgiving Classic on Nov. 28 and Nov. 29 at RIMAC Arena. The Tritons will face Academy of Art University on Friday, Nov. 28 at 5 p.m. and Azusa Pacific University on Saturday, Nov. 29 at 3 p.m.