Both the UCSD women and men's cross-country teams concluded their regular seasons with first-place finishes in this past Saturday's 22nd Annual Triton classic. With strong showings from both squads, the Tritons will look for success in the postseason starting in early November.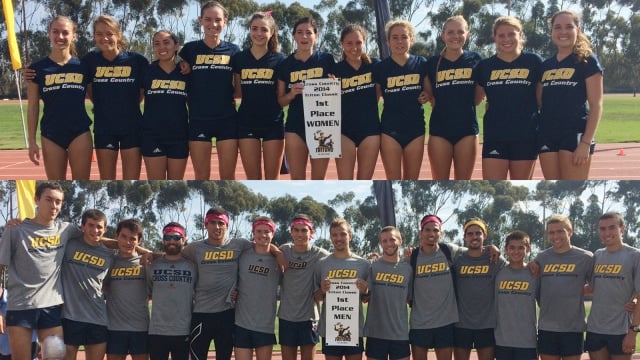 "One of the things we really emphasized in the whole buildup to this race was doing a better job of working together," UCSD head coach Nate Garcia told the UCSD Guardian. "Our team did an awesome job of embracing that challenge. That was really encouraging for me."
The event started with the men's 10K race on Saturday morning. Olympic triathlete Jarrod Shoemaker, who was running as an unattached runner, posted a time of 25:57.8 to win the event, followed by Triton junior and top runner Tareq Alwafai, who finished at 26:18.3. Senior Tanner Collins out-sprinted two opponents in the final meters to grab third place.
"[Alwafai], he's just been a stud for us this year; he's really coming into his own," Garcia said. "He had a strong season last year, and he's been taking that to the next level this year. He did a really good job of getting out there and really battling the guys."
UCSD's men's team finished with 32 points, with junior Scott Acton (seventh), junior Daniel Franz (11th) and senior Daniel Hauptman (15th) as the three other Triton scorers. Following behind the blue and gold were California Collegiate Athletic Association opponents San Francisco State, who took second place, and Cal State Monterey Bay, who finished third.
The women's side looked as dominant as the Triton men, with all five scorers finishing in the top 14 in the 6K race. Behind sophomore Skyler Storie (first place from Dixie State), Triton junior Corinne Hinkle finished at a team-best fourth place with a time of 22:37.8. Junior Paige Hughes crossed the line at fifth, while junior Chandler Colquitt took ninth on a sprint finish. Seniors Madison Tanner and Michelle Le Roux completed the race in 11th and 14th, respectively.
"[Alwafai and Hinkle] both really stepped into really strong leadership positions for us this year," Garcia said. "Corinne has done a great job leading by example [in] the way she contributes to the team throughout the week and not just on weekends. She's been great. She did a good job today against some of the best girls in the western region."
The women's group finished with 43 points, topping Azusa Pacific (62 points) and Cal State Monterey Bay (102 points).
"Before this season even started, we sat down and we said we need to do better than [last season]," Garcia said. "We need to defend our position and also make a run for the conference title. I'm just really excited to see that the team is ready to embrace that challenge."
Sitting at second in conference standings, UCSD now faces a two-week break before the start of the postseason. The Tritons will run in the CCAA Championships hosted by Cal State San Bernardino on Nov. 8.