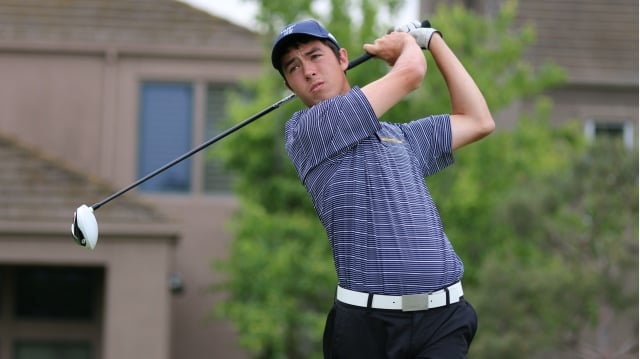 Concluding its fall season, the UCSD men's golf team recorded a disappointing finish this past Monday at Cal State Monterey Bay's annual Otter Invitational, placing 18th among a tough field of schools, including No.1 Barry University, No. 2 Nova Southeastern University and No. 4 Lynn University. League opponents from the California Collegiate Athletic Association included No. 5 Chico State and No. 12 Cal State Stanislaus.
As a group, UCSD swung +104 on the par 72, 6,869-yard Bayonet Black Horse Course.
Senior Jay Lim had the best finish for the Tritons, tying for the 65th spot, swinging 23 over par. In round one, Lim was able to finish with just 1 over par, the lowest round of the tournament by any Triton but could not extend his impressive play in the following two rounds.
"I think playing in a tough field shows our weaknesses as a team, and now we know what we have to do in order to compete with these teams," Lim told the UCSD Guardian. "Although it was a terrible performance from us, it gives us motivation for the offseason to get better so I think there's a huge benefit from this tournament."
Junior Clayton Yamaguchi finished just short of his senior teammate and finished in 67th with a 240 while hitting 24 over par.
Other Tritons who competed included junior Daniel Yang (244, +28), who tied for 74th and junior Jeff Roseth (248, +32) for 89th. Poland native and freshman Mateusz Kucz made his debut for the blue and gold, finishing 96th overall, swinging 40 over par with a 256.
"Matt Kucz didn't play his best but he's fitting into the team well," Lim said. "Coach [Jim Ragan] has been working with him a lot and I see a lot of potential from him. Hopefully this performance will be motivation for him to practice harder just like the rest of the team."
No. 2 Nova Southeastern (+21) placed in first place, followed closely by British Columbia (+26) and host school Cal State Monterey Bay (+29).
UCSD is currently ranked 7th in the NCAA II West Region, trailing familiar conference names such as Cal State Monterey Bay (first), Chico State (second), Cal State Stanislaus (third) and Sonoma State (fourth).
With the conclusion of the fall season, the Tritons will be on hiatus until Feb. 23, when they resume their schedule at Cal State San Bernardino for the Coyote Classic.