After a rollercoaster ride of a 2013–14 season, the Guardian is already eager for the 2014–15 campaign for Triton athletics. Take a look at our guide to the coming year for blue and gold.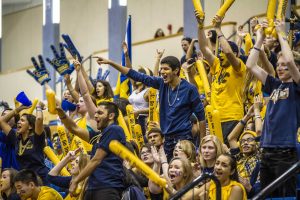 Baseball
Previous Record: 38–16//Projected Record: 42–12
Previous Finish: Eliminated in final round of NCAA Regionals
Projected Finish: Late-round elimination at NCAA Nationals
After experiencing substantial success this season, the returning squad is poised to compete at the national level. Rising juniors and seniors are now veterans with postseason experience, and most of the talent on the Triton roster will return while continuing to develop. Breakout stars like Erik Lewis, Troy Cruz and Brandon Shirley can certainly repeat their performances while assuming positions of leadership on the team in place of several, valuable, graduating seniors. The bullpen, while more than proficient, must continue to improve, and the team must maintain consistency at the plate down the order. Under head coach Eric Newman's guidance, the Tritons will advance deep in the postseason in 2015.
Softball
Previous Record: 34–18//Projected Record: 30–22
Previous Finish: Game Three Elimination at NCAA Regionals
Projected Finish: Game Two Elimination at NCAA Regionals
In spite of the loss of four starting seniors, including All-American catcher Caitlin Brown, the Tritons will have a strong class of juniors taking the torch. However, the new leaders will undoubtedly have to improve their game in the coming season. Players such as sophomore outfielder Callie Grant (.433 batting average in 2013), who recorded only four non-single hits all season, will have to come up with bigger at-bats. Pitchers, freshman Alayna Brenman and sophomore, Hannah Duarte, must step up and help sophomore southpaw ace Alexis Edwards fill the gap left by senior right-hander Jennifer Manuel. UCSD risks taking steps back, but if things go right, they can also exceed last year's finish.
Men's Basketball
Previous Record: 15–11//Projected Record:14–10
Previous Finish: Missed CCAA Postseason Berth in Final Game
Projected Finish: First Round Elimination at CCAA League Championship
Losing senior point guard James McCann will undoubtedly change the offensive dynamics of the team. However, now up-and-coming freshman Adam Klie and head coach Eric Olen both have a year of experience under their belts, and the Tritons will have a go-to rising star and familiarity between the coaching staff and the players. A question mark still lingers over the new recruits, as the lack of a true point guard may force incoming freshman George Buaku to take over McCann's previous role. UCSD has the potential to become the top team in the CCAA, but next season will only be a stepping stone to get to that point.
Women's Basketball
Previous Record: 16–11//Projected Record: 18–9
Previous Finish: First Round Elimination at CCAA League Championship
Projected Finish: Championship Round Elimination at CCAAs
Last season's results were far from indicative of the Tritons' potential. They lost their top player, junior guard Miranda Seto, for four games due to injury, and UCSD concluded the season after squandering a 21-point lead to Cal State Los Angeles with a 60–59 loss in the first round of postseason action. Led by new seniors McKennan Bertsch, Miranda Seto and Dana Webster and developing stars such as freshman forward Cassie MacLeod, the Tritons will look to avoid any accidental losses. The team will suffer without graduating seniors Megan Perry and Erin Dautremont but have serious potential to make it far next year.
Men's Soccer
Previous Record:14-3-5//Projected Record: 12-6-4
Previous Finish: Third Round Elimination in NCAA Tournament
Projected Finish: First Round Elimination in NCAA Tournament
After a fairly successful season, men's soccer will have huge voids to fill with nine seniors graduating, most notably the All-American trio consisting of defender Alec Arsht, midfielder Andisheh Bagheri and goalkeeper Josh Cohen. The Tritons, however, still have a roster talented enough with players who can step up in order to stay competitive in the CCAA. Soon-to-be senior forward, Santa Monica College transfer Alessandro Canale is currently the definitive leader of the upcoming season. Alongside freshman standout forward Malek Bashti, Canale and his experience with Team USA in the 2013 FIFA Beach Soccer World Cup will be keys to success for the young team.
Women's Soccer
Previous Record: 7-6-5//Projected Record: 6-7-5
Previous Finish: Fifth in CCAA, Missed Postseason Berth
Projected Finish: Sixth in CCAA, Miss Postseason Berth
Women's soccer missed the postseason for the first time since 2000, establishing a substandard performance in the conference and amassing little momentum for next year. Additionally, women's soccer will have little experience in the coming season, as 11 of the returning players are entering only their sophomore year. While the rising class of young Tritons may be perceived as an advantage over last year, the departure of key seniors and the relative inexperience of the remaining team may lead to another difficult year in contentious CCAA play. Next season will most likely serve as a developmental period for the youthful squad.
Track & Field
Previous Finish: Five Triton Qualifiers for NCAAs, 2 All-American Finishes
Projected Finish: Seven Triton Qualifiers for NCAAs, 3 All-American Finishes
The track and field squad certainly looks toward 2015 with promise. The Tritons have the full intention and potential to improve on this season's solid nationals showing, as all five Triton qualifiers will be returning for action next season. Junior thrower Nash Howe's abilities continue to grow while others, such as redshirt freshman decathlete Dan Golubovic, who had much more in him than his decathlon national results showed, have more years to develop their skills. Furthermore, a handful of other Tritons on the brink of qualifying marks in 2014 ensures next season's UCSD representatives at the NCAAs will be slightly, if not significantly, larger.
Men's Water Polo
Previous Record: 14–14//Projected Record: 17–11
Previous Finish: Elimination in NCAA play-in game
Projected Finish: Elimination in first round of NCAA Championship
Under the leadership of 2013 Western Water Polo Association Coach of the Year Denny Harper and a strong cast of rising seniors, the men's water polo team has every reason to believe that the 2014 campaign will be even more successful than last year's CCAA title. Cameron Ravanbach is one of the best goaltenders in the country, and at the height of its game, the Triton offense outscored even the best opponents. To edge out the competition next year, the squad will have to overcome the hot-and-cold streaks that were characteristic of the 2013 season and get the offense going earlier in key matchups.
Women's Water Polo
Previous Record: 27–13//Projected Record: 23–17
Previous Finish: Eighth Place Elimination at NCAAs
Projected Finish: Elimination in NCAA play-in game
With the loss of four seniors, including all-time UCSD scoring leader utility Sarah Lizotte, co-captain and all-around playmaker center Melissa Bartow and top defender utility Leah Gonzales, the next season will look to be a year of rebuilding for the Tritons. However, while UCSD will be without its top gun in Lizotte, the team still has the potential to continue the program's winning ways. They have a good goaltender in sophomore Courtney Miller and strong stars like sophomore two-meter defender Alexis Wieseler and junior attacker Jolene Giuliana, who are fully capable of taking over. The Tritons will struggle more next year but will nonetheless remain a national contender.
Women's Volleyball
Previous Record: 26–6//Projected Record: 25–7
Previous Finish: Elimination in NCAA West Regional Semifinal
Projected Finish: Elimination in NCAA West Regional Final Round
With only two seniors leaving for the upcoming season, the core group of women's volleyball will return this fall season with promise. Sophomore All-American and outside hitter Danielle Dahle, who averaged a team high 3.25 kills per set and led UCSD in kills, points, points per set, attack attempts and receptions the past season, will continue to improve and dominate. With Olympic gold medalist and two-time NCAA Player of the Year Ricci Luyties at the coaching helm, the Tritons look to build upon their superb season and come out as a top team in the competitive CCAA while contending for the national championship.
Men's Volleyball
Previous Record: 4–23//Projected Record: 5–22
Previous Finish: Three-way tie for last place in Mountain Pacific Sports Federation
Projected Finish: Last place in MPSF
To say last season's outcome for the Tritons was disappointing is a major understatement. UCSD totaled only four wins out of 27 total contests, and two of those victories were against the other two teams that tied with the Tritons for last place in the MPSF. However, the underwhelming record deviated little from a pattern of losing seasons in recent years, and with the Tritons losing their top two players, seniors outside hitter Nick Iorfino and opposite hitter Johl Awerkamp, the team does not appear ready to clear up its loss column. This past season was unpredictably bad, but things may not get much better, if at all, in the coming year.