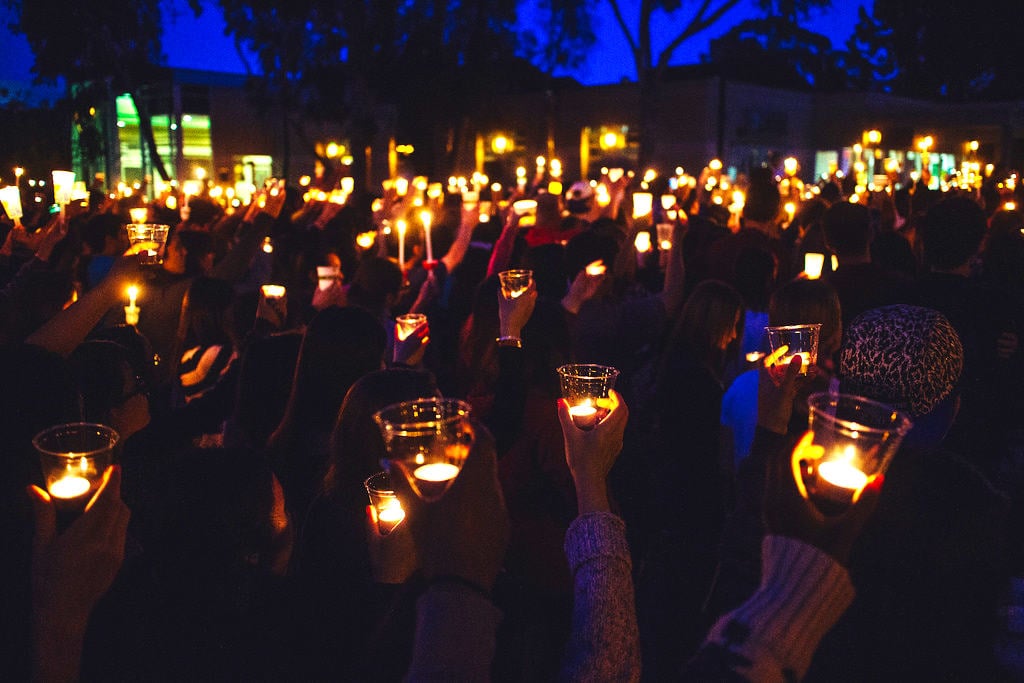 The A.S. Women's Commission held a candlelight vigil at UCSD to commemorate the victims of the Santa Barbara shootings, along with the passing of Revelle College student Ricky Ambriz and bioengineering professor Anouchka Mihaylova.
An estimated 1,000 people attended the vigil held on Monday, May 26 at 8 p.m.
On Friday, March 24, 22-year-old Elliot Rodger stabbed his three roommates before shooting down three other individuals in Isla Vista, a neighborhood where many UCSB and Santa Barbara Community College students live. Rodger was the son of Hollywood director Peter Rodger and committed the murders because, according to his YouTube videos, he wished to "slaughter every single spoiled, stuck-up blonde slut I see inside [the sorority house]."
Vice President External Affairs Allyson Osorio said that the UC Student Association has not shown an official reaction to the event.
"The solidarity between UC campuses is beyond beautiful. Candlelight vigils and conversations have been occurring throughout the UC," Osorio said. "What will be interesting is the future campaigns UCSA decides to work on."
One of the organizers of the vigil, Eleanor Roosevelt College senior Mina Nilchian, said how inspiring it was to see an abundance of individuals taking time out of their weekend to join in solidarity with all the UCs and pay their respects to the victims.
"The event was definitely a success — there was a really strong sense of unity and strength as we lit candles and silently marched to Revelle Plaza," Nilchian said. "A lot of different organizations and individuals came together to donate candles, provide a sound system or even help spread the word."
Another person whom the vigil honored is Revelle junior Ricky Ambriz, who was found unresponsive in his apartment in the Village at 2:30 a.m. on Saturday, May 17. Ambriz was transported to Scripps Hospital where he was pronounced deceased. The San Diego County Medical Examiner has yet to release any record of Ambriz's death.
A donation page was created to assist the family with funeral expenses (tinyurl.com/rickyambriz) and had raised $10,275 at press time, exceeding its goal of $10,000. There are four more days left to donate.
UCSD professor Anouchka Mihaylova was also honored at the vigil. Mihaylova was killed in a hit-and-run incident on Saturday, May 17 around 8:30 p.m. in the 11000 block of Rancho Bernardo Road. She passed away in her husband's arms.
Osorio, who was a personal friend of Ambriz, believes that students may have been especially empathetic of UCSB in light of the recent deaths at UCSD.
"Many students came together last week for the death of a fellow Triton," Osorio said. "Unity, love and power of community is beautiful during these awful times."
The main organizer of the vigil, Revelle freshman Julia Eva-Maria Brown, said that the event was a success.
"The vigil was beautiful and probably one of the most humbling experiences of my life," Brown said. "It would have been a success if even one person came."