Local funky band jazzes our campus up with its electrifying charisma and a memorably eclectic opening act.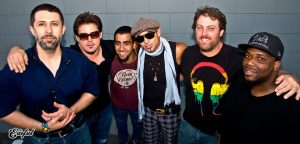 Rating: 5.0/5.0
Venue: The Loft
Concert Date: April 25
Opening Acts: St. Paul and the Broken Bones
A man leaned back on The Loft's green couches, nodded hello and casually adjusted the pink scarf around his neck. He was so nonchalant he could have passed as an audience member, until the media crowded him and people whispered, "That's Brian Teel from The Earful!" In fact, Teel, the bandleader, was a perfect representation of the entire group's personality. From the minute they stepped into the room — let alone on stage — The Earful made a permanent connection with their audience.
Of course, this connection formed in part due to St. Paul and The Broken Bones, who opened for The Earful with a soulful performance that became the connective tissue of an altogether stellar concert. Straight out of Birmingham, Alabama, lead singer Paul Janeway (ex-preacher, ex-accountant-turned-musician) has the lung capacity of a gospel singer, combined with the spirit of authentic soul train and as a result, injects the contents of his heart straight into yours. When you plaster that over an adorable pack of lanky, white jazz musicians who were on par with Janeway every step of the way, you quickly realize there was nothing lost in translation. This pre-show surprise was so smooth, it brought a slightly peeved Brian Teel of The Earful to mutter in jest, "Thanks for sticking around to listen to us," before kicking off the set.
Not so fast, Teel (Let's switch gears to the main act). "You silly man," the giddy audience seemed to echo in unison. "Of course we'll stick around for you," as if to express that St. Paul and The Broken Bones simply reshaped our previously rigid ear drums to make room for more bliss. Nominated for Best Jazz Artist 2013 in the San Diego Music Awards, The Earful is the funkiest up-and-coming sound our West Coast breeze can stand to carry. A reverberation of Teel's Hammond organ mixed into the energetic beat held by Tim "Figg" Newton on drums produced a sweet, fertile field where the rest of the crew felt free to play with the sort of improvisation all great funk is born from.
Innovative bassist, Omar Lopez, inserted unexpected rock 'n' roll riffs into bouts of endless percussion, played by Eric Hartwell. And Adrian Terrazas-Gonzalez, borrowed from The Mars Volta, put so much heart into the saxophone that he was left exhausted by the end of the performance, waving his tongue around at the audience. Of course, we mustn't leave out the spunky Roy Brown who alternated between trombone and cowbells; he even threw in a few dance moves and an unforgettable attempt to do the splits in his bright pink pants.
The only thing I questioned during the performance was why on Earth guitar player/vocalist Ricky Giordano hid in the back corner the entire time. The answer to which I have formulated myself: Perhaps because he's tired of being so darn good at what he does. I encourage everyone — I don't care if you're a metalhead or a pop queen — to go see The Earful. This band will speak to you no matter who you are. Songs like "Loose 7s" and "Odor Eater" are packed with the innovation of a Miles Davis album (particularly "Bitches Brew") and the energetic stage presence of Earth, Wind & Fire. These fellows can be compared to splatter paint art; they spontaneously combust all over stage, and if you're lucky, you'll get some of their color on your shirt.