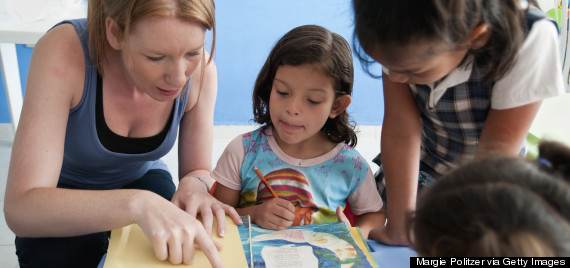 Sponsor Change is an organization that aims to connect non-profit organizations with skilled college graduates who can use volunteer work as a means of paying off their college debt. 
Paid Volunteerism Is a Creative Solution to College Debt Problems
Instead of starting their post-college lives on a positive note, recent graduates are tens of thousands of dollars in the red. According to U.S. News & World Report, college graduates held an average student loan debt of $23,450 in 2008. In the years since, that number has only risen, with a 2012 figure of $29,400. It's clear that in order to remedy the crisis, it's time to get creative. A new wave of organizations such as SponsorChange use volunteer work as a way to pay off student loans, pioneering a change that benefits more a wider range of people than just the students it employs.
In their 2012–2013 report, the United States Bureau of Labor Statistics found that the country had plummeted to its lowest amount of volunteerism since 2002. Specifically, statistics of volunteers were the lowest among 20 to 24-year-olds. Convincing an age group full of college students to volunteer would be easier if they had the incentive of paying off some of their debt.
Those who are concerned about changing the traditional definition of volunteering can rest assured that the volunteers will essentially never see the money, as it will go straight toward paying off their loans. In a way, these programs are similar to scholarships or work study programs, in which the money goes directly toward paying for tuition.
In turn, these programs will not only help new, struggling graduates, but also people who will be touched by the positive impacts of volunteer work.
—  Charu Mehra
Staff Writer
System of Compensation Deprives Volunteerism of its Moral Value
The bona fide title of a being a volunteer may no longer define an individual providing service free of charge. The new solution to paying off college debt appears to involve being rewarded for volunteer work with something other than genuine gratification — money. However, this defaces the spirit of selfless contribution to society and certainly isn't acknowledging the value of charity.
Truthfully, the term "paid volunteer" doesn't veer far from being an oxymoron. It's reasonable for people to get paid for working a job, but volunteering shouldn't require compensation. If individuals are being paid to work, they shouldn't be called volunteers. Giving up one's own time, and sometimes money, to help others can truly cultivate values that no one could dare to put a price tag on. According to Alina Tugend of The New York Times, the act of volunteering can foster responsible, active and fair-minded citizens, if performed under the right context. However, volunteer programs don't necessarily provide volunteers with a link between their work and the deep issues behind it. And volunteering merely to pay off personal debt could certainly further prevent forming this important connection.
Ultimately, true volunteering can provide insight into greater concerns and social issues, while teaching individuals to become more thoughtful. But by pursuing monetary guides instead of goodwill, society may be forgetting the roots of volunteerism.
—  Shannon Kang
Senior Staff Writer
Full-Time Jobs Are a More Efficient Way to Pay Off Student Loans  
SponsorChange may offer non-profit organizations a way to provide graduates with part-time jobs through sponsor donations, but such an offer is unnecessary and limiting. A focus on a regular job and decent money management would be a more adequate option for graduates paying off student loans.
The average job found through SponsorChange will pay somewhere between $10 to $20 an hour but only offers around 12 hours a month which, at best, would result in only $2,880 a year. However, the average starting salary for a college graduate in 2013 was roughly $45,000 and is increasing by roughly 2.4 percent each year. If a graduate chooses to be wise with their money, they could easily pay back their student loans over the span of a few years. Additionally, real jobs usually offer the flexibility of working more hours if their paychecks are insufficient.
In addition, these non-profit jobs are more limiting than simply adding more hours to a current job. The alternative of working for a mere 10 more hours per week at a regular job would still be manageable for graduates and would result in more money per year going toward their student loans.
In the end, what SponsorChange offers is a part-time job, which is not what graduates need. As many graduates already know, a regular job and responsible money management is really the best way to pay off your debts efficiently and secure a stable future.
—  Ayat Amin
Contributing Writer