Golf ties school record for best ever conference tournament finish with three Tritons placing in top 10, will compete against 19 teams at NCAA Regionals.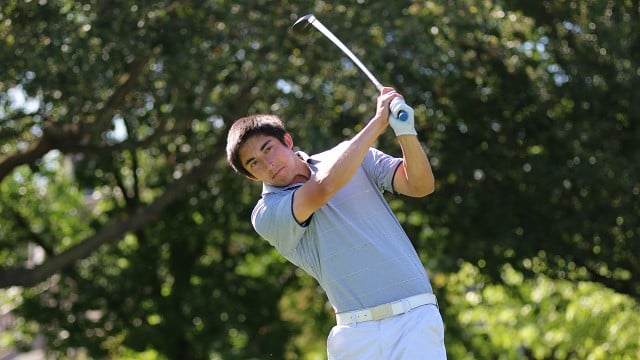 The UCSD men's golf team traveled to Stockton, Calif. last week for the California Collegiate Athletic Association Championship, finishing in third place out of eight teams and tying for the best finish in school history. Three Tritons finished in the top 10 individual standings.
The eight-team tournament included No. 13 Cal State Stanislaus, who finished in first place, running ahead of the competition and having four of its players finish in the top 10 in individual standing. The Warriors shot a team total of 859, five under par, 17 swings ahead of second place finisher Cal State Monterey Bay (876, +12).
Senior Lewis Simon — UCSD's top finisher — tied for eighth out of a field of 40. He swung 3-over 219 on the par-72, 6,720-yard on the Brookside Country Club course. Junior Jay Lim finished closely behind, tying with fellow Triton sophomore Daniel Yang for 10th with a 221, 5-over par. As a team, UCSD had its second-best tournament score of the season.
"Our performance in the last tournament shows that we can all perform at a high level and compete with all the top players," Lim said. "I feel like our team is in a good position to play well, and we are playing well at the right time."
The last putt for UCSD determined the final standings, as Lim needed a par to clinch the third-place position for the Tritons. Under pressure, he was able to make the clutch birdie to give the Tritons the edge over Chico State.
"That last putt was probably the most nervous I felt over any golf shot," Lim said. "My hands were shaking. I just wanted to make the putt knowing what is on the line, and with everyone watching, I just prayed and hit the putt."
The Tritons finished ahead of No. 5 Chico State (883, +19) and No. 23 Sonoma State (899, +35). Since their rough start early in the season, the Tritons have regained their confidence and now intend to ride their momentum into the postseason.
"We are extremely confident at the moment," sophomore Clayton Yamaguchi, who finished tied for 24th, said. "This regular season hasn't gone as well as we would've liked, especially [in] our most recent tournaments where some of our guys struggled. But having played well last week and beating some of the top teams in the country, we are confident and know we belong in the regional."
On Friday, the Tritons discovered they qualified for the NCAA Division II Golf Championship Regionals for the third straight year. The team will travel down to Grey Rock Golf Club in Austin, Texas from May 5 to 7 to compete with 19 other schools, including fellow CCAA opponents Cal State Monterey Bay, Chico State, Cal State Stanislaus and Sonoma State.
"Our main goal is to make it to the national championship, which is possible if our guys are sharp," Yamaguchi said. "But we just want to go out there without expectations and try to beat more teams that people wouldn't expect us to beat, which is fun for us."