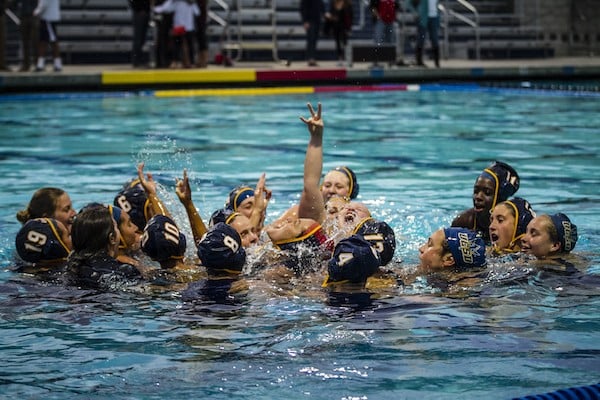 The No. 14 nationally ranked Tritons kick off the postseason, entering as the No. 1 seed in the Western Water Polo Association championship tournament, which will be hosted at home Saturday and Sunday at the Canyonview Aquatic Center.
Entering tomorrow's Western Water Polo Association conference tournament as the No. 1 seed and this year's defending champions, the No. 14 UCSD women's water polo team has great expectations.
The Tritons are on a seven-game winning streak, having brought home UCSD's first ever Harper Cup in their final regular season contest last Friday, and their 24–10 record is far superior to any of the other four competing squads. This season's squad also has a UCSD-record seven All-WWPA first team members on this season's squad, including second time WWPA Player of the Year senior utility player Sarah Lizotte. And on top of everything, the tournament will be hosted on home turf at UCSD's Canyonview Pool.
With so much momentum appearing on the side of blue and gold, UCSD is shooting for no less than the crown with a highly focused mindset.
"Obviously [we're] aiming to win the automatic bid to the NCAAs," senior utility player Leah Gonzales said. "But I think a lot of times, it's easy to overlook or take for granted the teams in our conference. They've worked as hard as we have."
The WWPA tournament is essentially a "win or go home" scenario, as the champion will qualify for a national championship berth and the losers simply have their seasons cut short.
"If you lose, you're done," UCSD head coach Brad Kreutzkamp said. "That's a lot of pressure, especially for seniors who know this could be their last game ever."
However, carrying a 4–0 record in WWPA play, the top-seeded Tritons already have a leg up on opponents, as UCSD is exempt from Friday's action with a first-round bye and will play their first match on Saturday afternoon. While UCSD must wait until the conclusion of the Saturday morning game to know who its opponent will be, the Tritons are ready to battle any of their conference foes.
"Whomever we face, we'll be prepared," Lizotte todl the UCSD Guardian. "[Our] biggest strength is our depth and our speed."
Gonzales, who won the Harper Cup MVP award last week, also pointed out the importance of home pool advantage.
"When we go up north to play them, they have really small pools," Gonzales said. "Playing a game in a small pool is a lot different than in our pool because [ours] is almost 1 1/2 times the length. [So] it's harder for them to keep up with us."
The Tritons will be led by Lizotte — who has racked up a team-leading 73 goals and 47 assists — along with junior attacker Jolene Guiliana who herself has netted 58 scores and 46 assists over the 2014 campaign. Sophomore goalkeeper Courtney Miller will mind the net for UCSD.
The Tritons' postseason journey begins on Saturday, April 26 at Canyonview at 3 p.m. against the winner of the 11 a.m. contest. The third-place game is slated for 11 a.m. on Sunday, with the championship match scheduled for 1 p.m.
"We don't want to leave any room for error," Lizotte said. "If we play smart, and if we play the way we have been playing, things will go our way."