Young the Giant, Juicy J, Diplo to Headline Sun God Festival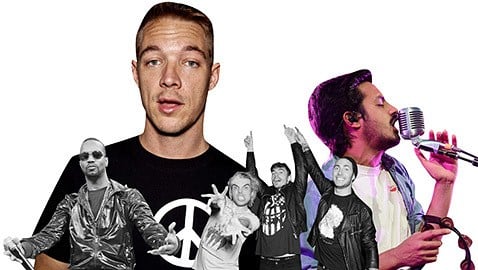 ASCE will implement new policies this year, including online wristband registration, a no-guest policy and a no-host policy.
A.S. Concerts and Events released the Sun God Festival 2014 lineup Friday, April 18. The lineup includes Diplo, who many suspected would perform after he slated "UC San Diego" for May 16 on his tour calendar. Also included on the lineup is Irvine rock band Young the Giant, rapper Juicy J and New Politics, the artist behind last summer's "Harlem."
In Fall Quarter 2013, ASCE conducted a student survey to determine this year's lineup.
"For us, the survey results were a strong compass in terms of the acts we chose to pursue and stand firm on," ASCE Festivals Director Andrea Hsueh said. "We made a very conscious effort to listen to the feedback we were provided and diversify our lineup while pursuing the largest names we could within our budget."
This year's Sun God Festival requires students to reserve wristbands online in advance so they can easily be identified during the festival, meaning students are also required to carry their ID cards with them at all times.
There will be extra safety precautions due to the number of hospitalizations that occurred during last year's festival, including a campuswide no-guest policy and a no-host policy in International House and The Village. The no-guest policy stipulates that no non-students will be allowed to stay in residential areas, while the no-host policy stipulates that only residents who live in those areas may be there.
The rest of the lineup includes Joey Bada$$, Audien, Ty Dolla $ign, Torro Torro, Giraffage, Miner, 2TONEDISCO and Jhameel. DJ Demon will be the Sun God Stage House DJ, Joey Avery will be the Comedy/Midway Host and James Kellogg Jr. will be the Comedy Hypnotist.