Triton men lose to Azusa Pacific 7–2 while San Diego State University defeats women 6–1.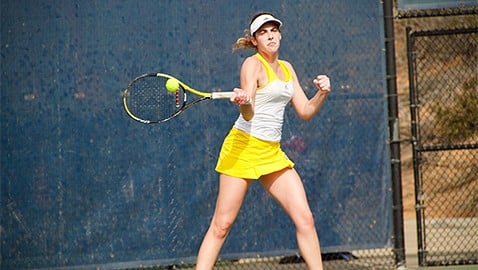 Last week, the UCSD men's and women's teams both suffered tough road losses, with the No. 11 Triton men falling to Azusa Pacific University 7–2 on Friday, and the women losing 6–1 to San Diego State University on Sunday. The weekend tilts put the men at 15–8 overall on the season and the women at 8–16 overall.
On Friday, the Triton men could only muster two match victories — one each in the doubles and singles — against Azusa Pacific.
Senior Rajeev Herekar and junior Mark Meyer won in the No. 3 doubles slot, defeating Cougar freshmen Pascal Engel and Alan Leahy by a score of 8–6. However, APU managed to take the No.1 and No. 2 tilts with scores of 8–3 and 8–4, respectively.
Sophomore Horea Porutiu recorded the only singles victory at the No. 5 slot, overtaking APU's junior Gary Yam by scores of 6–4, 6–4 in two sets.
On Sunday, the only win that the UCSD women could produce against SDSU came on the singles side, when senior Tara Vanooteghem defeated freshman Kennedy Davis in the No. 4 singles through scores of 6–4, 2–6 and 15–13.
"The highlight of the match was Tara Vanooteghem winning in the super tie-breaker in the third [set]," UCSD women's head coach Liz Laplante said. "She played probably the best she's played all year. That was a real nice thing to see."
However, the Tritons fell in each of the remaining five singles contests in straight sets.
On the doubles side, the Aztecs swept the UCSD in all three matches. The closest contest came in the No. 1 slot where sophomores Paula Chou and Kyra Scott lost 8–6 in a hard-fought match.
"It was a really, really good match," Laplante told the UCSD Guardian. "They played aggressive. They played probably the best doubles I've seen them play all year. [They] both rose to the occasion."
In the No. 2 and No. 3 slots, UCSD failed to tally a single score, as the Aztecs shut out the Tritons 8–0 in both matches. With this loss, the Tritons have now dropped four straight matches.
"San Diego State is a really good Division-I program," Laplante said. "[Considering] where the last half of our season has gone, I was really pleased with the way the girls performed."
After the pair of weekend losses, the men's and women's squads will close out their season this week, with the men's team traveling to play UCLA on Wednesday, April 16 and the women returning to home turf to host Cal State Stanislaus on Friday, April 18.