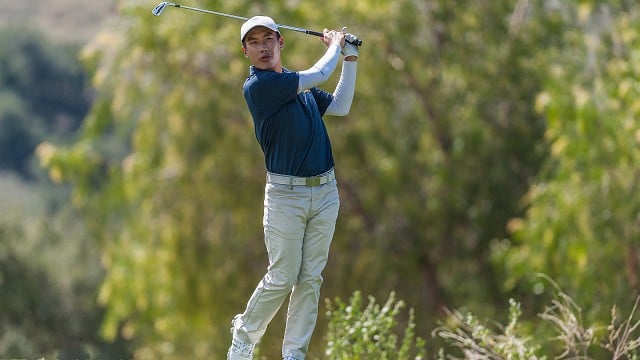 Photo Courtesy of Triton Athletics
In its final tournament before the California Collegiate Athletic Association Tournament, the UCSD men's golf team finished ninth out of 20 teams at the 41st Annual Hanny Stanislaus Invitational. Junior Jay Lim was the top Triton finisher, tying for 26th out of a pool of 100.
UCSD ended day one tied for the 11th spot, swinging a 608, 32-over-par on the par-72, 6,641-yard course. The Tritons started off sluggish, shooting a 309 in the first round. However, after some adjustments in the second round, they rallied to shoot a 299, moving them from 13th to 11th at the end of the day.
"The course we played was a lot different from the types of courses we are used to," sophomore Clayton Yamaguchi said. "I think it took us a while to adjust to this and change our game plans, but when we did, we played better."
UCSD senior Lewis Simon was the leader of the pack after the first day of competition, finishing 28th among individuals, with a 7-over-par 151. Lim and Yamaguchi were not far behind, both tying at 34th at the end of two rounds.
The following day, the Tritons were able to improve by one stroke in the third and final round, finishing the tournament with a 42-over-par 906. UCSD's one stroke improvement gave the Tritons just enough to edge Cal State San Marcos, who finished 10th with a total of 907. Sonoma State (7), Cal State San Bernardino (8), UCSD (9) and Cal State San Marcos (10) were all only separated by a single-stroke margin.
Cal State Monterey Bay came in first, followed by second place Chico State University and host school Cal State Stanislaus in third.
Lim was able to move up the leaderboards in his final round, ending in a three-way tie for 26th, with a 10-over 226. Los Angeles native Yamaguchi was also able to climb up the charts in the final round, tied for 29th, 11-over 227.
"Jay [Lim] played quite a bit better this tournament," Yamaguchi said. "He has been working hard, and he is finally starting to see better results."
Simon fell seven spots after his final round, finishing at 35th, tied with fellow Triton sophomore Daniel Yang (13-over-par, 229). Sophomore Jeff Roseth also finished in a tie at 74th.
The Tritons conclude their season next week when they travel to Stockton for the CCAA Championship.
"We're pretty confident," Yamaguchi told the UCSD Guardian. "We haven't played our best in recent weeks, so other teams in the conference might overlook us. But we've been trending in the right direction, [and] we have the chance to surprise some people and do really well at conference."
The championship tournament will occur from April 21 to 22 at the Brookside Country Club.
"I have never played at Brookside or even seen pictures of the course, but I heard it's kind of similar to the course in Stanislaus," Yamaguchi said. "I think we will be better prepared and won't have to make too many adjustments."