UCSD falls to No. 7 UC Irvine before recording best hit percentage versus UC Merced.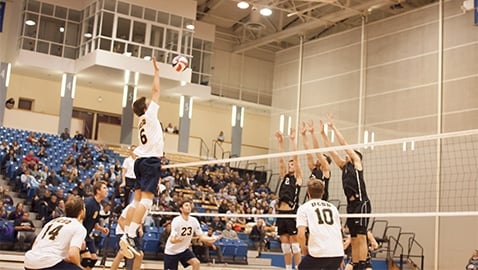 The UCSD men's volleyball team went 1–1 in this past Friday and Saturday's contests, losing 3–1 to No. 7 UC Irvine before routing UC Merced in a record-setting 3–0 win. In spite of the one loss, the two matches counted as a successful effort for the struggling Tritons who are now 3–22 overall and 1–21 in the Mountain Pacific Sports Federation.
On Friday, UCSD fell to UC Irvine in four sets, as the two-time defending national champions' offense appeared too much for the Tritons to handle. UCSD's .260 hitting percentage paled in comparison to the Anteaters' whopping .561. Moreover, senior outside hitter Nick Iorfino was the only player for UCSD to reach double-digits in kills with 16, while Irvine had three athletes do so.
While the Tritons kept it close in the first set, the Anteaters led from start to finish. The Tritons were two points behind at the 12–10 and 15–13 marks, but Irvine ultimately secured a 25–20 victory.
In the second set, UCSD rebounded quickly with a tense 25–22 win. The Tritons and Anteaters battled hard throughout, before UCSD pulled away with a 5–0 run to lead 24–21 and essentially close out the set.
"We got off to a good start [in the second set]," UCSD head coach Kevin Ring said. "We sided out really well. I thought we really could've opened up that game. We missed out on some opportunities to score, but we kept siding out."
However, the Anteaters refused to allow another Triton advantage as they took the third and fourth sets, leading entirely throughout both. The third set saw UC Irvine jump ahead with a 15–9 edge. The Tritons consequently failed to trim the deficit to less than four points in the 25–18 loss.
The fourth and final set showcased UC Irvine's most dominant performance as the Anteaters jumped to a 7–1 lead,  a lead scarcely contested throughout the frame. UCSD lost the set and match with a 25–13 score.
Despite the defeat, Ring viewed the effort positively as the Tritons fought hard against their high-ranking opponent.
"It was nice to get what I think is our best lineup back on the court. We haven't had that lineup for a lot of our matchups this year," Ring said. "Games one and three, even though we lost, I thought we played pretty well, and we did a real nice job in game two."
The Tritons responded to Friday's loss with a resounding victory against UC Merced with a record-breaking 3–0 sweep. UCSD hit a whopping .554, the highest mark ever achieved in the program's Division II era since 2001. The Tritons also finished with a season-high 11 service aces, the highest number reached in over three years.
"We stuck with it the whole time, which was nice," sophomore outside hitter Eric Barber said. "We've had some times where we'll have a lead and give it away, but we did a good job playing till the end [tonight]."
The first set began with a back and forth between both squads as UC Merced kept things close at 6–5. However, the Tritons shed their slow start, jumping ahead 12–6 and allowing nothing more for the rest of the night. UCSD finished off the set with a 25–13 win.
In the second and third sets, the Tritons started strong with 8–1 and 9–1 leads, respectively. In both frames, UCSD only built upon their large advantages, winning the third set 25–10 and the fourth set 25–11.
Every Triton recorded playing time in an all-around stellar effort. Senior opposite Johl Awerkamp led UCSD with a match-high nine kills on .583 hitting, along with three aces and two blocks. Barber also earned eight kills and hit an amazing .700. Sophomore outside hitter Kirill Rudenko put in a match-high five aces while adding five kills.
UCSD will now play in its final two games at home on Friday against Pacific University and Saturday against Stanford University. The Tritons will look to close out the season strong at RIMAC Arena, with both games beginning at 7 p.m.
"I'd like to beat both these teams," Barber said. "I think we've been playing really well towards the end of the season. We took a game off of Irvine last night, and we could definitely take a game or two, even beat Stanford and Pacific, so I think it'll be a good last week for us."