Fresno Pacific dominates UCSD, before Tritons bounce back at Cal State Stanislaus.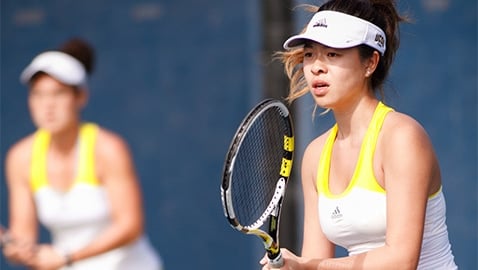 This past weekend, the No. 17 UCSD women's tennis team suffered an 8–1 trouncing at the hands of Fresno Pacific University before bouncing back to defeat Cal State Stanislaus in a strong 7–2 victory. After the road split, the Tritons now hold an 8–12 overall record.
Facing Fresno Pacific on Saturday, UCSD could only muster one doubles win out of three, while falling in all six singles matches in straight sets.
"[Fresno Pacific] is a very strong team," UCSD head coach Liz LaPlante said. "They had really improved [from the last time we matched up], and they just outplayed us. I was very upset with how we performed. We have a lot of different reasons why we think it happened, but we just didn't play well."
In the doubles matches, senior Tara Vanooteghem and junior Laura Wilke served as the Tritons' only victorious pair, defeating the Sunbirds' Matilda Ackered and Erin Carlson 8–5. The No. 17 nationally ranked sophomore Triton pair of Paula Chou and Kyra Scott surrendered a tough match to No. 18 Petra Jurova and Angelika Sobiecka by a score of 8–6.
"All three matches were pretty close," Scott told the UCSD Guardian. "Our opponents were just moving a little bit better than us. [Chou] and I were a little bit tentative, not being as aggressive as we should have been."
On the singles side, the Sunbirds appeared to overwhelm the Tritons, as UCSD failed to secure a single set victory in all six matches.
Ranked No. 26, Scott provided little challenge to No. 13 Jurova in the No. 1 singles slot in a 6–1, 6–2 loss. The closest match came in the No. 6 slot as UCSD sophomore Lisa Asai fell to Ackered 6–3, 6–4.
"It was a little bit demoralizing," Scott said. "I knew that we were losing on every court pretty much my entire match. I think part of it was that we weren't competition-ready. We could've prepared a little better over spring break."
After Saturday's defeat, the Tritons rebounded with a big win against Cal State Stanislaus to break their losing skid of three straight matches. UCSD took four out of six singles contests and swept all three of its doubles matchups.
No. 17 Chou and Scott handily bested the Warriors' McKenzy Harden and Jessica Laurie in the No. 1 doubles slot by a score of 8–1. Freshman pair Nava Nowamooz and Shannon Theisen also earned an 8–4 victory in the No. 2 slot, while Vanooteghem and Wilke dominated in the No. 3 slot with an 8–0 win.
"We played very aggressive," LaPlante said. "The girls were playing with confidence because we knew it was a match we were going to win. They were able to do things we were working on in practice, and it showed how much better we were skill-wise and strategy-wise."
Scott easily won in an almost perfect No. 1 singles match with a 6–1, 6–0 final score. Nowamooz and Asai recorded victories in the No. 2 (6–4, 6–3) and No. 5 (6–2, 6–0) slots, respectively. In the No. 6 slot, sophomore Monica Yassear had a flawless win, defeating Cal State Stanislaus's Katie Ferlmann 6–0, 6–0.
"I think [Sunday's match] really helped boost confidence," Scott said. "I think everyone played pretty solid all around."
Now three matches into their seven-match road trip, UCSD will next travel to face Cal State Los Angeles on Saturday, April 5. The contest will begin at 11 a.m.
"We have three weeks left in the season and have some key matches that we can win," LaPlante said. "We've got to play with heart. We've lost as a team, and now we have to try to win as a team."