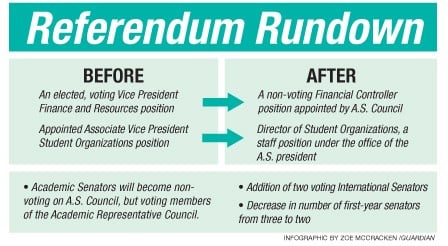 After weeks of exchanging proposed amendments to the A.S. Constitution between A.S. Council and the six college councils, A.S. Council passed the amendments as a referendum to be put to a student vote in the general election in Spring Quarter 2014.
A.S. Council originally passed these amendments in Fall Quarter 2013, after which they underwent the ratification process through the college councils. However, three of the seven amendments were not passed by the necessary four out of six college councils to be ratified.
According to the A.S. Constitution, there are two methods of ratifying directives passed by the A.S. Council. The first is to pass the document through four out of six college councils, and the second is to put the document to a student vote.
"I think it's our way of holding the college councils accountable," Social Sciences Senator and Bylaws committee member Colin King said. "They hold A.S. Council accountable through the ratification process, and if we disagree with them we can hold them accountable through the student body."
Opponents argue that this negates the role of college councils in the ratification process.
However, the biggest concern among members of A.S. Council was that students will make an uninformed vote, particularly because the constitution is a long and dense document.
King drafted a summary of the changes to be listed at the beginning of the document so that students do not have to read through its entirety.
These changes include changing the elected, voting position of Vice President Finances and Resources to an appointed, non-voting position of Financial Controller; changing the voting position of Associate Vice President Student Organizations to a staff position under the Office of the President, the Director of Student Organizations; taking away the voting power of Academic Senators on A.S. Council, yet giving them voting power on an Academic Representatives Council; adding two International Senator positions; and reducing the number of Freshman Senators from three to two.
"I just hope students actually make informed decisions and actually vote rather than abstain," King said. "I'm sure we'll see a lot of abstentions with this because it's a long document, but I hope students will actually think critically about this."