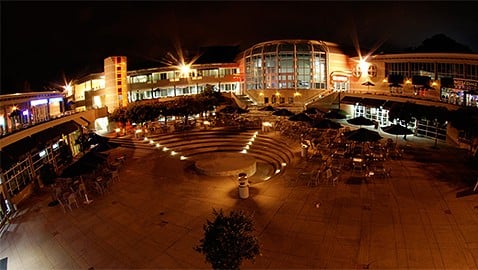 Two UCSD students are under suspicion of setting two fires in Price Center on Dec. 3, the same day the University Centers Advisory Board announced plans to open a Starbucks in place of Espresso Roma Cafe.
UCSD students Hoai Vi Holly Thuy Nguyen and Maya Land were arrested by San Diego Police last week for their suspected involvement with an two incidents of arson in Price Center which occurred on Dec. 3.
Police took Nguyen, 22, into custody after identifying her in surveillance video footage that showed her and a suspect later identified as Land entering and leaving Price Center, suggesting Nguyen's participation in the ignition of two fires. According to Police Lieutenant Kevin Mayer, Land, 21, turned herself in following public release of the footage on YouTube.
According to a Feb. 7 report by the San Diego County Crime Stoppers, Nguyen and Land lit a fire after entering a bathroom on the first levels of Price Center East and West, leaving shortly thereafter. The two suspects then lit a fire in a bathroom on the second floor of Price Center, after re-entering the building wearing different attire.
At the time of the fires, police reported that hundreds of students occupied the building, although no injuries were detected as a result of the fire. However, police evacuated the building for approximately one hour and 15 minutes while the fires were extinguished.
San Diego Police Department members James Johnson and Lieutenant Kevin Mayer were among those heading the investigation.
"The Metro Arson Strike Team worked very closely with UCSD to solve this arson case," Mayer said.
Los Angeles Times reporter Tony Perry told the Guardian that police believe Nguyen and Land started the fires in protest of new developments in Price Center regarding a new Starbucks branch that will replace the fair trade Espresso Roma Cafe.
The fires were lit the same day that the University Centers Advisory Board voted 11-4-0 to open a Starbucks in Price Center. The decision to place a Starbucks in Price Center was surrounded by controversy due to allegations that Starbucks violates UCSD's University Fair Trade Policy, which targets coffees, teas, sugars, chocolates and creams.
According to a public Facebook post by Lee Aronson, a member at the UCSD Food Cooperative, police held Nguyen in custody for 72 hours.
"This evening we arrived at home and found that a search warrant had been executed on our apartment during the day," Aronson wrote in the post. "During the arraignment, the prosecutor made several references to Vi as an activist, and during the search they seized several books associated with 'the left.'"
Aronson asked for help finding legal representation for Nguyen and announced that only messages containing information about a defense attorney or words of support would be addressed.
According to a Feb. 7 Los Angeles Times article by Tony Perry, Nguyen pleaded not guilty to two counts of arson in a San Diego County Superior Court on Feb. 6. Police are continuing their investigation in search of more information.
"As always, we want to thank the public for their support and the tips they provide," Mayer said. "The investigation is continuing."