Tritons Lose Fourth Consecutive Game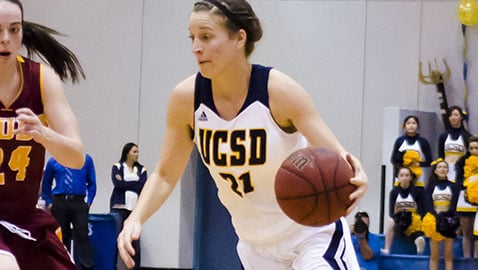 UCSD dropped two games to Chico State and Cal State Stanislaus this weekend
The UCSD women's basketball team wrapped up a tough weekend with a 55–42 loss to Chico State on Friday, Feb. 7 followed by a 69–65 defeat by Cal State Stanislaus the following night. The pair of road losses extends UCSD's recent losing skid to four games. With an 8–8 record in California Collegiate Athletic Association play, UCSD has now fallen to eighth in the 12-team conference.
In its first matchup of the weekend, UCSD entered the contest against Chico State without starters junior forward McKennan Bertsch and leading scorer, junior guard Miranda Seto. However, the Tritons appeared to have little trouble early on, starting the game off with a commanding 12–0 lead.
"We already knew we were dealing with some adversity [playing without Seto and Bertsch], but we started off really well in the first five minutes," senior guard Stephanie Yano said.
Without two key starters, sophomore center Emily Morris stepped up to fill in the gap, finishing the night with a double-double (12 points, 13 rebounds).
In spite of the hot start, Chico State came alive midway through the first half, responding with a 9–0 run of its own. The Wildcats would close out the half with a 24–20 lead.
In the second half, the Tritons kept the Wildcats within reach, but ultimately never regained the lead.
"We sort of let the momentum swing their way," Yano said. "We couldn't get enough stops."
Poor shooting hurt the Tritons Friday night. UCSD finished the game on 28 percent (17–59) shooting from the field, sank only one out of 11 three-point attempts and hit just 58 percent (7–12) of their free throws.
After this win, the red-hot Wildcats earned their sixth straight victory and currently sit in third place in the CCAA following this past weekend.
The next night, Bertsch and Seto both returned to the lineup for the Tritons and put up significant contributions against Cal State Stanislaus.
"Just being able to contribute and [start] back where I left off was nice," Seto said.
Bertsch led the Tritons, scoring 16 points, while Seto put up 15 points, a game-high nine rebounds and six steals.
But their efforts were not enough as again, UCSD's shots refused to fall. While they hit a solid 41 percent (12–29) of their shots from the field in the first half, they made only 22 percent (7–31) in the second period.
"We weren't hitting anything," Seto said. "It was just really difficult to come back when we weren't making anything."
The Tritons let the game slip away during a dismal shooting drought in the second half, in which they went over 12 minutes without a field goal. UCSD also missed three straight three-pointers in the final 22 seconds in a last-ditch attempt to tie up the game.
The Tritons have now dropped in the standings for the third straight week and face a tough road ahead with only six games left to climb their way back up to qualify for the CCAA championships, where only the top six teams will qualify.
"I think if anything, we have a team who is going to fight," Yano said. "We kind of just look forward to the next six games, [trying] to take every opportunity we can get."
UCSD will next travel to play Cal State Monterey Bay on Thursday, Feb. 13 at 7 p.m. and will close out their road trip at Cal State East Bay on Saturday, Feb. 15 at 5:30 p.m.