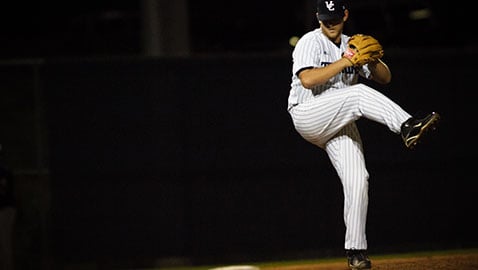 UCSD knocked in 20 total runs in its doubleheader season opener against Holy Names
In last Sunday's season opener, the No. 39 Tritons swept in a non-conference doubleheader against Holy Names University. The Tritons handily beat the Hawks in both games, scoring 20 total runs on 22 hits and only allowing one run on nine hits.
"Our defense played great today," UCSD head coach Eric Newman said to the UCSD Athletics Department. "We made one error in 18 innings, pitching and defense is what we're going to hang our hat on this year."
In the first match, senior left fielder Justin Rahn hit a three-RBI double in the first inning to put UCSD on the scoreboard. Up 3–0 in the third inning, senior catcher Nick La Face — a two-time Daktronics All-West Region selection — hit an RBI double. Shortly after, junior transfer, first baseman Michael Mann would bat La Face home to give the Tritons a 5–0 lead.
The Hawks' lone run of the day came in the fourth inning when junior Zach Verlaan hit a double and was able to score two pitches later. The Tritons struck again in the fifth inning, scoring three unearned runs off Holy Names errors. The Tritons would strike twice more in the seventh and once in the eighth to finish their first game of the season with an 11–1 win, scoring 11 runs off of 12 hits and no errors.
UCSD senior pitcher Blake Fassler only allowed one run on four hits and threw six strikeouts. Fassler pitched five innings before sophomore right-hander Adrian Orozco took over for three before handing the ball to senior right-hander Scott Zeman, who closed with both allowing one hit.
UCSD showed no slowing in its second game Sunday. As in the first game, Rahn — named the conference player of the week last Sunday — started off the scoring in the second inning with a two-run homer over center field to give the Tritons a 2–0 lead. Later in the inning, with the bases loaded, a wild pitch allowed freshman outfielder Christian Leung to score.
The third inning was quiet on both fronts, but UCSD scored six runs off of five hits in the fourth. Sophomore outfielder Corbin Wirta, senior infielder Spencer Frazier, junior infielder Erik Lewis, Mann and junior catcher Brett Levy all registered RBI in the fourth inning, with Lewis gaining two off a well placed single.
"On offense, we want to be disciplined when it's time to be disciplined and aggressive when it's time to be aggressive," Newman said to the UCSD Athletics Department. "I thought we really did a good job of that today."
The rest of the game was silent as junior pitcher Dan Kolodin threw five scoreless innings with only two hits. Junior pitcher Chad Rieser took over for the sixth through eighth innings and held the shutout, while sophomore closer Troy Cruz pitched a perfect ninth for the 9–0 win. The Tritons scored nine runs off ten hits with one error while the Hawks had no runs off three hits and one error.
On Feb. 8 the Tritons will kick off conference play against reigning CCAA tournament champion Cal State Los Angeles in another doubleheader at Triton Ballpark.